Police Department Blotter in Alburesque, NM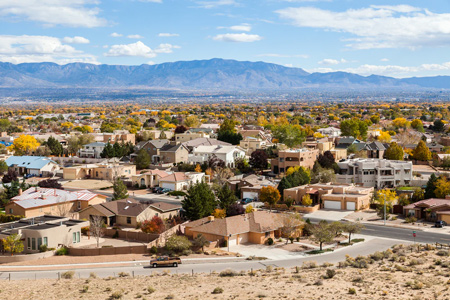 Albuquerque in FBI's Top 10 Cities with Most Property Crime
Albuquerque morphed during the last century from a sleepy little town near the Sandia Mountains to the big city it is today – with big city crime.
The roaring twenties roared through Albuquerque with the opening of famous Route 66 in 1926. Restaurants, motels and gift shops sprang up to attract folks in newly invented automobiles getting their kicks on Route 66.
The triumphant close of World War II brought the atomic age to Albuquerque. New Mexico became ground zero for bomb testing. Kirtland Air Force Base opened in Albuquerque in 1939, Sandia Base in the early 1940s, and then Sandia National Laboratories in 1949.
From 1940 to 1950, Albuquerque's population tripled from 35,449 people to 96,815. From 1950 to 1960 it more than doubled to 201,189. As of 2016, the population had reached 559,277.
Growth comes at a cost to the quality of life. The vast upsurge in Albuquerque's population triggered a steady increase in crime. Especially property crime. In 2017, the FBI ranked Albuquerque fifth in the top 10 cities for property crime in the U.S. The FBI reports there were 17,888 property crimes in Albuquerque last year. That's 3,196 per 100,000 inhabitants.
Common Ways to Prevent Property Crime 
Here are some tips on how to prevent your home from being subjected to burglary.
Keep Everything Locked 
You should not only keep the main entry points of your home locked but any points of access, even if its a backdoor. If a thief finds his way into your yard, it is very easy for him to peek inside your windows. Furthermore, garages and garden sheds give thieves further aid in breaking into your home, whether it is a ladder or a hammer which he can use to break the windows. In addition to that, you should make sure that all your windows are locked, especially those of the second story. Thieves tend to climb into your house through the upper windows, gaining full access to your property. 
Throw your trash away wisely
Your trash can give you a way to thieves as a valuable target because you might have purchased items from a big sale. The packaging of a new television or a gaming console that you carelessly throw away can be a source of attention for thieves. They will know exactly what to steal when they enter your homes 
Light Up Your Home Well
The darker property makes it easier for thieves to sneak in without getting caught. The most energy-efficient option are motion sensor lights which automatically turn on when the sun goes down. Another important thing to note is that lights should be placed in higher places so that burglars can not easily unscrew bulbs. You should install these lights in your backyard, on the sides of your house, and in your driveway. 
Install a security system 
There are various home security systems in the market that offer a variety of features while fitting in your budget. These include high-tech options, including Deep Sentinel, which has a huge plus point of offering live monitoring with real-life guards who are responsive. This can prevent potential burglaries before they occur. The loud sirens of traditional alarm systems that alert the local police department can also be an effective barrier against thieves trying to break in. In short, your best option to ensure home security is an effective security system.
Recent Property Crimes in Albuquerque
The following is a sampling of the past week's property crimes in Albuquerque reported by the Albuquerque Police Dept. through the CrimeMapping web tool. This is an excerpt and does not include thefts from vehicles, personal assaults or drug-related crimes. See the Albuquerque CrimeMapping site for the complete list.
Stolen Vehicle – 2600 Block Eubank Blvd. NE, Feb. 25 at 11:30 am
Burglary in Commercial Building – 1100 Block Carlisle Ave. SE, Feb. 25 at 7:30 am
Burglary, Breaking and Entering –  1100 Ortiz Ave. SE, Feb. 25 at 12 am
Larceny Theft – 6200 Block Menaul Blvd. NE, Feb. 24 at 5:02 pm
Stolen Vehicle – 1000 Block Marron Circle NE, Feb. 24 2:18 pm
Stolen Vehicle – 7300 Block Mesa De Arena NW, Feb. 24 12 pm
Larceny Theft – 1700 Block Jicarilla Pl NE, Feb. 24 11:59 am
Burglary in Commercial Building – 3100 Candeleria Rd NE, Feb. 24 10:40 am
Burglary, Breaking and Entering – 1600 Bock Columbia Dr SE, Feb. 24 10 am
Larceny Theft – 6400 Block Los Volcanes Rd NW, Feb. 24 4:33 am
Larceny Theft – 1400 Block Ladera Dr NW, Feb. 24 12:06 am
Burglary in Commercial Building – 7200 Block Central Ave, Feb 24 12 am
Robbery – 3500 Block Atrisco Dr NW, Feb. 24 12 am
Stolen Vehicle – 100 Block 64th Street SW, Feb. 23 9:33 pm
Larceny Theft – 2000 Block Gabaldon Rd NW, Feb.23 3:24 pm
Burglary, Breaking and Entering – 900 Block Tieran Ct NE, Feb 23, 2:23 pm
Robbery – 5200 Block Central Ave W, Feb 23, 1:54 pm
Larceny Theft – 7900 Block Central Ave SW, Feb 23 12:45 pm
Burglary, Breaking and Entering – 800 Block Louisiana Blvd SE, Feb 23 11:39 am
Larceny Theft – 5600 Block Gibson SE, Feb 23 11:24 am
Larceny Theft – 6000 Block Aspen Ave NE, Feb 23 11:18 am
Larceny Theft – 7700 Block Santa Rosalia St NW, Feb 23 10:41 am
Stolen Vehicle – 1700 Block Bellahmah Ave NW, Feb 23 9:25 am
Burglary in Commercial Building – 3400 Block Stanford Dr NE, Feb 23 7:50 am
Larceny Theft- 11200 Block Haines Ave, Feb 23 7:58 am
Burglary, Breaking and Entering – 3900 Block Lafayette Dr, Feb 23 7:39 am
Burglary in Commercial Building – 100 Airport Dr NW, Feb 22 8:43 pm
Burglary, Breaking and Entering – 1000 Block Wade Circle NE, Feb 22, 4:28 pm
Larceny Theft – 400 Block Kentucky St SE, Feb 22 4:26 pm
Stolen Vehicle – 1600 Block Pennsylvania St NE Apt V06, Feb 22 4:19 pm
Stolen Vehicle – 200 Block 53rd St SW, Feb 22 3:50 pm
Larceny Theft – 4400 Block Central Ave SW, Feb 22 3:02 pm
Larceny Theft – 1700 Block Rita Dr NE, Feb 22 2:39 pm