How to Hide a Key Outside Your Home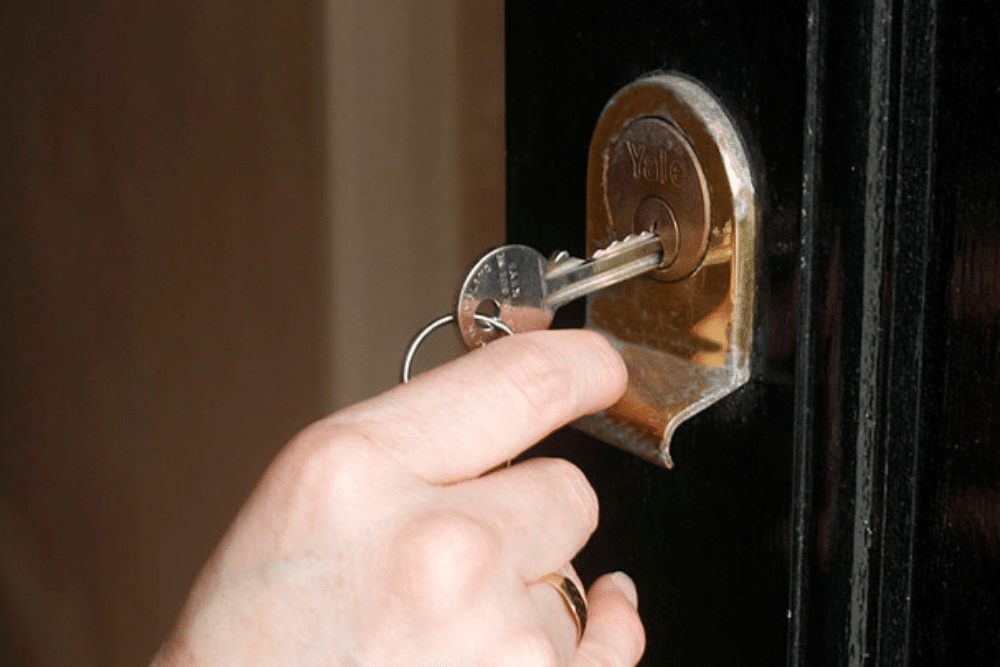 Maybe you locked yourself out, your kids came home from school early, or you need a neighbor to pop into your house. There are plenty of logical reasons to hide a key somewhere near your front door. But how do you make sure your spare key is invisible to intruders? There is no one best place to hide a key since surprise and secrecy are critical. Instead, explore a variety of options and add a little creativity to decide what will work best for your property. Here are a few ideas for where to hide a key outside your home and how to keep it safe from prying eyes.
Pre-made key hider products
Since so many people are trying to figure out where to hide a spare key, there are plenty of products on the market tailor-made for that purpose. Probably the most popular is the famous hide a key rock. These look like real rock–some even are rocks–but have a secret hidden compartment for your key. The idea is that you place this rock in a garden bed or along your front walkway, where it's inconspicuous among the real rocks. For this to work, the fake rock needs to blend in (to passers-by), but stand out to you. As you might imagine, this can be tough, especially if your property doesn't have a lot of natural rock.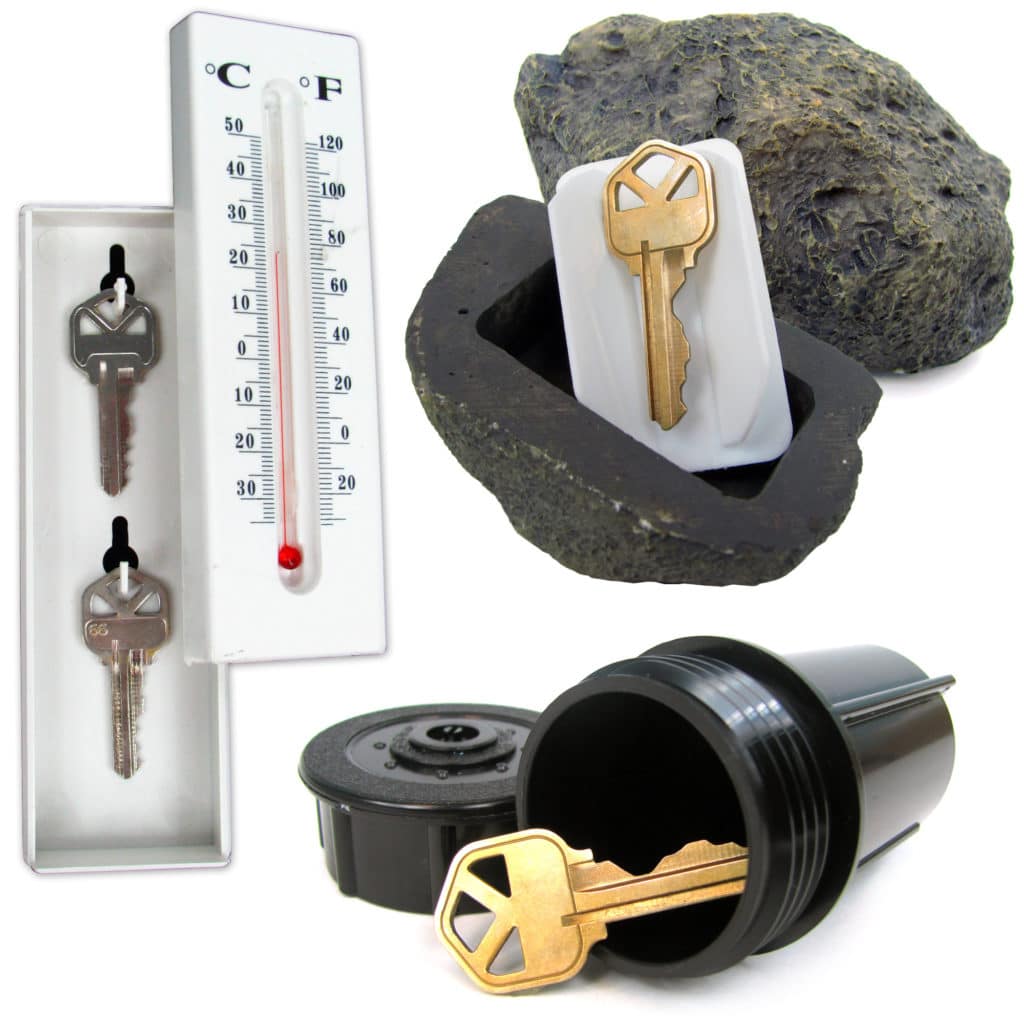 There are other products designed to hide a key that might do the trick. A quick online search will turn up fake electrical boxes, hose caps, sprinkler heads, thermometers, birdhouses, lawn decorations, and more. There are even key hiders made to look like dog waste–talk about an effective way to deter suspicious characters.
DIY camouflage methods
Feeling crafty? For any key hiding product or method that you can think of, there's a way to make it yourself. You can customize your DIY key hider to blend into the surroundings of your home. The possibilities are endless!
There are some great online tutorials for DIY hide a key ideas to get your creative juices flowing. Here are some supplies that might come in handy:
An old film canister or prescription bottle

Magnets

Fishing line

Key chain

Hot glue gun

Items that would appear at home in your yard like pine cones, outdoor toys, junk, etc.
Remember, your hiding method should be something you can easily find and access, but a stranger would never notice.
Use a lock box
If you have stayed at vacation properties like Airbnb or gone through a real estate transaction, you're probably familiar with lock boxes. These are most often found hanging from a home's front door. They hide your key behind a combination lock. That way, you can give the combination out to anyone who might need to access your home and easily change it to limit access.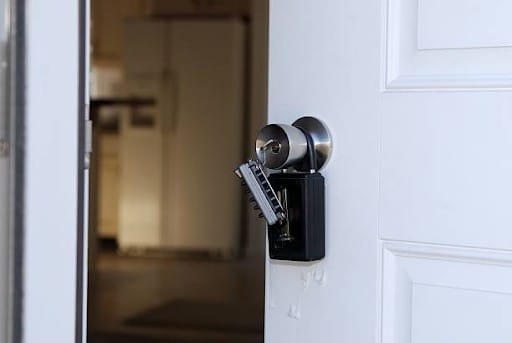 Lock boxes aren't a perfect solution, especially for everyday needs. They can be clunky to use and unattractive on your home's exterior. Plus, they ‌clearly broadcast the location of your spare key to everyone nearby. However, these might be a great option if you have a regular service provider that needs to get into your home while you're away but shouldn't have a key of their own, like a cleaning company or babysitter.
Leave a key with a neighbor
If you're on good terms with your neighbors, and we hope ‌you are, leaving a key with them is smart. Not only do you have a failsafe in case you're locked out, but you also build up trust with the people closest to your home. If the people on your street are all looking out for each other and raising the flag when something looks suspicious, the entire neighborhood is safer. Assuming your neighbors are trustworthy homeowners, you could ‌keep a spare key at each other's homes and check in periodically when one of you is away.
Use a smart lock
Everything is getting smarter these days, and your front door is no exception. Smart locks can replace a traditional keyhole-and-deadbolt setup. They open using a numeric combination, biometric sensors like a fingerprint scanner, a mobile app, voice recognition, a physical key, or some combination of these. Many integrate with other smart home devices and platforms like Google Assistant or Amazon Alexa.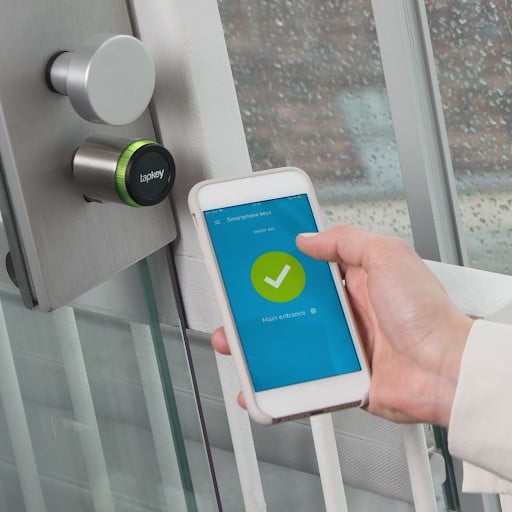 Of course, like any other smart device, a smart lock isn't foolproof. There are inherent risks of hacking, losing power, system failure, connectivity issues, and more. If you choose to use a smart lock for your front door, ‌purchase one from a reputable manufacturer and read lots of customer reviews first.
Bad ideas for hiding your spare key
When you're determining the best way to hide a key outside, it's just as important to know what not to do. Basically, think like a burglar seeing your property for the first time. Where would you look for a spare key? Here are some of the most common hiding spots that you'll want to avoid:
Under the welcome mat

Beneath a flower pot

Above the door frame

Inside your mailbox

In a fake rock that doesn't blend in well

Under a prominent stepping stone, garden gnome, etc.
Double down on security with a surveillance camera system
Whether or not you hide a spare key outside your home, it's a good idea to also protect yourself with a surveillance camera system. That way, if anyone is rooting around your yard looking for a key, you'll catch them on camera. Deep Sentinel's proprietary AI technology detects suspicious behavior like this and alerts our live guards to intervene before the intruder commits a crime.
If you already use Deep Sentinel live video surveillance and want to hide a spare key, it's helpful to know that the live guards won't automatically call the authorities simply because your babysitter is fiddling with a lock box. Virtual security guards will politely speak to your visitor and contact you to ensure that this is a welcome and expected visit. Knowing this, you may want to warn anyone who knows about your spare key that guards are always watching.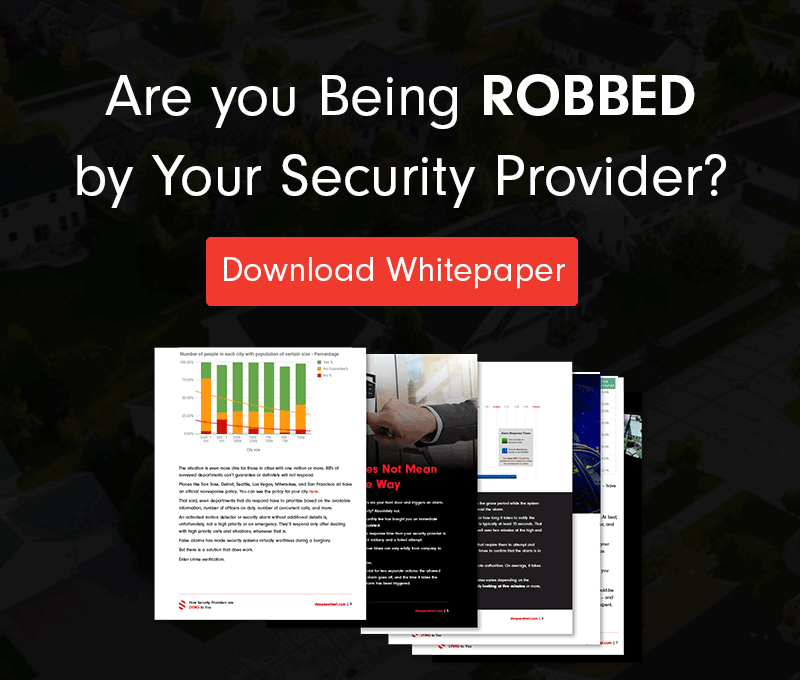 Need a Solution that Prevents Crime?
Deep Sentinel is the only security technology that delivers the experience of a personal guard on every customer's home and business. Visit deepsentinel.com/business or call 833-983-6006