Meet Deep Sentinel's Taipei Team!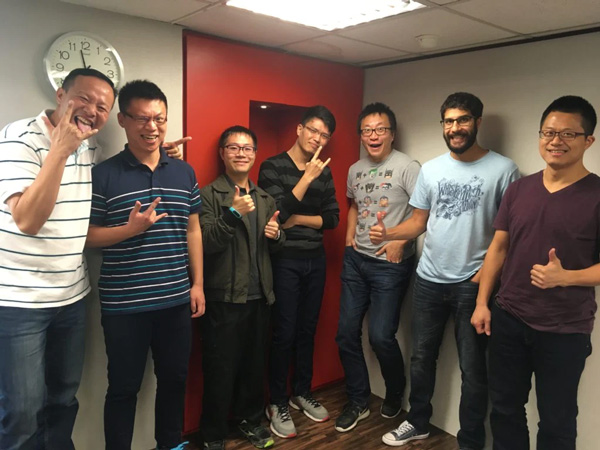 In this roundtable discussion, we hear from Deep Sentinel's talented team of hardware, mobile and back-end engineers and product managers in Taipei, Taiwan.
Why did you decide to work with Deep Sentinel?
Morgan: From my work with a local startup accelerator AppWorks Ventures, I know firsthand that it's not easy building a startup in Taiwan. While there are a lot of IPOs (international procurement offices) here, and a few companies like Dell, Apple and HP have  design and manufacturing offices here, the financial climate here is not conducive for startups. Selly (Deep Sentinel CEO David Selinger) helps to bridge and solidify our value prop to Silicon Valley investors. His legacy and the reputation of our company's investors are tremendously appealing.
Starks: I had previously been a freelancer, and had my own startup—for which I had IP and even a US patent—but I eventually spent all my money.  I learned about this job (hardware and software engineer) through Winston's blog, and knew I had to jump on the opportunity. AI is  the future.
JJ: I had been working in FinTech before Deep Sentinel, and agree with Starks. AI is the future, and this product is revolutionary.
CH: There are so many things we need to solve, so there's an opportunity to learn a lot and do a lot of different things. Also, Winston and Selly are very open-minded so you feel free to share any ideas, which is not always the case in traditional Taiwanese companies.
What are the biggest challenges working with a startup based in California?
Martin: I'm one week in the job, so this is new to me! It's my first startup. My biggest challenge is that with my manager Winston being in the US, I need to find a better way to communicate with him. It's interesting and challenging.
Morgan: We are testing out software methodologies to develop hardware. Typically in hardware, everything is very planned out from concept to production. In our standups every morning, we design what we're doing, so we're learning as we go along.
In my role as a Technical Product Manager, I manage all outsourced vendors, so consistent communication is critical, since I am the central point of contact between them and our hardware team in California.
How do you ensure collaboration across time zones?
CH: We have a daily morning standup. In the afternoon, each of us on the software team records a video to share the progress we've made and pass this update to the US team, so they can pick up where they need to. We also use Zoom conferencing a lot.
How would you describe the team culture here in Taiwan? Is it same or different from the one in Pleasanton?
JJ: We have lunch together every day, since we're a small team.
Starks: We've just moved into this new office, so there's a lot of space for all of us, but we still have a lottery system for picking seats. There are some coveted spots by the window, which were won through this system.