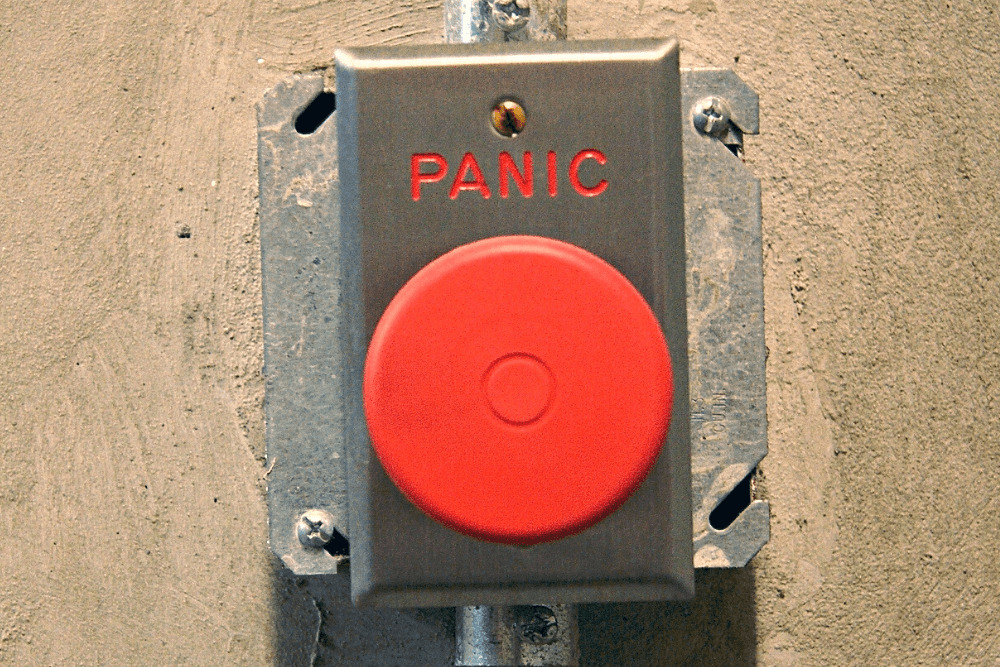 Panic buttons may bring to mind a bank teller discreetly contacting law enforcement as would-be robbers demand cash. That's certainly one use case. (Action movies get it right sometimes.) But in reality, panic buttons are much more diverse and have a wide range of applications. Discover how a panic button might amp up your business's security.
Panic Buttons: Many Names, One Goal
Panic buttons are sometimes called panic alarms, duress alarms, silent alarms, holdup alarms, personal alarms, or SOS alarms, among other terms. For the most part, these are synonymous. Or at least they serve the same function.
Regardless of the name, a panic button is a means of requesting immediate help in an emergency situation. The resulting panic alarm is what the button controls. That might be a screeching alarm or a notification to an offsite source to request help. Depending on the setup, this help source may be a key employee in the business (security or other), a security or emergency service, or the police.
A button is just one way of triggering a silent alarm. The "button" might be a foot pedal, a key fob, a money clip, or even a special code for an alarm panel.
Beyond Banks
Banks, credit unions, and other financial institutions are common settings for panic buttons. Clearly, any place that might appeal to a robber would benefit from a duress alarm. But what about other kinds of businesses? The reality is that all workplaces are vulnerable to safety threats, some of which are internal. That's when a silent alarm can be especially useful: when the threat is already inside the building.
Think beyond robbers. What sort of dangerous situations could arise inside your business? It could be a begrudged former employee, an employee's estranged spouse or family member, or even an angry customer. Workplace violence is a reality, whether it's from inside the business's four walls or entering from the outside. It's best to be prepared and protected.
Who's At Risk?
Nearly every business with a physical location is at risk of workplace violence or other unsafe situations. About 2 million people are victims of workplace violence every year in the United States, according to the Occupational Safety and Health Association. And more than 50% of robberies that were reported in 2021 occurred at a store, bank, office, or other business property. Convenience stores, hotels, and gas stations were among the most common.
As such, every commercial property owner should consider a panic button for business settings.
Other Layers of Protection
Of course, a panic button shouldn't be your only defense. Use it in conjunction with other systems and processes to prevent violent crime. These could include:
Scheduling employees so that no one works alone, since solo workers are more vulnerable targets
Limiting the amount of cash or other assets onsite
Installing other security devices like motion detectors, alarms, keycard readers, and business security cameras
Arranging rooms and furniture to create quick exit paths
Training employees to recognize, avoid, and respond to potentially violent situations
Encouraging staff to report perceived threats or acts of violence to a manager
Emphasizing that employees should never argue with someone who makes threats
Completing background checks on employees and vendors
The goal is to identify, prevent, and de-escalate situations before they become dangerous. A panic button should be the last resort. Hopefully, your employees will never have to touch it.
What Options Are Available for Panic Buttons?
The top-of-mind option is the "under the counter" silent panic button. When pushed, this alerts the security team, management, or even law enforcement of immediate danger. For those who work behind a display case, bank counter, or other enclosed space, this is a great option. If you want to scare suspects and warn them that help is on the way, there also are panic alarms that create a lot of noise. Choose whichever type of alarm works best for your business.
Wireless panic alarms offer more versatility because they can be located anywhere. They don't even have to be attached to the building. A restaurant server could clip an alarm to an apron. A receptionist could keep one in a pocket. You get the idea. These are ideal for workers who are "on the go" but within the vicinity of a central alarm system, like housekeeping staff, nurses, or correctional officers.
In addition, there are mobile personal safety devices that don't need to connect to a central hub. These are perfect for utility workers, home healthcare workers, agriculture workers, and many more.
As previously mentioned, your panic alarm might not be a button at all. For example, placing a foot bar or pedal behind a service counter is a smart security strategy. Think creatively about how your employees could raise the alert without drawing attention.
Who Are Key Players in the Market?
You won't have to look hard to find plenty of panic alarm companies online. Narrowing down your options is the hard part. Some of these are panic buttons for home use versus a business setting, so that can rule out a few. Some major providers include Visiplex, SafetyLine, and SecurAlert. What separates them? Here are a few key features and benefits of each.
Visiplex
Visiplex has a wireless panic button system that can activate the PA system to broadcast pre-recorded voice messages or even tone alerts. You can team this with a variety of wall-mounted and portable wireless panic buttons. These can send a variety of pre-programmed "events" like SMS texts, PA voice announcements, and even text messaging to LED message boards.
SafetyLine
SafetyLine targets the "lone worker" who's working solo for one reason or another. This solution has an app that allows it to sync with many devices and platforms, such as Microsoft 365 and Garmin. The company's offerings accommodate solo workers who may not have cell or data service by using a Garmin or Globalstar satellite device to stay connected.
The app offers a variety of features, including the ability to signal for help, essentially turning any mobile device into a panic button. How does it work? An employee can hold the in-app or Bluetooth panic button for three seconds to activate an alarm. Or, if that's not possible, shaking your mobile device will activate the feature regardless of whether the app is open. In addition, the company offers a Lone Worker Bluetooth Panic Button that allows workers to send an emergency alert discreetly without having to grab their phones.
SECURalert
SECURalert proudly touts the many big brands its wireless panic button systems protect. These range from Hilton Hotels & Resorts to Ralph Lauren. This solution uses a personal transmitter worn by the employee. It identifies the user who needs help and notifies respondents of the person's exact location. The transmitter uses ultrasonic technology and radiofrequency technology to make that happen.
How Does Deep Sentinel Work with Panic Buttons?
A comprehensive security plan includes both preventative and reactive measures. Deep Sentinel business security cameras protect your business from the outside, deterring criminals before they reach your doors. Panic buttons for offices or other businesses protect your building from the inside, addressing situations that arise internally. For ultimate protection, you need both.
Deep Sentinel can work in tandem with a panic alarm system to provide multi-layered security for your business. Get the peace of mind that comes with around-the-clock protection for your property, employees, and customers.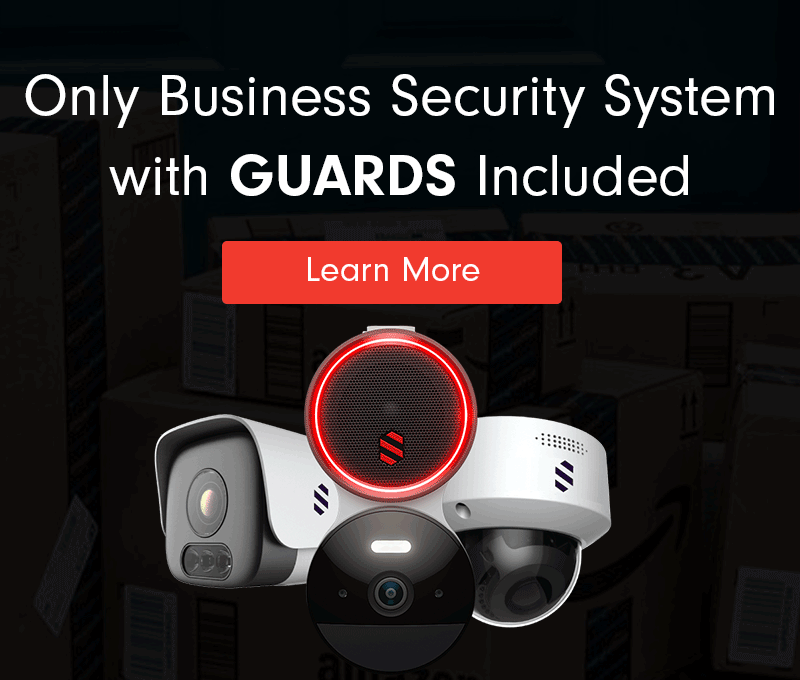 Need a Solution that Prevents Crime?
Deep Sentinel is the only security technology that delivers the experience of a personal guard on every customer's home and business. Visit deepsentinel.com/business or call 833-983-6006