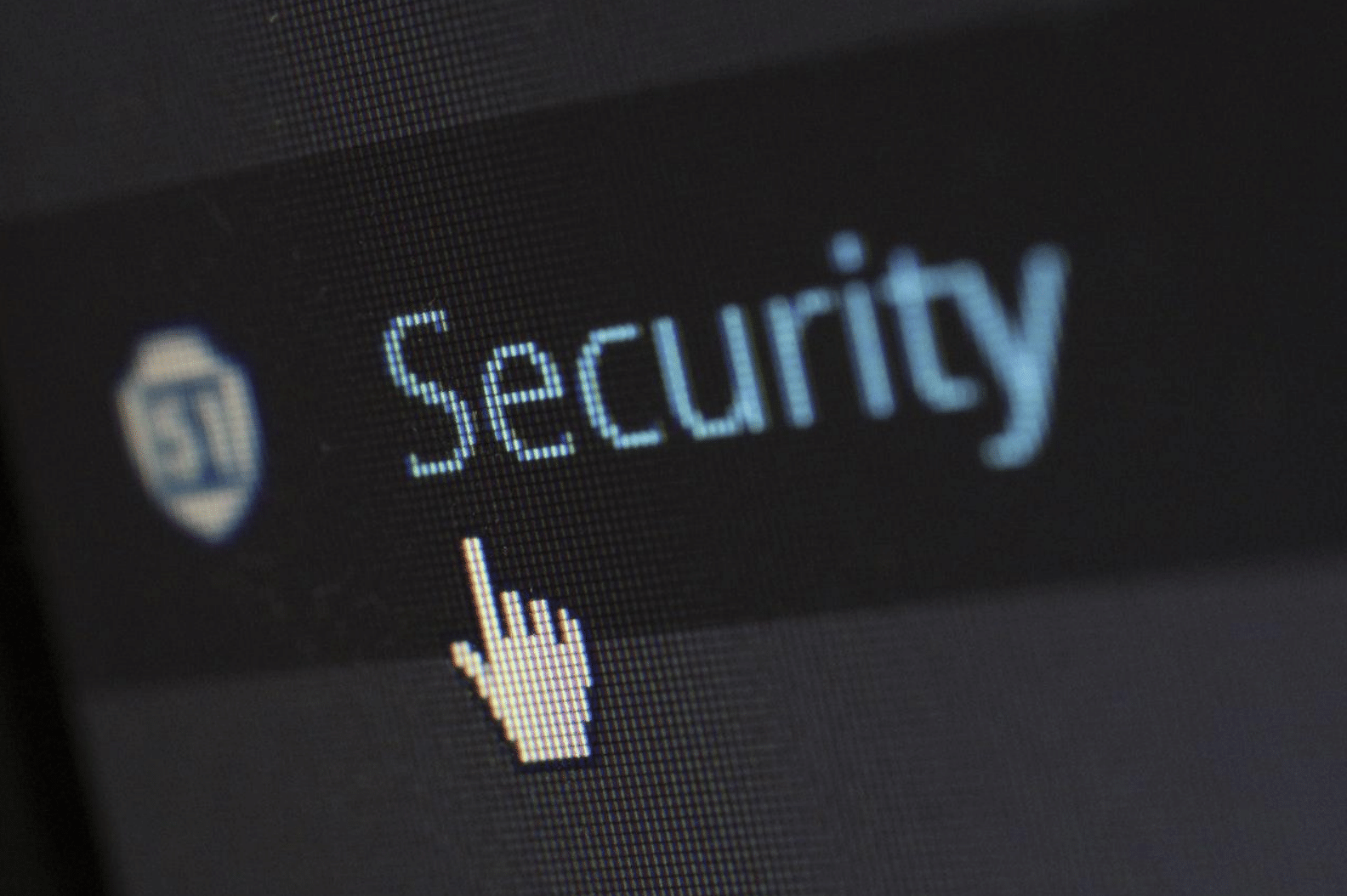 So, which one do you want? 
No matter the topic, you'll likely need to make a decision at some point. Sometimes it boils down to personal preference, other times it's all about the price, and still others it hinges on reviews, or availability, or something else entirely. 
Home security is no different, as there are many players in the game offering quality products and services. Two of the most popular are Ring and ADT.
Security Systems: By the Numbers
But before we dive in, let's take a quick glance at the statistics:
And last but not least, a property without a security system is 300% more likely to be burglarized than one that does. We've shared that particular stat several times because it's so — no pun intended — alarming. 
The numbers don't lie: burglaries happen, but a security system makes it much less likely to happen to you. 
But let's get back to our main event.
The Contenders: Ring vs ADT
If you've heard of any security companies, you've probably heard of at least one of these two. 
The Seasoned Vet: ADT
ADT — formerly The ADT Corporation — was founded in 1874 as American District Telegraph, but only became involved with fire and security alarms starting in 1910. 
The company has nine monitoring centers and over 6 million customers in the United States, making it the most popular security provider. 
The Up-and-Comer: Ring
Ring was started as DoorBot in 2013, rebranded itself as Ring after failing to find investors on Shark Tank, and was acquired by Amazon in early 2018 (for well over $1 billion). 
The Ring doorbell camera outsells its closest competitors combined, and is the largest civilian-installed surveillance network in American history. 
Both of our contenders can walk the walk and talk the talk, but let's see how they do in a head-to-head comparison. 
Ring vs ADT: The Similarities
Both providers have a wide and varied product offering consisting of security cameras — both indoor and outdoor — video doorbells, alarms, motion sensors, and more.
Both Ring and ADT allow you to pick and choose the products you want, or select one of their affordable package deals. 
Both offer a mobile app that allows you to engage with your security and smart devices from anywhere. ADT Control currently has a 4.8/5 rating on iOS and 4.7/5 on Android, while Ring Always Home comes in a little lower at 4.5/5 on iOS and 3.8/5 on Android. 
Video Doorbell
While the video doorbell is the product that put Ring on the map, the ADT version is no slouch. 
Both offer DIY installation, HD video quality, two-way communication, motion alerts, night vision, and mobile app integration. 
But while ADT offers just one video doorbell for $199.99, Ring has several options — wired, wireless, pro, elite — with prices starting as low as $59.99 and topping out at $349.99. 
Professional Monitoring
Alarms and security cameras are good, but the ability to have someone monitor those systems is even better. 
As an optional extra, the Ring monitoring cost starts at $20/month or $200/year as part of the Pro Protect Plan that also includes video recording for all of your devices, person alerts, and video history for 60 days.  
On the other hand, 24-hour professional monitoring is standard with all ADT packages. It is not optional, and will generally cost between $40-60/month depending on the level of protection you select (Secure, Smart, or Complete). 
Theft Protection
ADT will cover up to $500 of your home insurance deductible if a burglary occurs while your security system is armed. 
Ring will replace a stolen video doorbell or security camera at any time after purchase, although it will do so only once for each device. 
Ring vs ADT: The Unique Features
So far, there's not much difference between Ring and ADT in terms of their product offerings. But each does have a few features unique to their brand that may prove the difference marker for consumers.
ADT Features
ADT has been in the security game for well over a century. They have the experience and knowledge to provide a high quality service that not everyone can match. So what makes them stand out from the competition?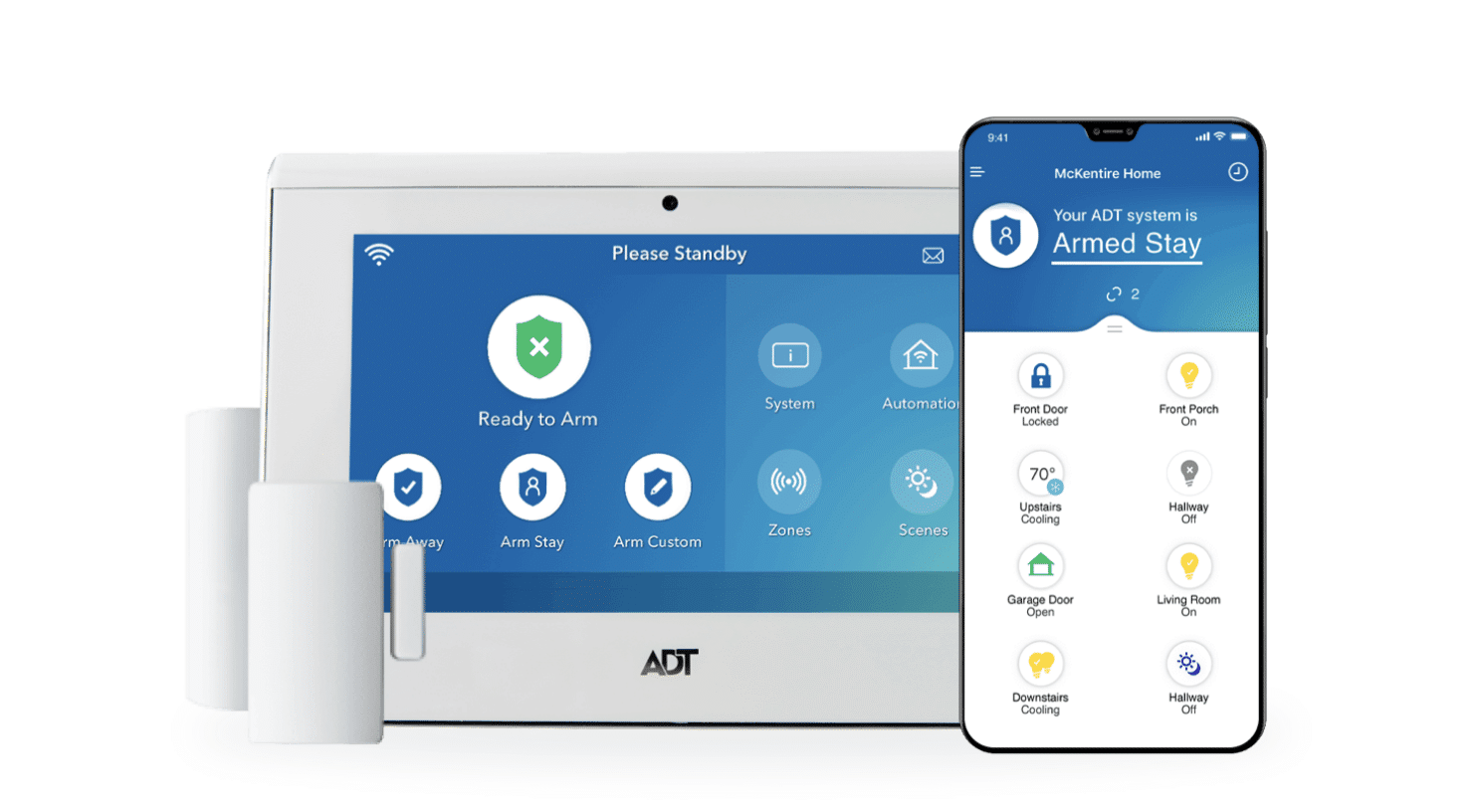 Professional Installation

. You purchase your equipment from ADT, and one of their trained technicians will install it at your property. No hassle, no mistakes, and no worry, but you do pay for installation (currently between $99 and $199).

A 6-month Guarantee

. At six months, ADT has the longest money-back guarantee in the industry. 

Smart Device Integration and Automation

. Your ADT security system works with both the Google Assistant and Amazon's Alexa, and the mobile app allows you to control your smart lights, locks, thermostats, garage door opener, and plugs in addition to your ADT cameras and alarms. It's complete home automation. And while Ring does work with Alexa (as both are owned by Amazon), it currently only supports smart lights as additional integration.

Low Upfront Cost

. You can spread the purchase cost of your ADT products out over several months rather than all at once. 
Ring Features
Ring is less than ten years old, but it has grabbed a sizable chunk of the DIY security market in that time. The company has a lot to offer for those looking to keep costs down while having the option to add premium features for an additional fee.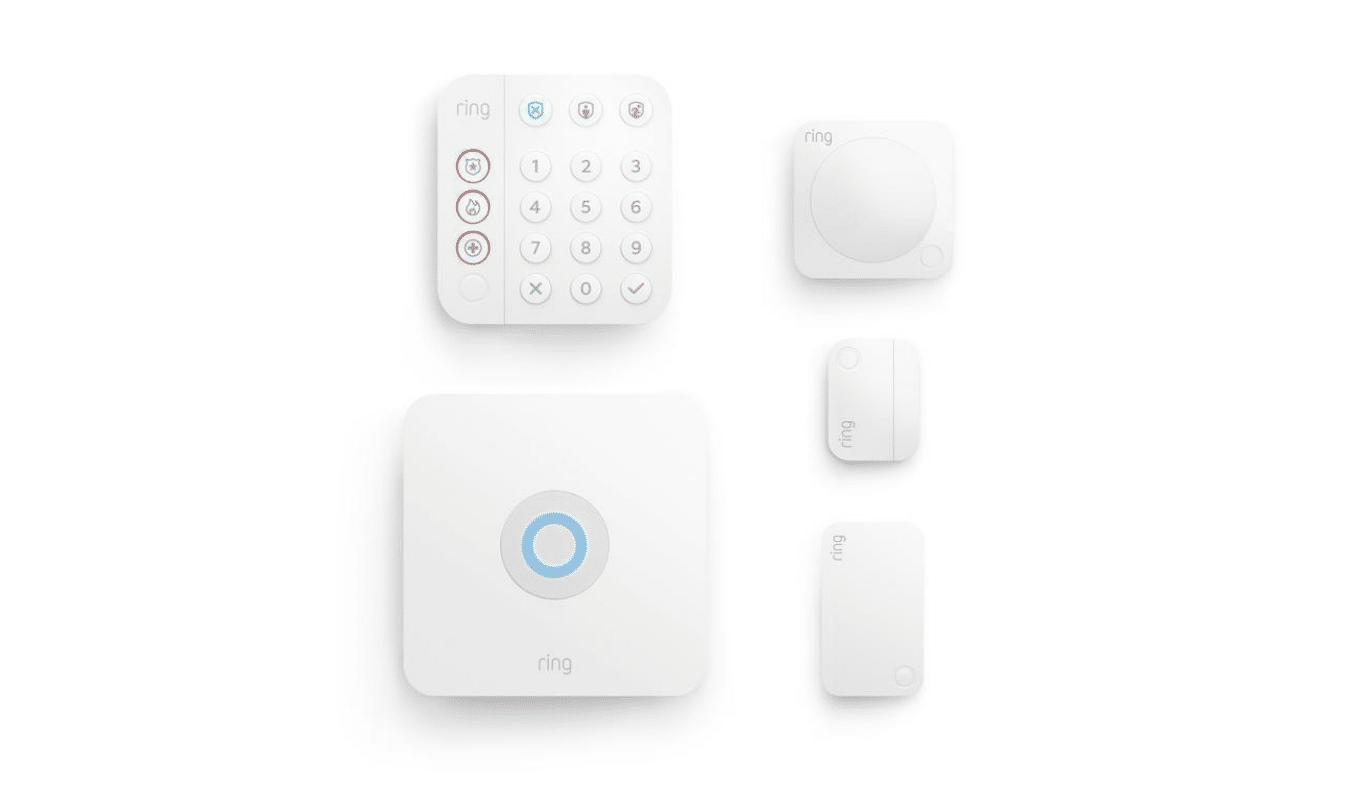 No contracts

. There is no contract required for using Ring or any of its services. You can cancel at any time, whereas ADT locks you into a 2-5 year contract at the beginning (depending on financing). 

The Neighbors App

. Unique to Ring, the Neighbors app for

iOS

and

Android

is like a neighborhood watch program for the digital age. With it, you can share video footage, and receive real-time updates, news, and footage from your neighbors and public safety agencies in your area. 

Affordability and Accessibility

. You can purchase Ring products on Amazon, or from third-party vendors like Walmart, Target, and Best Buy. And you're going to spend less than you would on ADT: there's typically no installation fee, the products themselves are generally more affordable, and you'll spend no more $20/month. 

Snapshot Capability

. This built-in feature allows you to take a screenshot of a single frame of video footage that can then be saved or shared. 
Ring vs ADT: The Side-By-Side Comparison
Both have their pros and cons as we've seen so far. Here's how they match up when side-by-side:
 

Ring

ADT

Purchase Cost

Upfront

Pay-over-time

Installation

DIY

Professional

24/7 Monitoring

Optional

Mandatory

Monthly Monitoring Cost

From $0 to $20/month

$40-60/month

Smart Automation

Limited

Complete

Mobile App

Yes (iOS and Android)

Yes (iOS and Android)

Security Kit Packages

Starting from $199.99

Build Your Own starting from $9.98/month or $599
upfront, Smart Package from $15.32/month or $919 upfront, and Complete Package from
$20.15/month or $1209 upfront

Contract

No

2-5 years depending on financing

Service and Repairs

Extra

Included

Theft Protection

Stolen device replaced once free of charge

Up to $500 towards insurance deductible
if alarm was armed

Money-back Guarantee

30 days

6 months
Is ADT worth it? That's for you to decide. It's a quality product for a premium price. 
How much is Ring monthly? Either $0, $3, $10, or $20 depending on your chosen add-ons.
What are the reviews like? Both are very well reviewed by their users. ADT has a rating of 4.9 out of 5 on Consumers Advocate, while the Ring Starter Kit is 4.7 out of 5 on Amazon.   
Any Ring vs ADT comparison is going to find a lot of overlap, but enough differences to make them distinct and unique offerings. Ultimately, it comes down to which is the better fit for you.  
If you want more freedom and more control over cost, then Ring might be the better solution. If you're willing to pay a premium for professional installation, monitoring, and complete coverage from an established brand, then ADT should be your first choice. 
Ring and ADT match up well in most ways, and neither is able to deliver a definitive knockout of the other in a general event. 
Affordable and DIY? Ring is the victor.
Established and comprehensive? ADT is the champ. 
But overall, any security system is better than none at all.