What Are Your No-Contract Security Options?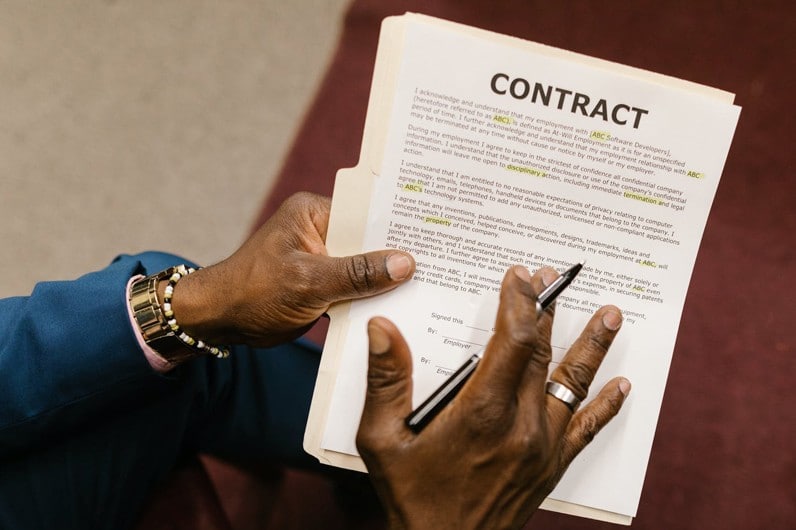 Just sign on the dotted line. 
The thought of committing to something for 48, 60, or 72 months can be a little scary. What happens if your circumstances change, you're unhappy, or the product moves in a direction you don't want? 
You might have an opt-out clause, but even then you could be looking at a termination penalty fee.
In the home security industry, contracts typically range from 12 to 60 months, but the average is 36 months. That still locks you in for three years. 
A contract isn't necessarily a bad thing, though. It explicitly defines what you are and aren't getting, outlines the responsibilities of each side, protects both parties, and possibly even freezes the amount you'll be paying for the duration of the contract. Many security providers are happy to finance and spread out the start-up costs for customers who do choose to commit to 12+ months. 
But what if you just don't want to? Or can't, for whatever reason? 
What are your no-contract home security options?
DIY Home Security Systems
The home security industry is growing by leaps and bounds. The global market was worth an estimated US$52 billion in 2020, and is predicted to top US$82 billion by 2027. 
In the United States alone it's valued at roughly US$14.1 billion.
With a market worth that much — and demonstrating such steady growth — there's more than enough room for providers representing every tier and budget. 
And that's great news for frugal and savvy consumers. 
If you're looking for no contract, no monthly fee home security options, you're literally spoiled for choice. 
These are some of the industry-leaders.
Ring Inc.
Launched in 2013 and initially focusing on doorbell cameras, Ring was acquired by Amazon in 2018 and has since expanded its product offerings. 
Pick and choose from their extensive selection of doorbell cameras, motion detectors, window/door sensors, alarms, security cameras, and more. Build your own package, or go with one of their curated bundles to fit virtually every need and budget.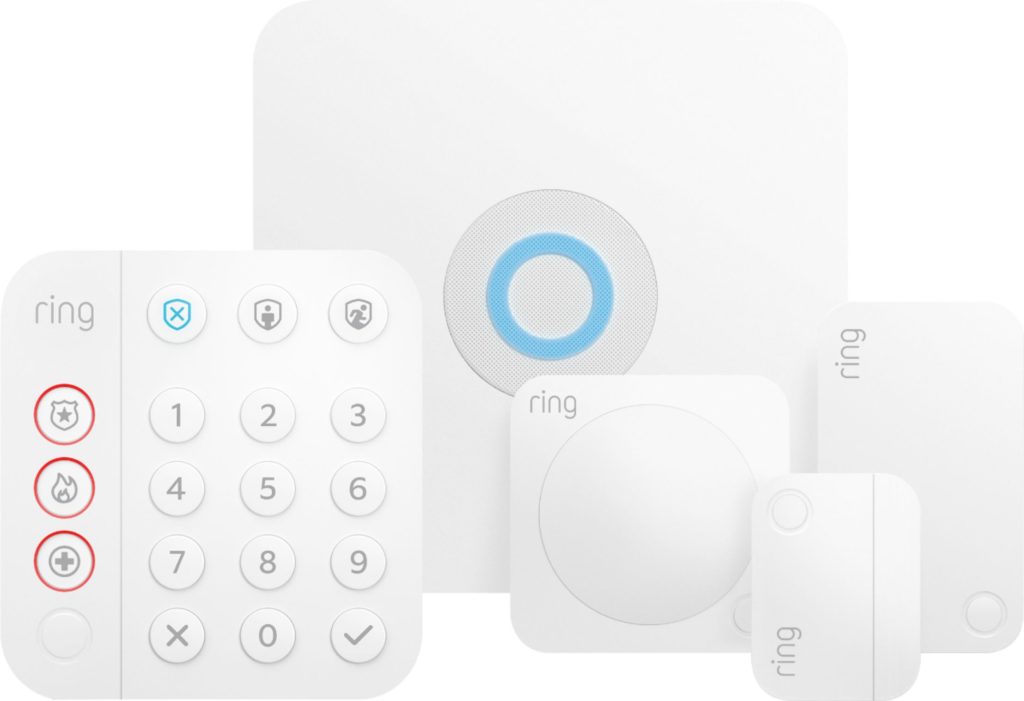 And because it's now owned by Amazon, everything integrates flawlessly with Alexa, Fire TV, and the Echo Show (to say nothing of Google Assistant and other smart home devices).
You can self-monitor for free, making Ring a truly contract and monthly fee free service. Receive alerts to both your computer and smartphone, watch in real-time via the customer portal, mobile app, or integrated smart device, and crowdsource security with the Neighbors App that connects you with neighbors, Ring users, and local police agencies for shared crime prevention.
You can opt into one of three tiers of Ring Protect. Starting at just $3/month, Protect provides features not offered with the free plan, including the ability to save video footage, digital backups, and 24/7 professional monitoring (only available with the Pro plan for $20/month). 
Ring is consistently ranked as one of the best no monthly fee home security systems. 
SimpliSafe
Named the best DIY home security system by TechCrunch, SimpliSafe was founded in 2006 by a couple of Harvard students frustrated by the lack of affordable security options for renters. 
It's widely considered the provider to beat in the contract and subscription-free marketplace.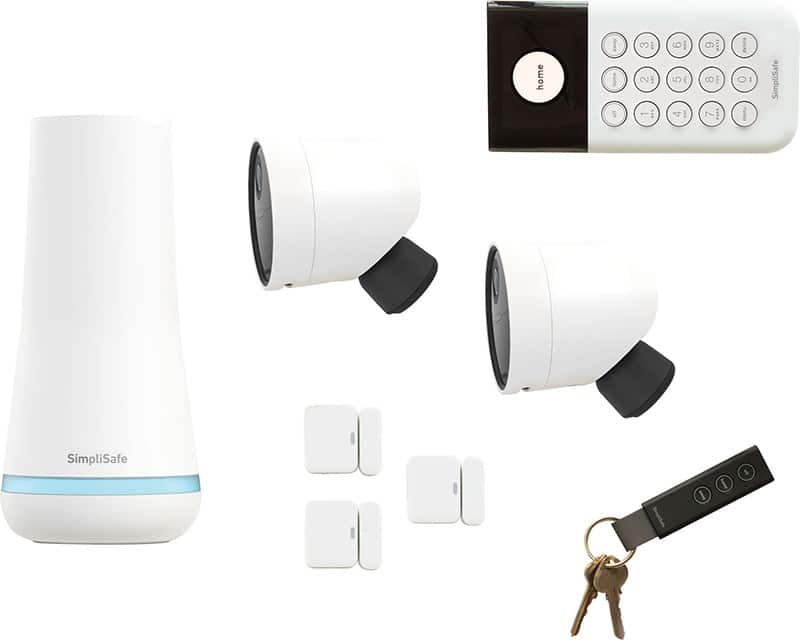 SimpliSafe is ridiculously easy to install: plug in the hub, attach the keypad and sensors with included adhesive tape, and place freestanding cameras wherever you want coverage.
The entire system is designed to be semi-permanent — no screws or drilling required — and easy to take with you should you end up moving.
Select your gear from one of several bundles, or build your own. 
Start with the hub and keypad, then add motion detectors, entry sensors, cameras (both indoor and outdoor), glassbreak sensor (unique to SimpliSafe), and sirens, in addition to smoke detectors, water sensors, and carbon monoxide detectors for added protection.  
And while there is a free, no monthly fee tier available, it doesn't allow for much. You can livestream…but that's about it. If you want to save video footage and video-verified alarms, you'll need a monthly subscription starting at $5/month. 
Professional monitoring is available in either the Standard ($15/month) or Interactive ($25/month) plans, while smart home integrations via Google or Alexa are only possible with the latter. 
No contract, DIY, and portable? Yes. But SimpliSafe is very limited without at least the basic monthly subscription. 
abode
Earning the coveted Editor's Choice award for 2021 from Reviews.org, abode was started in 2014 by a former ADT exec and a few other experts in security and tech. That's some impressive pedigree, but abode lives up to the hype.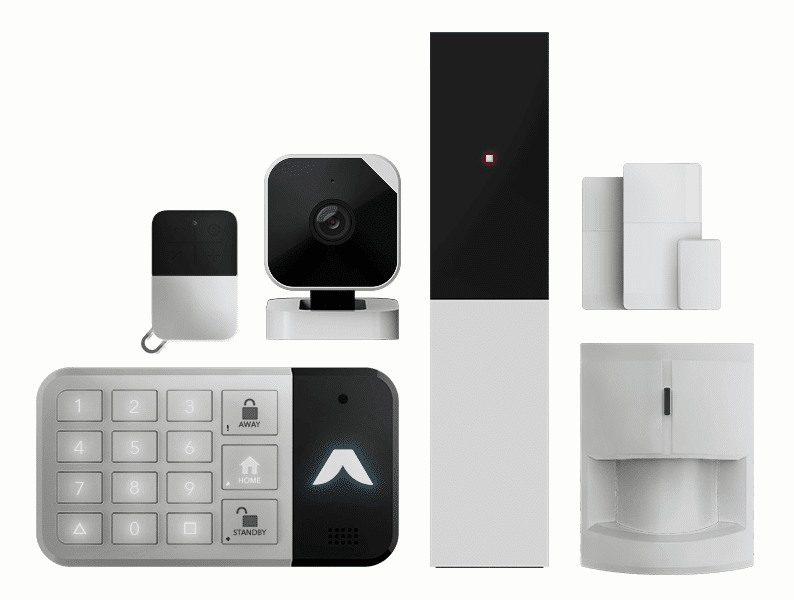 Forgoing a variety of bundles in favor of customized packages, the abode system is built upon the gateways (hubs), accessories, and the mobile app. You select only those components you want and need for your home or business. 
DIY installation? Check. No contract? Check. No monthly fee? Check. 
The free self-monitoring tier is a solid option, but as with the other providers we've seen so far, abode offers two subscription plans that include additional features and better protection. 
The Standard plan includes notifications, home automation, and cloud storage for $6/month, while the Pro plan provides that in addition to 24/7 professional monitoring for $20/month. 
abode stands out from the crowd in two significant ways:
1 – Provides more integrations than any other provider, including Google, Alexa, Apple Homekit, IFTTT, Zigbee, Z-Wave, Bose, Nest, ecobee, Philips Hue, and 100+ others
2 – Offers on-demand monitoring for either 3 or 7 days at a time, perfect for long weekends away or a family vacation
If you're looking for a no contract service that can turn your home into a smart home, this is the solution for you. 
Vivint
The elder statesman of the subscription-free, no contract security system crowd, Vivint was founded in 1997, and has 1.5 million customers in the United States and Canada. 
You won't find their complete product and service offerings on the website, though, as Vivint takes a different approach than the others.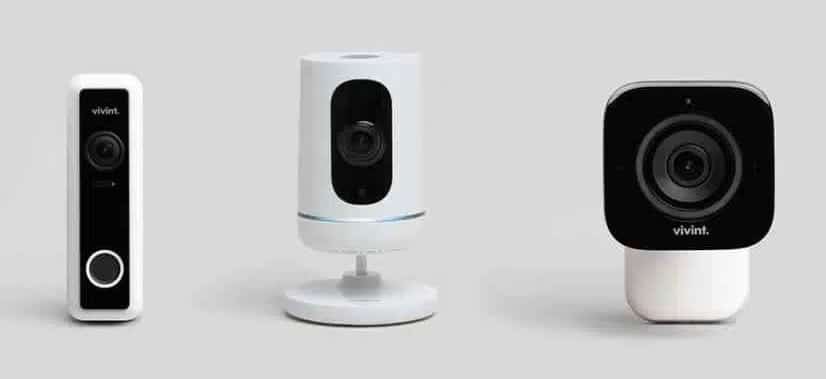 You'll need to call Vivint and speak to a "Smart Home Pro". They will guide you through the process to build a custom package that is unique to you, and schedule a time for the professional installation to take place. They do not offer DIY products. 
In addition to the standard options like doorbell cameras, entry sensors, security cameras, and 2-way audio, they also offer smoke detectors, smart thermostats, flood/freeze sensors, smart locks, and carbon monoxide detectors.
It is possible to get a monthly subscription-free package, but Vivint will aggressively try to upsell to one of their paid tiers.    
Monthly service packages that include 24/7 professional monitoring and home automation range from $30 to $45/month. 
You can control your system via either the Vivint app, Smart Hub, or integration with devices like the Amazon Echo or Google Home. 
Vivint products are high quality, yes, but you'll pay a premium for them, and their functionality — even by their own admission —  is limited without a subscription package. 
The Best of the Rest
Ring, SimpliSafe, abode, and Vivint are unquestionably the brands you'll encounter most often. 
But they're definitely not the only no contract, no monthly fee security systems in the game. A few smaller but worthwhile names to explore include: 
1 – Frontpoint – Smart home compatible, DIY installation, bundles and build-your-own options, geofencing, customizable notifications, and programmable routines. They offer a single subscription plan for $50/month that includes professional monitoring. 
2 – Arlo – Bundles, floodlight cameras, doorbell cameras, and security cameras. Low cost, easy installation, and free video recording (rarely an option with other providers). Arlo Secure ($10/month) and Arlo Secure Plus ($15/month) are optional upgrades that increase functionality exponentially. 
3 – Cove – No-tool installation and no contracts. A touchscreen control panel allows you to communicate directly with monitoring agents, should you opt for one of two subscription packages starting at $15/month. Named Best DIY Home Security System 2021 by U.S. News and World Report. 
4 – Scout – Full range of products (cameras, sensors, motion detectors, doorbell cameras, and more) available in build-your-own or bundles. Fast and easy installation. No contracts. No hardwiring. Smart home integrations. Optional plans start at $10/month or $20/month to include professional monitoring.
There's a lot to love about living contract-free, but it's important to read the fine print on these and other providers. 
The old adage "you get what you pay for" clearly applies to no contract security cameras without a subscription. You may find they lack the features you need unless you're willing to pay extra.  
Even something as fundamental as using the mobile app is sometimes not included with the free tier, so make sure you ask questions and do your homework. 
But if you're willing to sacrifice some functionality and capabilities, it is possible to secure your home or business with no contract and no monthly fees…provided you're willing to resist the sales push that is sure to accompany any purchase. 
So stay strong.