Police Arrest Suspected Funeral Burglar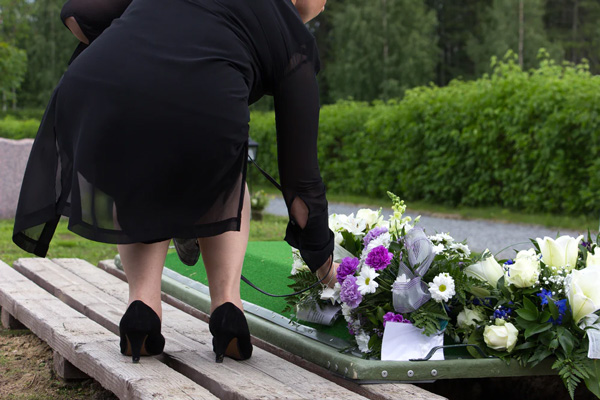 Funeral Burglar Suspect Robbed Mourners' Homes
Mourners in Southern California's Los Angeles and Orange Counties now can focus on their grief. They no longer need to worry whether the area's notorious funeral burglar will strike their homes while they are away attending the funeral of a loved one.
Anaheim police arrested Brett Patrick Rogers, 44. He is suspected of being the culprit in a series of home burglaries over the past year. The homes' addresses encompass Van Nuys, Sherman Oaks, Glendale, West Los Angeles, and Lakewood.
Anaheim Police Sergeant Daron Wyatt told the media on May 11 that Rogers was in custody but did not reveal when and how he was captured. Several area police departments, including the LAPD, collaborated on finding the suspect.
Home Surveillance Videos Provide Breakthrough
A breakthrough in the funeral burglar case came in March. Several homes' security surveillance cameras recorded footage of the suspect burglarizing houses while the residents were at a funeral.
A home surveillance camera in Sherman Oaks revealed images of the suspect during a March 12 burglary when the home's occupants were at a funeral. He reportedly also burglarized the homes of funeral attendees on March 7 and 11, according to the LAPD. Home surveillance video cameras in those homes, in Van Nuys and West Los Angeles, also captured images of the suspect. The homeowners in these cases also were attending funerals and came home to find their residences ransacked.
The funeral burglar's presence tripped an alarm in the Van Nuys home. Startled, he left without taking anything. But he stole a jewelry box and credit cards from the West Los Angeles home. Police reports note one of the credit cards later was used in Inglewood.
On March 27, the LAPD posted images of the suspect from the home surveillance videos to their Twitter account and asked the public's help in identifying him. The post noted that the suspected funeral burglar was likely staying in motels in the Huntington Beach area. Calls started coming in and with the help of the public, according to a reported LAPD statement, Rogers soon was identified. It took a couple more months to find him and take him into custody.
The suspect's relatives in Lake Elsinore and Riverside areas reportedly cooperated with police.
How the Funeral Burglar Targeted Victims
LAPD detectives working on the case told reporters how the funeral burglar targeted his victims.
"With the obituary being posted, you know the date of the service, the time of the service… odds are nobody is going to be home," LAPD Detective Marc Diamond told ABC News.
Deep Sentinel, a rapid artificial intelligence-enhanced security camera system provider, previously reported on the risk of home burglaries during funerals. Arranging for a house sitter while attending a funeral is one of the precautions Deep Sentinel suggested to minimize the risk of being victimized by a funeral burglar.
Another suggestion recommended notifying friends and family privately of the funeral. A relative or close friend can help contact people via email, phone, or private messages on social media. Then the obituary can be published afterward with the statement, "Services have already been held."