Home Security Cameras & Video Surveillance Systems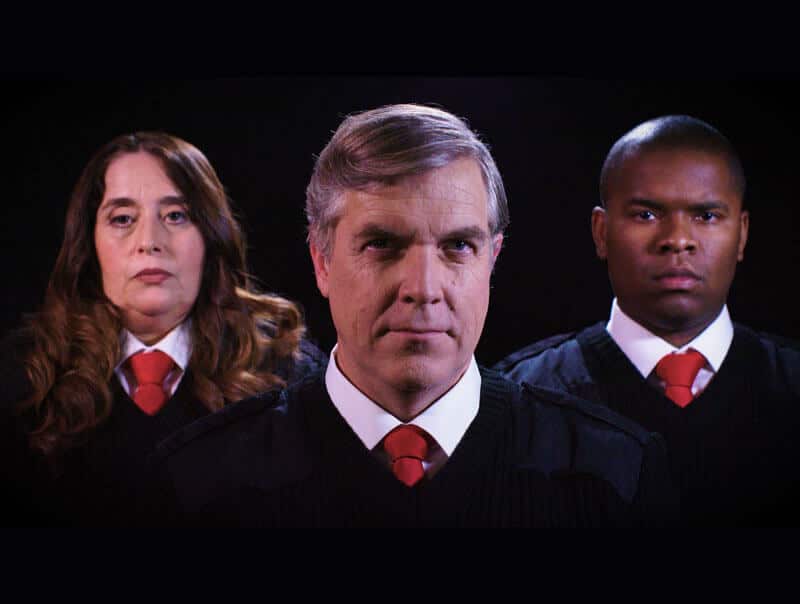 PoE Cameras

PoE (Power-over-Ethernet) solution that includes our award-winning live guard service. PoE cameras provide ultra HD video resolution with unprecedented color-night vision.
Requirements: Property must be pre-wired with Cat5e (or better) Ethernet cables. Professional installation required.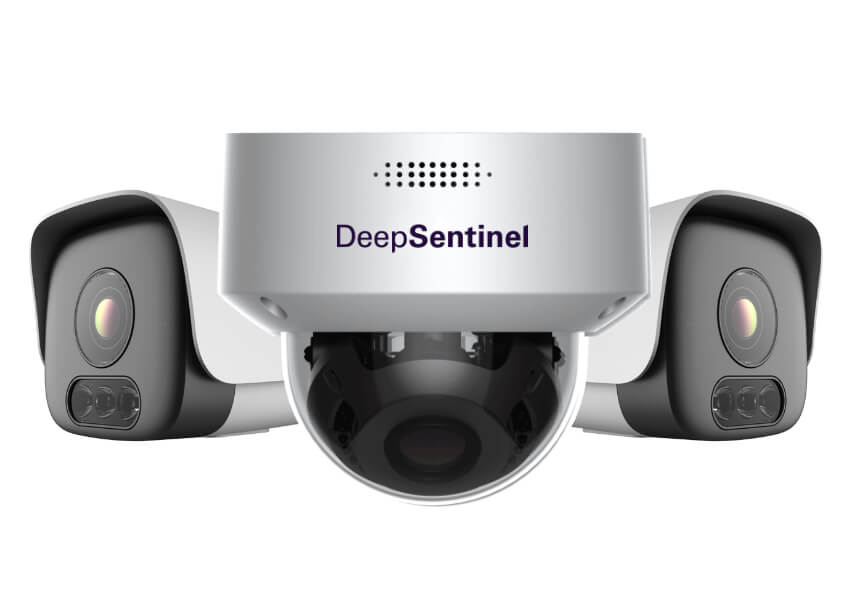 Superior Color Night-Vision: 

Features crisp security video regardless of lighting conditions or time of day. Starlight technology provides industry-leading low-light video performance.
Smartest Hub: 

Packed with Nvida GPU, 4TB hard drive, 20 camera support, and smartphone app access, the smart Hub packs a punch with 24/7 live surveillance. 
| | |
| --- | --- |
| | 2-Way Audio with Live Guard Protection: Deep Sentinel's security guards actively intervene to prevent burglary, auto break-in, or package theft. |
| | |
| --- | --- |
| | Ultra 4k/8MP Video Resolution: Providing vivid resolution and more clarity than the 1080p wireless cameras. |
DIY Wireless Home Security Cameras
Installation is easy. No wires. Just mount the components and you'll receive the award-winning Live Guard service in minutes.
Requirements: Internet service (minimum upload speed of 5 Mbps)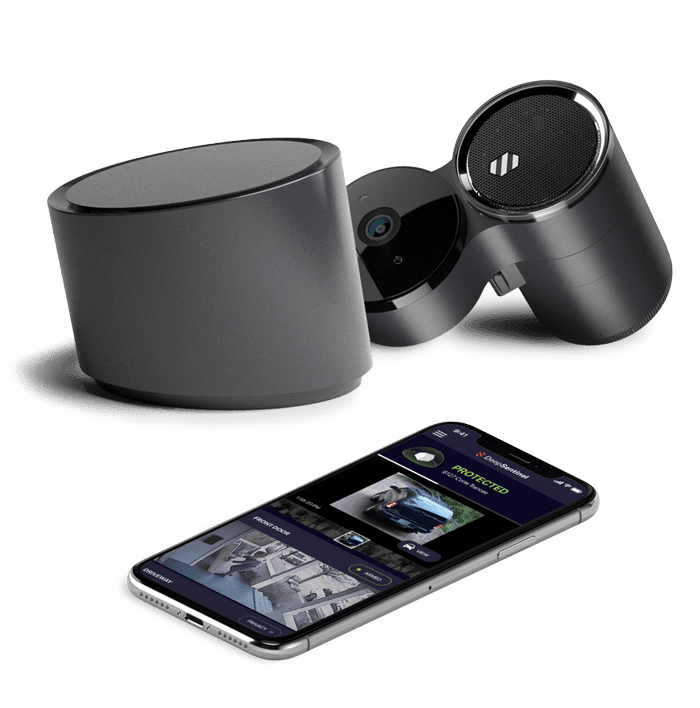 | | |
| --- | --- |
| | 2-Way Audio with Live Guard Protection: Take advantage of professionally monitored security cameras. Deep Sentinel's live guard protection with professional guards keeping watch and engaging if something suspicious occurs. |
| | |
| --- | --- |
| | Wide Field of View: Cover more of your property and eliminate traditional blind spots with a wide-angle view. Even the most experienced criminal won't be able to hide. |
| | |
| --- | --- |
| | Long-Lasting Battery: Keep your video surveillance system running at all times with security cameras boasting long-lasting batteries. Powered options, like solar, are available. |
| | |
| --- | --- |
| | Night Vision – Deep Sentinel wireless security cameras come equipped with night vision. See through 40 feet of pitch blackness to spot criminals. |
Third-Party Cameras (Beta)

Bring Your Own Camera! Deep Sentinel's award-winning surveillance service is now available for select third-party cameras.
Requirements: Existing PoE security cameras from list of certified models.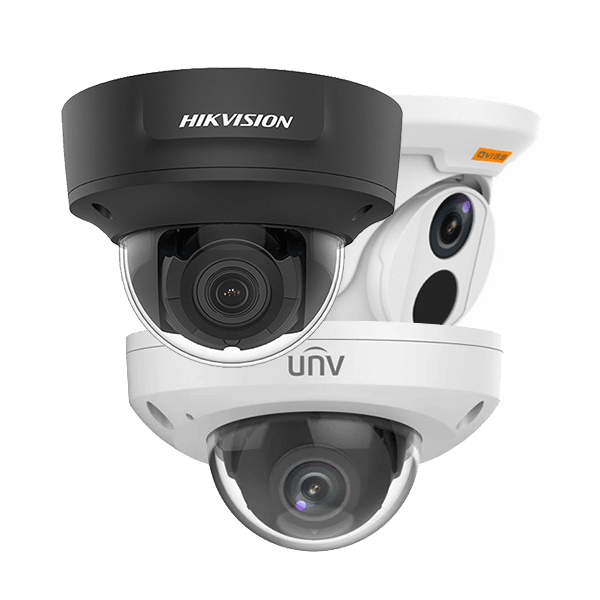 | | |
| --- | --- |
| | Seamless Integration: Compatible with your existing PoE cameras for simple, stress-free installation and operation. |
| | |
| --- | --- |
| | Upgrade Your Security: Supercharge your camera system with Deep Sentinel's live virtual guard services. |
| | |
| --- | --- |
| | Multiple Camera Options: Select camera models are currently certified, with more to be certified soon. |
| | |
| --- | --- |
| | Now in Beta: Contact our team to be part of this next phase of Deep Sentinel's service offerings. |
The Only Home Security Cameras with Live Guards.
Deep Sentinel guards have eyes on criminals from the second they step on your property. Live guards proactively monitor your security camera system and take action instantly through the 104db speaker.
| | |
| --- | --- |
| | 2-way Audio for Guard Engagement |
| | |
| --- | --- |
| | No False Alarms |
| | |
| --- | --- |
| | Live Guard Surveillance |
| | |
| --- | --- |
| | U.S.-Based |
| | |
| --- | --- |
| | Live Guard Surveillance |
| | |
| --- | --- |
| | U.S.-Based |

Trust Deep Sentinel with Your Security Needs
Homeowners and businesses face internal and external threats from vandals, home invaders, loiters, and porch pirates. No neighborhood is safe, and that means you need to take action.
Protect your family or your business with state-of-the-art security camera systems with live video surveillance from Deep Sentinel.
Deep Sentinel's affordable security solutions provide you with the latest technological advancements for camera security at a price to suit you.
Review our security camera offerings and contact Deep Sentinel to learn more about doing your duty and keeping your home safe.
Security Camera System FAQs
How can I access my security camera footage?
Through the Deep Sentinel mobile app, you will have access to live and recorded security footage from your home security cameras. Through our app, you'll also be able to engage (talk and listen) to anyone on the property the same way our guards do through the security cameras.
How long is my security footage stored?
Deep Sentinel offers up to 90 days of stored security footage in the cloud, included in your monitoring subscription. With most other security system providers, you'll have to pay additional fees to store your security footage.
Is internet access required?
An internet connection is necessary to get the most from your home security cameras, but if your WiFi goes down, that doesn't mean your cameras have stopped working. Security footage can still be accessed via your Local Area Network (LAN).
Certain security features may require WiFi, such as live-guard monitoring or watching a live camera feed via your app.
For wireless equipment, how often do I need to charge my batteries?
Deep Sentinel's long-lasting batteries will last anywhere from 2-4 months, depending on the amount of traffic that comes through the security camera's feed. If you prefer not to change out batteries, we recommend our solar-powered chargers that require zero maintenance. 
What happens when a threat is detected?
Live guard monitoring services mean that the moment your home security cameras detect a threat, law enforcement will be notified. Depending on where you live, an officer may be dispatched to your property in a matter of minutes.
Security systems without live monitoring typically require a separate alarm to contact law enforcement and are seen as a low priority due to the vast amount of false alarms. Without live monitoring, it could take hours or days to discover that a crime has occurred.
Can I use Deep Sentinel's services with my existing PoE security cameras?
Yes, Deep Sentinel's award-winning surveillance service is now available for select third-party Power-over-Ethernet cameras (in beta). Call our team to learn more.