Chicago Crime Rate: Crimes by Type and Neighborhood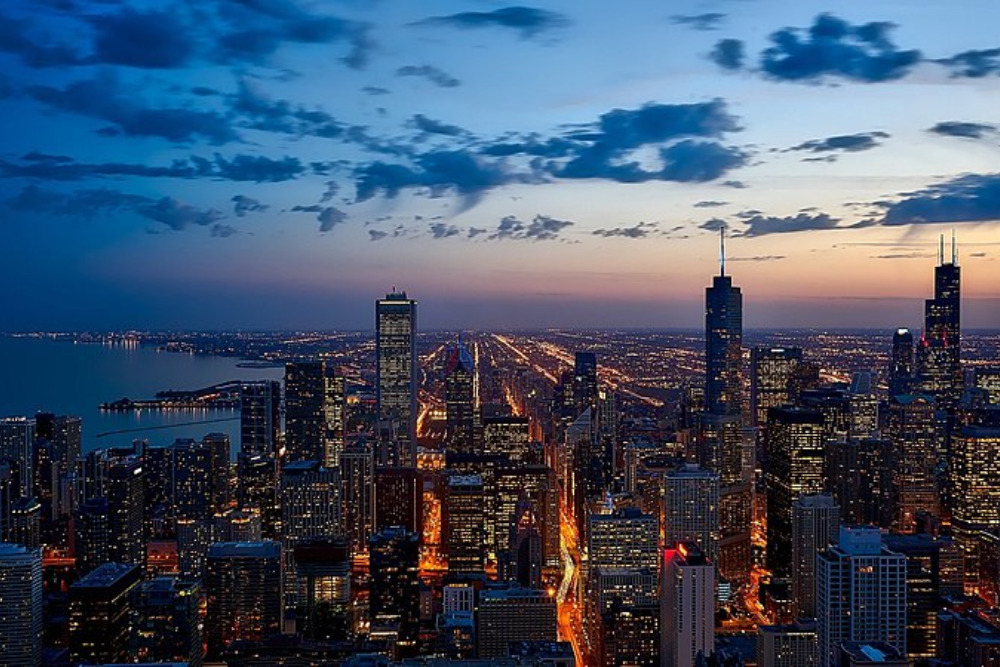 Chicago, the Windy City. Third most populous city in the country. Pro teams in all four major sports, Lake Michigan shoreline, plenty of cultural offerings, great universities, and a booming job market. With everything this Midwestern gem has to offer, it's hardly surprising that so many people decide to give Chicago a try. But whether you're there to visit or to stay, it's important to keep safety in mind and to know how the Chicago crime rate differs from neighborhood to neighborhood. Let's take a look.
Chicago Crime Rate
Is Chicago, Illinois, safe? Depends on who you ask and what you mean by "safe." In a poll by Niche.com, 69% of Chicagoans rate their city as "pretty safe" or "very safe," while 31% rate it as "somewhat safe" or "not safe." But safety is a feeling, not something measurable. For that, we need more data.
Standardized crime data is the most reliable, objective source for determining the relative safety of an area. While this information doesn't paint the full picture, it should give a rough idea. (A caveat: Use due caution, as not all law enforcement agencies publish crime data, and crime is a complex sociological issue that is just one measure of personal safety.)
It's worth noting some intricacies of Chicago crime data reporting. With few exceptions, if an incident involves more than one criminal charge, it is coded and reported as the most serious offense. In other words, if a person committed murder and theft, Chicago counts the crime as murder in statistical reports. In addition, Chicago reports crime per incident, not per victim. Knowing this, the actual number of people affected by crime in Chicago may differ from the reported crime rates.
Overall Crime in Chicago
According to the Chicago Police Department, Chicagoans called in more than 47,000 "crime complaints" citywide in 2021, up 3% from the prior year. Until this increase, crime complaints had been steadily dropping each year. The CPD's 2021 annual report indicates that Chicago saw 84,316 reported crimes that year. That means the Chicago, Illinois, crime rate is around 30.6 crimes per 1,000 residents. By comparison, the nationwide crime rate was approximately 23.6 crimes per 1,000 residents in 2020.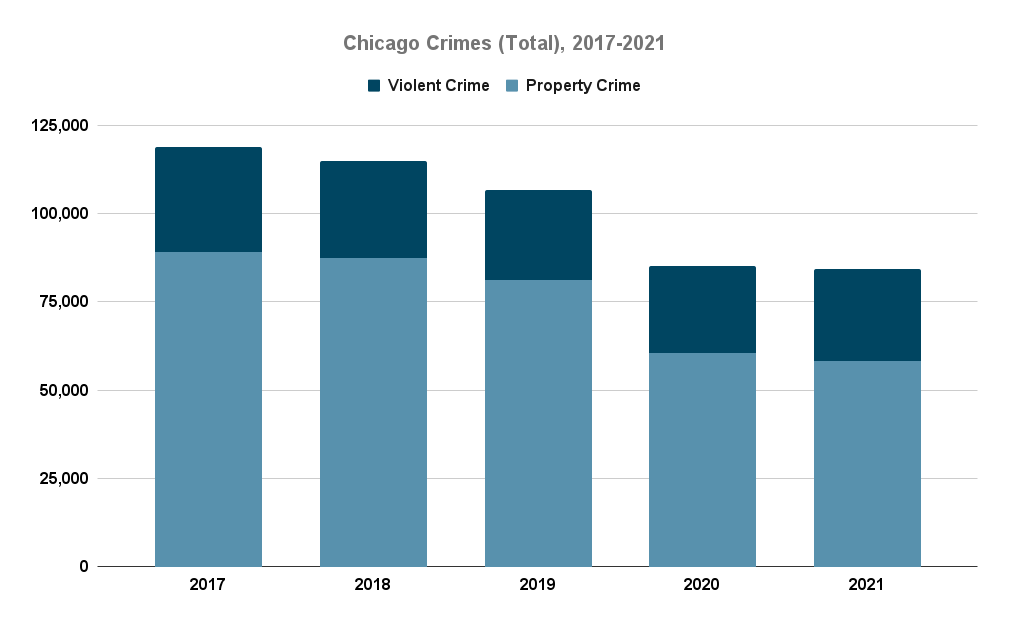 Data Source: Chicago Police Department annual reports
All in all, the crime rate in Chicago has been dropping but is still above the national average. This is likely unsurprising, given that large cities are often more prone to crime. But when considering how safe you feel in Chicago, perhaps the type and severity of crime matters.
Chicago Violent Crime Rate
Interestingly, the number of violent crimes of all kinds increased from 2020 to 2021, while most types of property crime decreased. In this respect, Chicago crime statistics follow the same trends that we've been seeing across the country.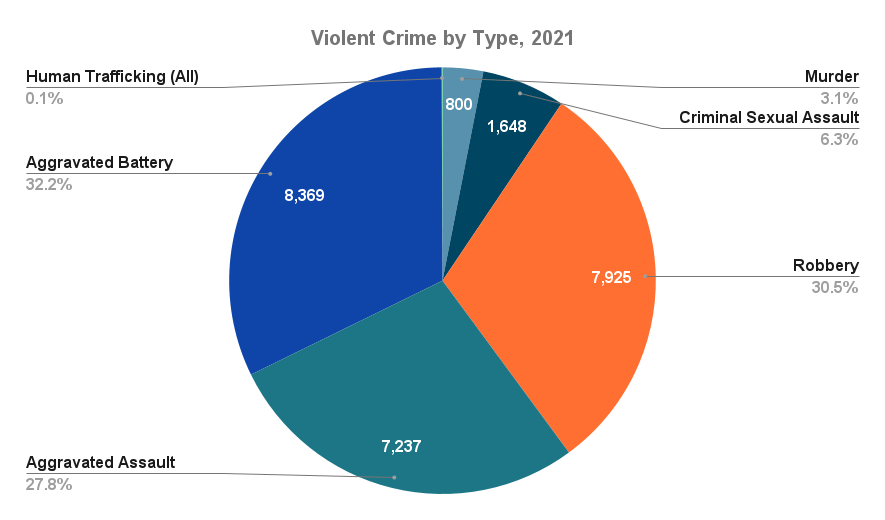 Data Source: Chicago Police Department 2021 annual report
The most common violent crime in Chicago is aggravated battery, with 8,369 reported cases in 2021. That means aggravated battery made up about one-third of the year's violent crimes and one-tenth of all reported crimes. However, this charge had the smallest year-over-year increase out of any type of crime, while others like human trafficking, sexual assault, and aggravated assault increased more dramatically.
Chicago Property Crime Rate
Property crime may have decreased in Chicago, but it still makes up the bulk of criminal offenses. Larceny/theft is the most common, with more than 40,000 reported incidents in 2021. That's almost 70% of reported property crimes and nearly half of all reported crimes.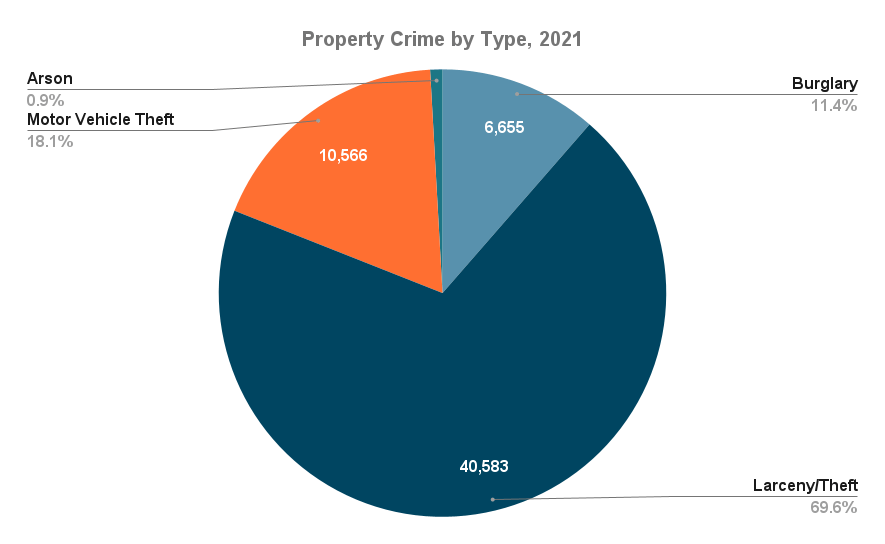 Data Source: Chicago Police Department 2021 annual report
Most categories of property crime decreased in 2021. The notable exception is motor vehicle theft, which actually increased by 6.2%. This trend has continued (and worsened) since then. According to the most recent reports from the CPD, motor vehicle theft is up nearly 70% compared to this time last year–and already more than last year's total number of vehicle thefts.
Perhaps one contributing factor in Chicago's decrease in property crime during 2021 was the growth of remote work. With more people at home during the day, homes and personal property were more closely watched than in the past. As people return to the office, that positive change appears to be slipping away.
Crime Rates in Chicago by Neighborhood
If there's one thing that Windy City residents get fired up about, it's Chicago neighborhoods. Chicago has up to 200 distinct neighborhoods, depending on who you talk to, each with its own personality and history. And, as you might imagine, the Chicago, IL, crime rate differs from one area to another.
Given how many neighborhoods there are, analyzing the criminal activity for each in depth would be a bit much. Instead, let's keep it simple and focus on the areas in Chicago with the highest and lowest crime rates.
Need a visual aid? Check out this interactive Chicago crime rate map based on the past year's worth of police reports, thanks to the Chicago Data Portal.
Safest Chicago Neighborhoods
According to NeighborhoodScout, here are the top 10 safest neighborhoods in Chicago. Since these don't exactly follow the same boundaries or labels as Chicagoans would give their neighborhoods, we've also provided the more common neighborhood name in parentheses.
University of Chicago (Washington Park)
Forest Glen West (Forest Glen)
Roscoe Village South (North Center)
Forest Glen South (Forest Glen)
Belmont Heights West (Dunning)
Dunning (Dunning)
Edison Park (Edison Park)
DePaul South (Lincoln Park)
Portage Park Southwest (Portage Park)
W Pensacola Ave / N Campbell Ave (North Center)
Similarities? Most of these safest neighborhoods are on the northern outskirts of the city and/or near colleges, which are often patrolled more heavily. If you don't mind staying outside of the city proper, Chicago has some great low-crime suburbs, including Wilmette (7.3 crimes per 1,000 residents), Winnetka (6.9 crimes per 1,000 residents), and Glenview (8.9 crimes per 1,000 residents).
Most Dangerous Chicago Neighborhoods
So, where in Chicago should you use more caution? Here are the Chicago neighborhoods with the most crime, according to AreaVibes:
West Garfield Park (33.7 crimes per 1,000 residents)
Washington Park (30.8 crimes per 1,000 residents)
East Garfield Park (28.9 crimes per 1,000 residents)
Englewood (28.4 crimes per 1,000 residents)
North Lawndale (28.2 crimes per 1,000 residents)
Grand Crossing (26.8 crimes per 1,000 residents)
West Englewood (26.0 crimes per 1,000 residents)
Riverdale (24.5 crimes per 1,000 residents)
South Shore (23.0 crimes per 1,000 residents)
Chatham (19.7 crimes per 1,000 residents)
These numbers don't exactly sync up with the Chicago crime rate reports from the CPD, but the list is still a good indicator of which areas might require stronger personal and home security. Of note? Washington Park is a lot less safe once you're off the University of Chicago campus.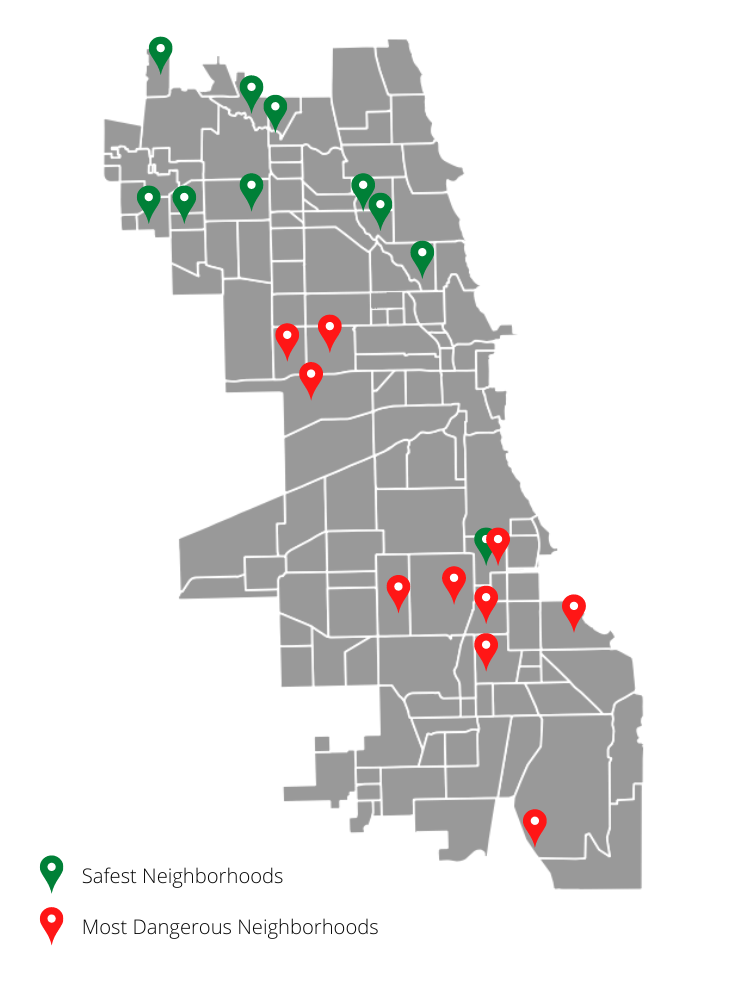 Living in Chicago: Other Factors to Consider
Safety shouldn't be the only thing on your mind when you're moving to Chicago. If you're looking for great quality of life, here are a few other factors and areas to keep in mind.
Top-rated public schools (from Niche.com):
West Ridge
Edison Park
North Park
Norwood Park
Forest Glen
Lowest Cost of Living (from Niche.com):
Burnside
East Side
Pullman
South Deering
Hegewisch
Greatest income growth (from NeighborhoodScout.com):
Gold Coast South (Near North Side)
DePaul, DePaul South, and Lincoln Park Southwest (Lincoln Park)
Lakeview West (North Center)
S Kimbark Ave / E 58th St (Hyde Park)
Kenwood Northwest (Kenwood)
Plus, of course, you'll also want to keep in mind where Chicago's various public transportation options run. During a Midwestern snowstorm, a long walk to your bus, train, or subway station is a recipe for frostbite.
Tips for Staying Safe in Chicago
No matter where you are in Chicago, take precautions to protect yourself. We've put together security tips to keep your Chicago home or business safe, but here's a little taste.
Evaluate your home or apartment through the eyes of a burglar. Are there areas where a criminal could hide? Entrances that can be broken into easily? Shadows? Gaps in the fence? Eliminate anything that could make your property an easy target.
Get to know the crime prevention officer for your district. Chicago has 25 distinct districts with dedicated officers that can educate and assist you.
Install a security camera system equipped with professional video monitoring. The most advanced systems, like Deep Sentinel, prevent trouble by proactively intervening when a suspicious person is on your property. Security cameras are a powerful crime deterrent, and combined with artificial intelligence plus live virtual guards, can help you sleep better at night.
Wherever you are in the Windy City, stay safe with Deep Sentinel.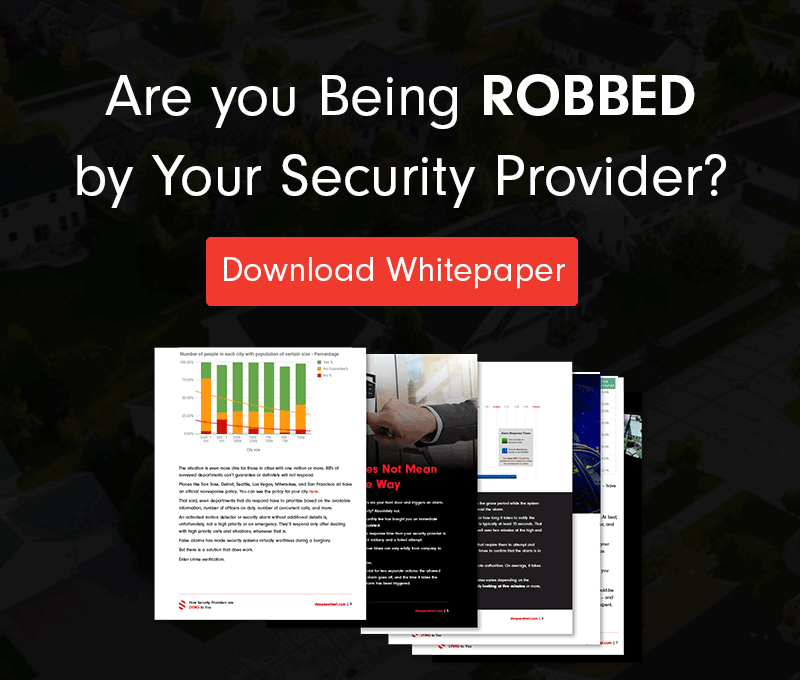 Need a Solution that Prevents Crime?
Deep Sentinel is the only security technology that delivers the experience of a personal guard on every customer's home and business. Visit deepsentinel.com/business or call 833-983-6006