Detroit Crime Rate and Safest Neighborhoods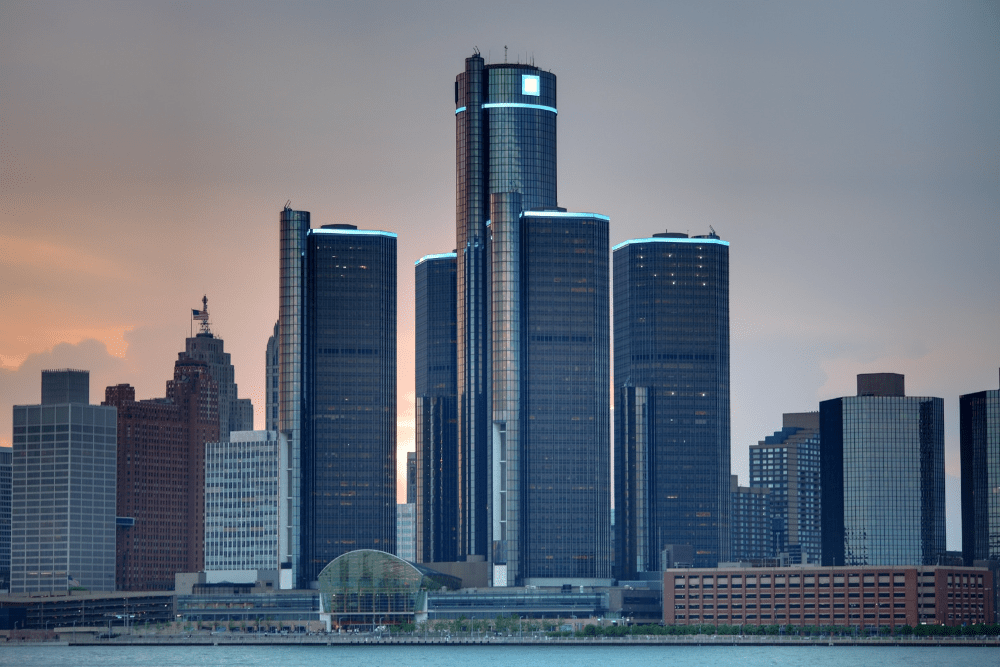 Detroit: The Motor City. Michigan's largest metro by population. Home of the Lions, Tigers, and Pistons (oh my). This Midwestern hub is bustling and vibrant… but is Detroit safe? Whether you're planning to visit or to stay, you should get a good sense of the Detroit crime rate and where you'll find the safest neighborhoods in Detroit. Let's dive in.
Is Detroit Safe?
It's a big question on your mind when looking at a new city: will I be safe there? Big cities often play host to lots of crime and dangerous situations, so it's natural to be concerned. So, is Detroit dangerous?
Detroit Crime Rate
Examining a city's crime data is a decent (but imperfect) way to estimate how safe you might be there. Be aware that crime is a complex societal problem and is only one indicator of personal safety, plus statistics can't capture everything. Still, it's a start. And the best source is the FBI's Crime Data Explorer.
So how does the Detroit crime rate compare to the average? According to the FBI's standardized reporting system, the Detroit Police Department reported about 38,000 offenses in 2021. That means the Detroit crime rate is approximately 60 crimes per 1,000 residents—almost triple the national rate and more than triple the Michigan state average.
Of course, the type of crime matters. After all, there's a big difference between bank robbery and shoplifting. Detroit outstrips the averages for both violent crime and property crime by a wide margin. But violent crime—which includes offenses like assault and homicide—is the bigger red flag. Detroit's violent crime rate is more than 5x the national average. In fact, NeighborhoodScout ranked Detroit #6 on a list of the most dangerous U.S. cities and CBS ranked it #4 on a list of cities with the most murders per capita.
Is Detroit safe? If you're looking at the Detroit crime rate, the answer is definitively no.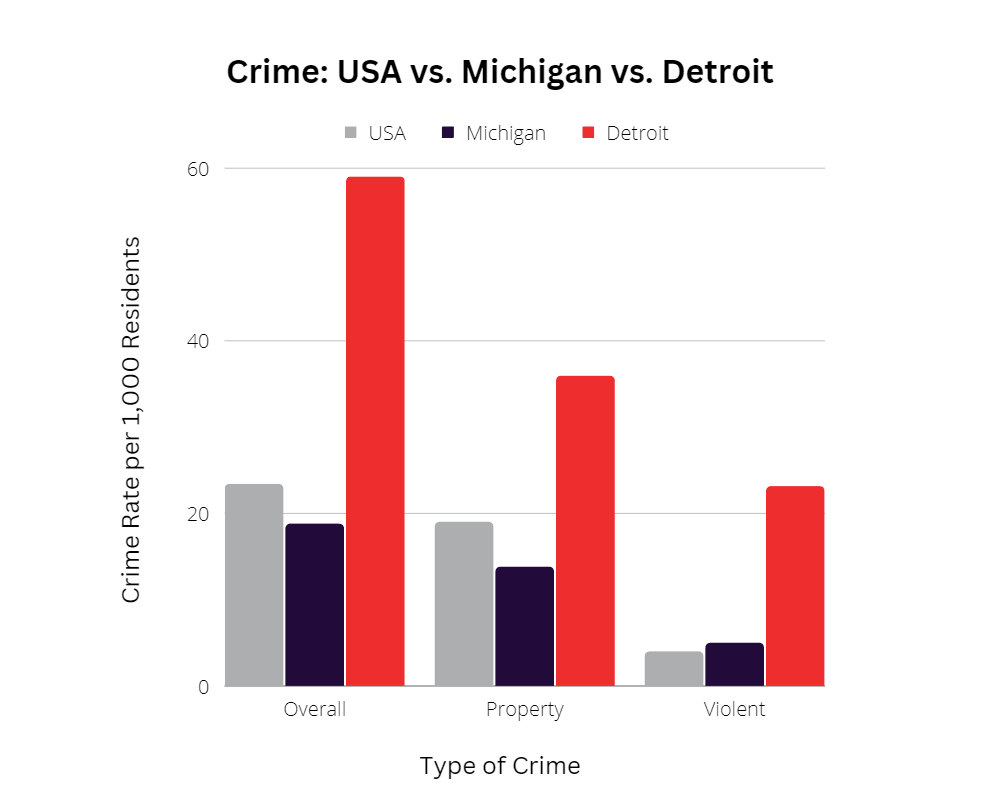 Feeling Safe in Detroit
As mentioned above, crime rates are only one way to predict how safe you'll feel in a city. Another good way is to ask the locals.
An AreaVibes poll asked respondents how they felt about crime in the area. A full 80% of respondents described crime as "poor" or "awful." Similarly, 79% said they felt "not very safe" or "not safe at all" walking alone at night in the city. That said, poll results from Niche were much more positive. The largest portion of respondents (48%) reported feeling "pretty safe" in the city and most said there was a visible police presence.
Perhaps there are more factors in play. Such as where a person lives.
Safest Neighborhoods in Detroit
Location matters. If you're concerned about crime, it's wise to brush up on the safest neighborhoods in Detroit. Here are the top 10 safest spots according to NeighborhoodScout.
Milwaukee Junction East
Palmer Park North
Springwells South
Sherwood Forest / Palmer Woods
Corktown South
Boston Edison
University North
Dexter Linwood West
Davison South
Joseph Berry Sub
Commonalities? You'll find many of the safest neighborhoods in Detroit clustered on the north side of the city near the University of Detroit Mercy. (College campuses are often relatively safe havens in any city.) The Detroit River shoreline also has a few areas that enjoy lower crime rates.
A list of neighborhoods is great, but maybe you need help to visualize this information. Where will you find the safest neighborhoods in Detroit? Check out this Detroit crime map to see low-crime locations—and the most dangerous locations, too.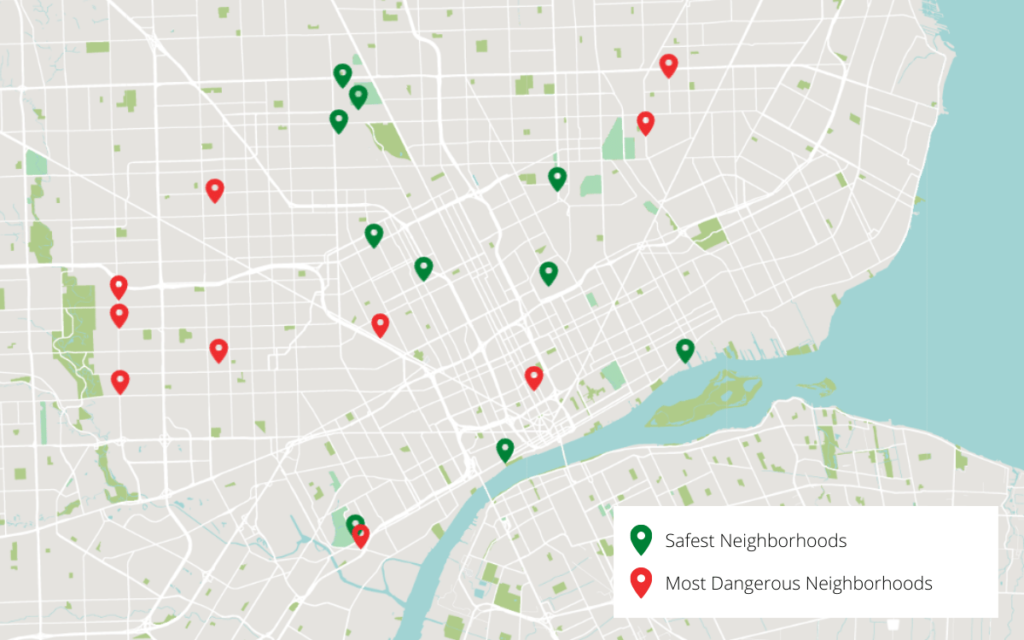 Most Dangerous Detroit Neighborhoods
We can't talk about the safest Detroit neighborhoods without also discussing the most dangerous. In certain areas and on certain Detroit streets, use reasonable precautions to stay safe. AreaVibes names these as the worst neighborhoods in Detroit in terms of violent crime.
Belmont (76.2 violent crimes per 1,000 residents)
Brush Park (71.0 per 1,000)
Greensbriar (70.6 per 1,000)
Weatherby (67.6 per 1,000)
Fishkorn (63.1 per 1,000)
Carbon Works (60.2 per 1,000)
Petosky-Otsego (57.2 per 1,000)
Van Steuban (56.3 per 1,000)
Warrendale (56.0 per 1,000)
Franklin Park (55.0 per 1,000)
Each of these neighborhoods experiences at least 150% more crime per capita than even the Detroit city average. There's no hard and fast rule as to where you'll encounter crime in Detroit, but these Detroit neighborhoods are hotbeds.
The Best Detroit Neighborhoods: Other Factors
Safety isn't the only factor when you're picking a place to live. There are plenty of other nice Detroit neighborhoods that might suit you just fine. Depending on what's important to your family, explore these options.
Top-rated public schools (from Niche):
Warrendale
Claytown
Harmony Village
Southwest Detroit
Bagley
Nearby suburbs like Bloomfield Hills, Birmingham, and Beverly Hills
Highest real estate appreciation (from NeighborhoodScout):
Rosa Parks Southeast
Corktown
Butzel
West Village
Rosa Parks East
Cost of living (from Niche):
Chadsey Condon
Krainz Woods
Blackstone Park
Pilgrim Village
Nardin Park
These are just a few of the best Detroit neighborhoods that you could call home. It's all about what matters to you.
Staying Safe in Detroit
Crime is a problem everywhere, including in Detroit. No matter where you live, it's important to take basic steps to keep yourself safe. Here are some things you can do.
Consider your property like a burglar would. Look for hiding spots, vulnerable entry points, and tempting valuables in plain sight. Fix any issues you find immediately. You can make your home less attractive to criminals by using the principles of Crime Prevention Through Environmental Design. This includes simple but intentional design changes like planting prickly bushes, installing bright lights, or fixing broken fencing.
Get to know your local police force and find out about any programs they have to help prevent crime. The Detroit Police Department has Neighborhood Police Officers who work with their local community on non-emergency issues and questions.
Most importantly, install home security cameras. Some cameras don't just record evidence of a crime—they actively deter criminals from targeting your home. Deep Sentinel offers cameras with advanced technology and live security camera monitoring to provide reliable protection without false alarms.
By following these steps and staying alert, you can reduce the chances of becoming a victim of Detroit crime. Make your safety a priority with Deep Sentinel.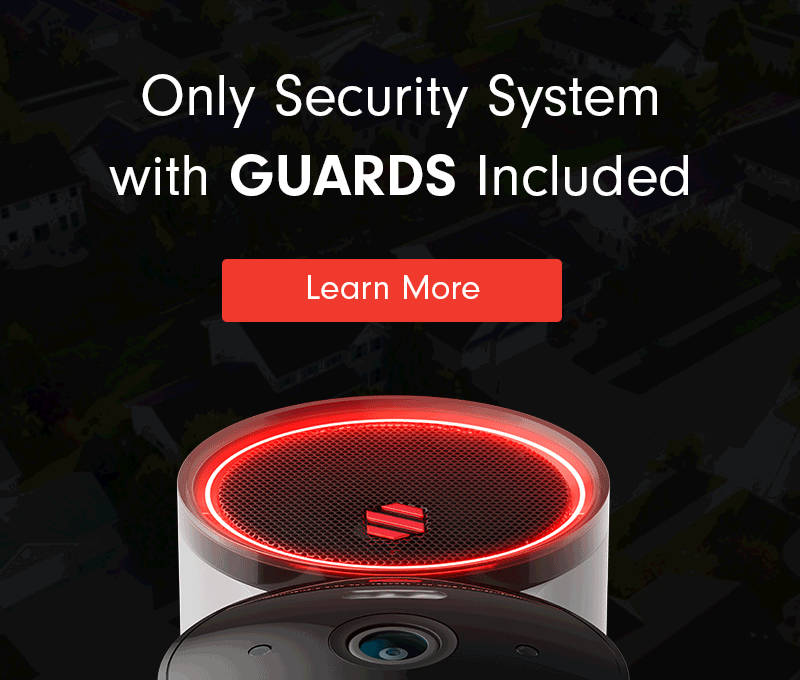 Need a Solution that Prevents Crime?
Deep Sentinel is the only security technology that delivers the experience of a personal guard on every customer's home and business. Visit deepsentinel.com or call 833-983-6006