How to Secure Your Door from Being Kicked In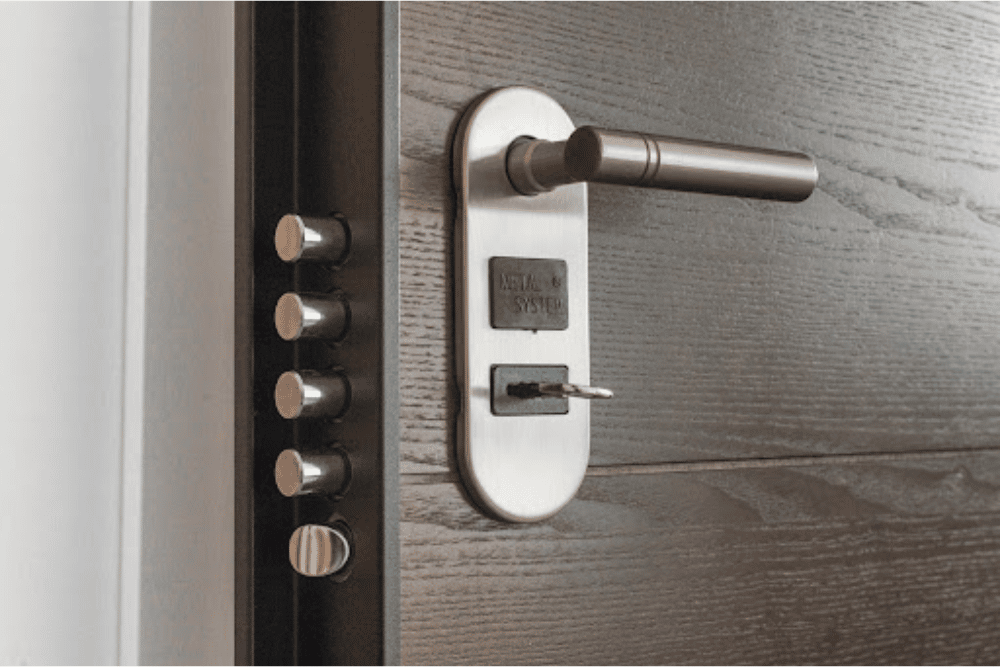 A locked door is one of the simplest ways to feel safe at home. But it could be giving you an inflated or outright false sense of security. As it turns out, doors are the primary access point for would-be burglars, and they're surprisingly easy to pick or kick in.
Consider:
Taken together, these facts point out that not only are burglaries common, but also that the preferred access point is a door. And information collected by the FBI shows that roughly 56% of them involve forcible entry.
So what does that mean for you? You very well could be the victim of at least an attempted break-in, and they'll probably try coming through a door. Knowing this, you may want to take a closer look at your doors and the security they provide (or you think they provide). It's time to learn how to secure a door.
How to Secure a Door from Being Kicked In
Police officers and spies in movies make it look so simple. With one or two swift kicks, the doorframe splits and the door swings open.
And while it may be a little more difficult in real life, it's nowhere near impossible. Thieves can either pick the lock—although that happens in only 4.1% of burglaries—or kick in a cheap door with or without a deadbolt. This approach represents a staggering 74.5% of forced entry break-ins.
That said, a locked door is better than an unlocked one. Nearly 40% of non-forced entry burglaries happen because of an unlocked door or ground floor window. So lock 'em up.
But don't stop there. A determined thief will consider prying, kicking, and/or ramming that locked door to get in. Your job is to reinforce your doors to prevent that from happening. And that's cheaper and easier than you might be thinking.
A Quick Word on Glass Doors
Many homes feature a sliding glass door leading out to the backyard. They're popular, convenient, and allow natural light to shine through.
But they're also one of the weakest points in your home's security. However, you've got plenty of options to reinforce and strengthen glass doors. And you definitely should. From wooden dowels to security film, there's a DIY fix for every budget and home.
For our purposes today, we'll be looking at doors other than sliding glass ones.
How to Secure a Door: The Basics
Every door—regardless of style or material—has hinges, a handle, a lock, and a way to connect it to the doorframe. These basic components should be your first stop. Upgrade those, and you've upgraded the door itself.
And while we're on that subject, ensure your door is solid-core wood, metal, or fiberglass. Some buildings use weaker hollow-core doors to save money, but they offer little resistance to a few well-placed kicks.
Check the Hinges
The hinges swing open and attach the door to the frame. If your door opens inward, they'll be inside and protected. But if that door swings outward, they'll be exposed.
Either way, check for rust or other damage and replace if necessary. You may want to upgrade to a stronger security hinge—especially if you have an out-swing—with a locked or tamper-proof pin to prevent someone from simply removing the door from the frame. The addition of a hinge bolt will further enhance its security.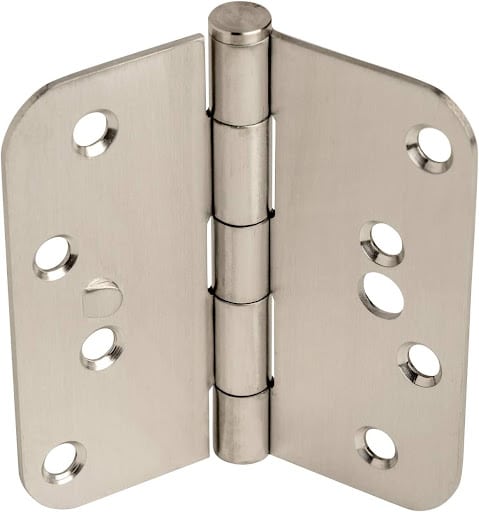 Next, remove one of the screws holding it in place and measure it. You'll frequently find 1-inch screws, but anything less than 2.5 inches is not going to provide enough hold. Replace them with 3-4 inch ones for better protection.
Check the Lock
Not all locks are created equal. A flimsy cylinder or knob lock isn't much of a deterrent. Thieves can quickly force their way inside.
A deadbolt lock, however, is by far the strongest and most common for exterior doors. If you've got one installed already, great (although you could always upgrade). If not, get one immediately. They're the most kick-proof and resistant to brute force.
Deadbolts are classified according to the American Nation Standards Institute (ANSI) system, which assigns a grade of 1 (highest level of security), 2 (intermediate), or 3 (basic):
Grade-1 can withstand 10 strikes of 75 pounds of force, one million opening and closing cycles, and has a 1-inch latch bolt
Grade-2 can withstand 5 strikes, 800,000 opening-closing cycles, and has a ⅝-inch latch bolt
Grade-3 can withstand 2 strikes, 800,000 opening-closing cycles, and has a ⅝-inch latch bolt
Make sure your deadbolts are at least a Grade-2.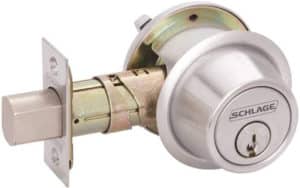 Check the Strike Plate
Even a Grade-1 deadbolt won't do much if you have a feeble or missing strike plate. The latch bolt slides into a hole in the frame to secure the door. There should be a thin metal plate attached to the frame, and the bolt passes through it.
This strike plate reinforces the frame and strengthens the whole lock. Without one, the wooden frame would quickly splinter from a few strong kicks.
But even strike plates aren't perfect. They can weaken over time, and you should replace shorter screws with 3-4 inch ones if possible.
Even better, consider upgrading to a box strike.
Rather than just a flat piece of metal that attaches to the doorframe, a box strike has a steel cup that installs in the doorframe that completely surrounds the latch bolt. It's stronger, more robust protection against someone kicking in your door.
It relies on the strength of the steel and wood instead of just the wood.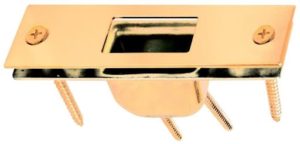 A solid-core door, appropriate hinges, 3-4 inch screws, a Grade-2 or better deadbolt, and a box strike will provide maximum protection at an affordable price. You can accomplish most of these with nominal cost, time, and effort.
It's the minimum you should do to secure your door from being kicked in. But it's not all you can do.
How to Secure a Door: Beyond the Basics
Once you've fortified the door itself, there are some readily available security items that you can purchase to make a good door even better.
You can find most of these at Amazon, Walmart, Target, or other large retailers.
Reinforce the Frame
Most doorframes are made of wood. That's a relatively strong and sturdy material, but one that will splinter, crack, and break with enough force. Thankfully, you can purchase reinforcement kits that install quickly and easily, turning your wooden frame and door into a stronger, meaner, more daunting version of itself.
The Kikgard Shield is made of heavy 14-gauge steel and comes with a lifetime guarantee that no one is kicking in your door anytime today, tomorrow, or beyond.
And the single Door Armor Max kit, for example, comes with a 46-inch jamb shield and a 12-inch pry shield that attach to the frame, two hinge shields, and two door shields.
The manufacturer is so confident in the product that each one comes with a lifetime $500 guarantee. If someone manages to force their way in through a door reinforced with a Door Armor kit, the company will refund your purchase cost and give you an additional $500.
Properly installed, it stands up to repeated kicks and even strikes by a 2-man battering ram!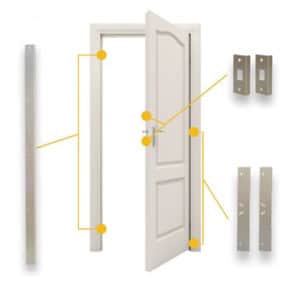 Doors with Glass Panels
Some doors have a glass panel in the middle, while others have them to the left, right, or both sides of the door itself. They look great and let natural light brighten your foyer or hallway. But they come with a security cost: burglars can smash glass panels, allowing them to reach through and unlock the door.
To mitigate that risk, add security film to the existing glass or replace it with reinforced or security glass (e.g. Riot Glass).
Then, replace your standard single-cylinder deadbolt with a double-cylinder one. They look and function the same, but a double-cylinder deadbolt requires a key to unlock it on both sides, inside and out. That way, would-be intruders still can't unlock the door even if they smash out a glass panel.
The Best Way to Secure a Door from the Inside
Sometimes, you want more than just the basics. And when it comes to increased security for your doors, you have choices galore.
Reinforce the Door
No doubt you've seen chain locks in hotel rooms. They add a little extra protection beyond just the door lock.
Chain locks, strike plate locks (able to withstand 50 full force kicks!), and (sliding) barrel bolt locks are a cheap way to further reinforce your door on the inside.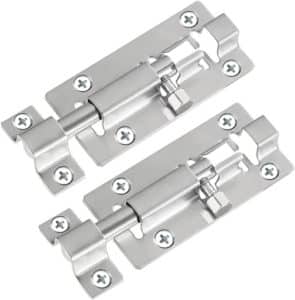 To maximize their effectiveness, consider installing one near the top and one near the bottom of your door to spread out that extra strength.
Use a Jammer or Security Bar
As far as simplicity goes, it doesn't get much better than the humble door jammer or security bar. You wedge one end under the handle, adjust the tension, and sleep easy knowing your door is practically kick-proof.
The BuddyBar, for example, is about $100. It works on carpet, tile, concrete, and wood, and can withstand up to 2,560lbs of force. That's well over one ton!

A product that's similar in function but different in design is the ibosen door lock guard. Lightweight and portable, it can be used at home, at work, and on the road. Slide the lip under the door and tighten the clamp, and then it uses displacement of force to barricade the door against forced entry. Essentially that means using the energy of the would-be burglars against them.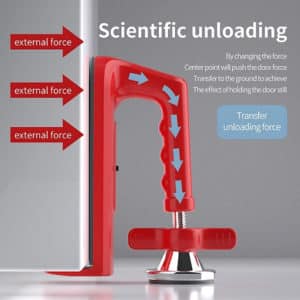 The nice thing about jammers and bars—in addition to their effectiveness—is that they require no tools or installation. Use one and remove it as necessary. It's that easy.
Install a Door Barricade
A door barricade does require installation, but it's nothing more complicated than a few screws to hold it in place. Barricades come in various shapes and sizes, but the gist is the same: they use the strength of the floor in addition to the strength of the door. Attached to the floor at the base of the door, the barricade slides in at night or whenever you don't need to open that door. Once in place, it holds it closed despite any force exerted on it from the outside.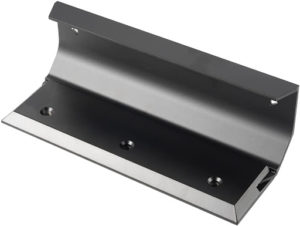 The Haven Mech takes that idea to the next level. Instead of a raised piece that must be manually removed, the Mech opens and closes by pushing a foot pedal. Once activated, the company claims it's 10x stronger than a deadbolt at door kick-in protection. There's even a smart version that allows you to lock and unlock remotely via either a key fob or the Maven app. That's door security for the 21st century.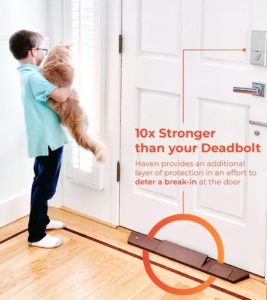 You could also opt for heavy-duty door bars, security screens, or gates. These install over an existing door and operate on the fact that thieves can't kick in a door if they can't reach it. Effective? Sure. Appealing? Not so much, unless you're going for a prison aesthetic.
The Proactive Solution
These devices and strategies will strengthen any door and make it nearly, if not completely, impossible to kick in. But even better is preventing would-be burglars from attempting to kick in the door in the first place.
How? With Deep Sentinel.
Deep Sentinel's HD security cameras and proprietary AI identify suspicious individuals within seconds. Then, live surveillance guards engage via 2-way audio. A simple "Stop!" or "May I help you?" is often all it takes to send them scrambling.
Prepare for the kick, but work to prevent it, too. That's how to secure your door from being kicked in.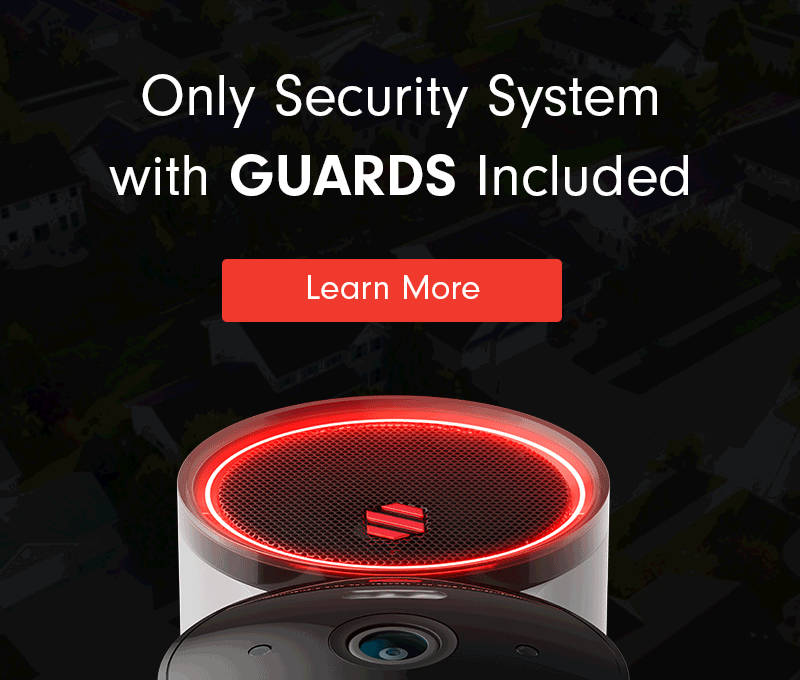 Need a Solution that Prevents Crime?
Deep Sentinel is the only security technology that delivers the experience of a personal guard on every customer's home and business. Visit deepsentinel.com or call 833-983-6006