Top 10 Safest Cities in Florida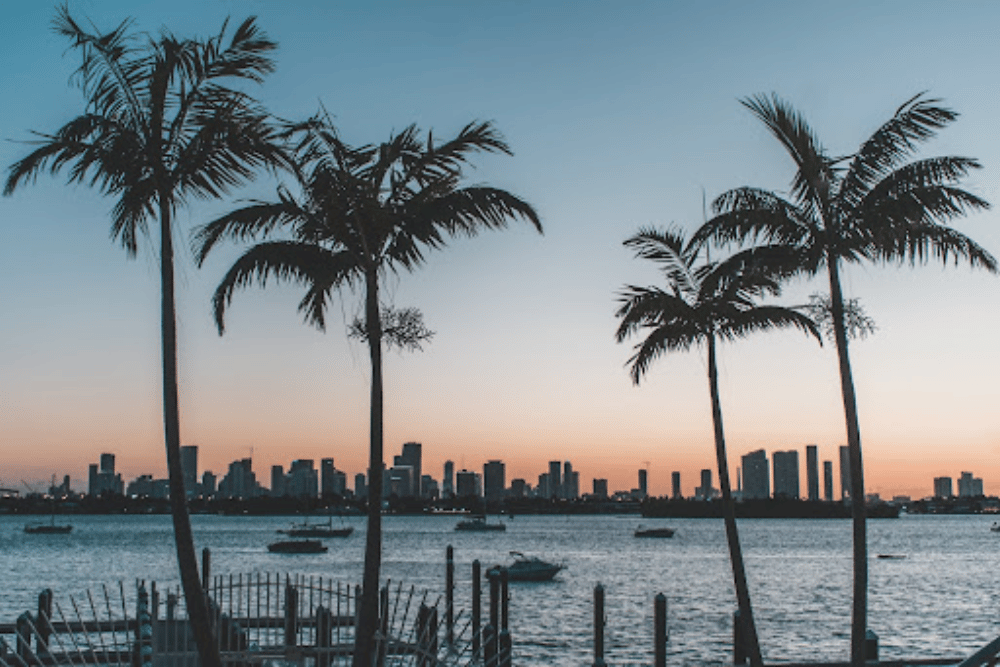 Ah, Florida. The Sunshine State.
What's not to love? Blue skies, beach resorts, bustling nightlife, winters rarely below 60 degrees, summers rarely above 90 degrees, world-famous amusement parks, more golf courses than any other state by a wide margin, international cuisine, palm trees, hot spots like Miami, sports galore—2 NHL teams, 2 NBA teams, 2 MLB teams, and 3 NFL teams, in addition to the spring training Grapefruit League—and plenty of year-round sunshine (it has definitely earned that nickname). It's no wonder that residents, tourists, snowbirds, and retirees flock there.
So Florida is beautiful, warm, and popular. But is it safe? Let's take a look at the safest cities in Florida to inhabit or visit. Plus, we'll share some tips for staying safe in Florida, no matter where you are.
Is Florida Safe?
The short answer? It depends. Move from one area to another, and the statistics can paint a very different picture. Cities like Miami, Orlando, and Tallahassee can be dangerous. Their crime rates clock in above the national average. But other, smaller places are much, much safer. No big surprise there.
According to FBI data for 2019, Florida had a violent crime rate of 3.78 per 1,000 inhabitants and a property crime rate of 21.46 per 1,000 inhabitants. By comparison, the national average for violent crime that year was 3.67, while property crime was 21.10. Florida was higher than the average in both categories, but not by much.
So again, it depends. Consider:
It's a mixed bag.
Overall, Florida ranks somewhere near the middle nationwide for both violent and property crime. According to the State of Safety in America 2022, Florida residents are the sixth most worried about safety in the United States, and only 41% of Floridians aren't concerned. So people are worried about safety, but the numbers don't necessarily support that worry.
That said, it all depends on where in Florida you decide to vacation or call home.
Which begs the question…
What Are the Safest Cities in Florida?
Big, touristy cities will nearly always have a higher crime rate. That's just a fact of life. Smaller, more residential places tend to come in lower. Florida is no exception.
As we look at different cities, let's assume that the safest places to live in Florida mean those with the lowest crime rates. Those numbers—and a city or town's ranking—may fluctuate a little depending on the source. However, some locations appear again and again.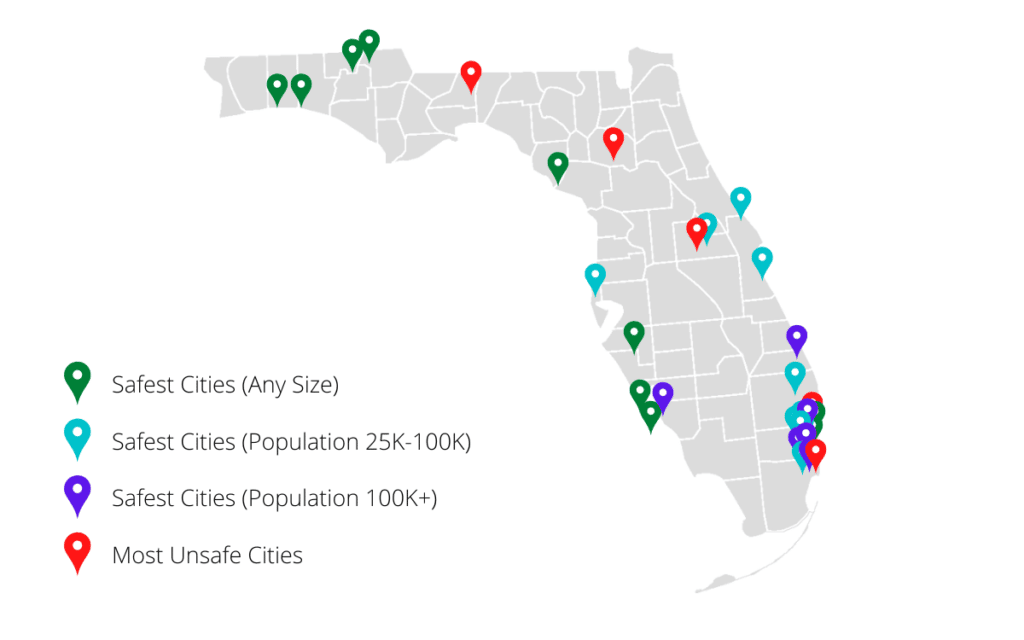 The Top 10 Safest Places in Florida
According to NeighborhoodScout, these are the places with the lowest crime rate in Florida.
Boca Grande: What is the safest city in Florida? Tiny little Boca Grande. Located on the island of Gasparilla just off the southwest coast, this idyllic town of 1,705 residents is famous for its beaches and fishing.
Captiva: You'll find this unincorporated town of 583 people on Captiva Island, just offshore in the Gulf of Mexico.
Horseshoe Beach: The first entry on the mainland, this community of 169 people is in Dixie County on the Gulf side of the state.
Campbellton: Located in the northern country of Jackson, Campbellton and its 191 residents are landlocked near the borders of Alabama and Georgia.
Highland Beach: Just 49 miles north of Miami, Highland Beach is on the Atlantic coast and has a population of 4,295.
Myakka City: This unincorporated community of 6,351 people is in central Florida's Manatee County.
Caryville: Only 301 people call Caryville—located along the Choctawhatchee River in northwestern Washington County—home as of 2020.
Hillsboro Beach: Hillsboro Beach and its 1,987 residents are officially a part of the Miami Metropolitan Area in the state's southeast. Its population doubles each winter with the arrival of snowbirds.
Hurlburt Field: A United States Air Force installation—part of the larger Eglin Air Force Base—Hurlburt Field is found in Okaloosa County near the far northwest corner of Florida.
Niceville: With a name like Niceville, how could it not crack the top ten? Named by the postmaster's daughter in 1910, it and its 15,772 residents are located near Eglin Air Force Base in Okaloosa County.
And there you have it, the top ten safest towns in Florida.
Of course, you've probably noticed the one thing they all have in common: relatively small populations. A few of them are well under 1,000 people, and all but Niceville are under 10,000. And while there's nothing wrong with small communities, not everyone wants to live in one. Sure they're safe, but some of them barely qualify as towns.
Looking at the data, it's possible to segment the cities and towns into categories that are a little more useful. Let's examine the safest places with a population between 25,000 and 100,000, and the safest with a population of over 100,000. Just to cover our bases.
The Top 10 Safest Cities in Florida: 25,000-100,000 Residents
More people means more potential for crime. These numbers are higher than the overall safest places, but still safe and secure spots to call home. The violent crime rate for all is per 1,000 people.
Parkland: As the name implies, Parkland is full of and proud of its park-like qualities. It is widely considered not just one of the safest places in Florida—with a tiny violent crime rate of just 0.23—but in the entire country (especially for its size of 34,670 people).
Port Orange: Located on the Atlantic side and part of the Deltona-Daytona Beach-Ormond Beach metropolitan area, Port Orange has a population of 62,596 and a low violent crime rate of 0.39 per 1,000.
Weston: Found just west of Fort Lauderdale and part of the Miami metropolitan area, Weston's violent crime rate of 0.57 has its 68,107 residents sleeping easy.
Doral: Home to the world-famous Trump National Doral Golf Club—as well as 75,874 residents—Doral is not a particularly safe or unsafe city by its stats alone. However, it is considered very safe when compared to similar-sized communities. Its 2022 violent crime rate is 0.90.
Cooper City: With 34,401 residents and a violent crime rate of 0.98, this town is a safe bet.
Sebastian: Just two miles from the Atlantic Ocean, Sebastian is part of Indian River County with a population of 25,054 (so just enough people to make this list) and a violent crime rate of 1.21.
Wellington: Not to be outdone, Wellington and its 61,637 residents clock in with a violent crime rate only slightly higher at 1.23. It's found west of West Palm Beach and north of Miami.
Dunedin: Back on the Gulf of Mexico side, Dunedin is part of the Tampa-St. Petersburg-Clearwater metropolitan area and the spring training home of the Toronto Blue Jays. 36,068 people, a violent crime rate of 1.42, and Florida's oldest microbrewery add to its appeal.
Winter Springs: Originally named North Orlando—but without any connection whatsoever to Orlando—it was renamed Winter Springs in 1972. It's within spitting distance of Walt Disney World. With a population of 38,342 people and a violent crime rate of 1.53, it was ranked as the 97th best place to live in the United States by Money Magazine in 2011.
Margate: Incorporated as a city in 1961, Margate has 58,712 full-time residents. It's part of the Miami metropolitan area and has a violent crime rate of 1.66.
Mid-sized communities offer the best of both worlds: small-town feel with big city amenities. There's a lot to like about that. But sometimes, you want more. Much more.
Top 6 Safest Cities in Florida: 100,000+ Residents
Go big or go home. Crime rates according to FBI data are presented per 1,000 residents.
Port St. Lucie: When it comes to the safest big city in Florida, Port St. Lucie takes the crown. With a population of 204,851, you would expect a crime rate to match. But you'd be wrong. It's a relatively low 9.42. That means it's safer than 60% of American cities, according to NeighborhoodScout.
Cape Coral: A planned community on the Gulf side, Cape Coral boasts more navigable waterways than any other location in the world. Its population of 194,016 and crime rate of 12.32 add to that draw.
Coral Springs: Found 20 miles northwest of Fort Lauderdale, Coral Springs may not have any actual springs, but it does have 134,394 residents and a crime rate of 13.60.
Miramar: Established as a satellite community for Miami and Fort Lauderdale, Miramar has a population of 134,721 and an overall crime rate of 13.72.
Pembroke Pines: Incorporated in 1960, Pembroke Pines is a little more than 20 miles north of Miami. With 171,178 people, its crime rate comes in at 15.80.
Hialeah: The sixth largest city in Florida, with the second highest proportion of Hispanic Americans outside of Puerto Rico and the highest percentage of Cubans in any American city, Hialeah is a city with a lot of culture. It's home to 223,109 people and has a crime rate of 19.38. That makes it one of the safest cities in south Florida, though it's just a short drive from the more perilous Miami.
There you have it: 26 of the safest communities of various sizes spread across Florida.
Of course, it's a good idea to be at least aware of the most dangerous places as well when making a decision about where to live or visit.
Top 5 Most Dangerous Cities in Florida
For the sake of simplicity, we're going to limit this to cities with a population of 100,000+ residents.
Fort Lauderdale: 8,866 total crimes, 48.51 per 1,000 residents
Orlando: 13,866 total crimes, 45.08 per 1,000 residents
Gainesville: 5,593 total crimes, 39.64 per 1,000 residents
Tallahassee: 7,609 total crimes, 38.79 per 1,000 residents
Miami: 15,790 total crimes, 35.70 per 1,000 residents
Other spots to avoid include Florida City (1,080 total crimes, 82.54 crimes per 1,000 residents) and Lake City (865 total crimes, 70.16 per 1,000 residents).
Some places have high rates of violent crime, and others have more property crime. It's important to do your homework before choosing a destination.
Staying Safe in Florida
No matter what the statistics say, do your due diligence to stay safe anywhere you choose to live. Even the safest cities in Florida still regularly experience crime.
There are a few simple steps you can take to make your home or business an unappealing target to criminals. Get friendly with your neighbors. Eliminate dark spots on your property by installing floodlights. Consider changing your landscaping to prevent burglaries. Join the neighborhood watch, or start a chapter yourself. Lock your doors and windows, even when you're home. Adopt a dog! Any measures you take might make a burglar think twice.
And of course, quality home security cameras with professional live monitoring can make anywhere safer than it is without. Visible cameras and a yard sign tell would-be criminals that this is a property they don't want to mess with. Deep Sentinel camera systems enable live guards to intervene on your behalf, stopping crime before it happens.
For more specific resources for your Florida hometown, we've compiled home security and crime prevention tips for these cities and others.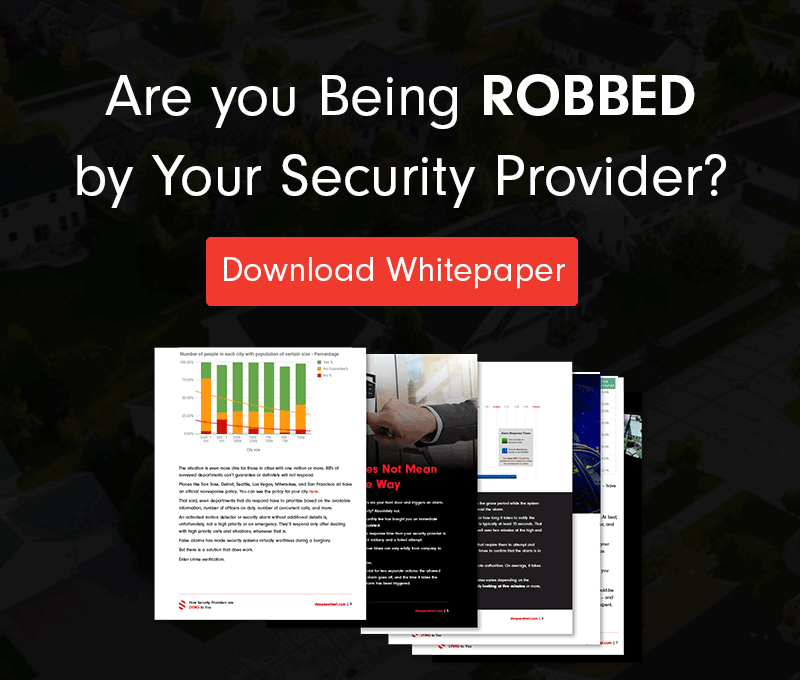 Need a Solution that Prevents Crime?
Deep Sentinel is the only security technology that delivers the experience of a personal guard on every customer's home and business. Visit deepsentinel.com/business or call 833-983-6006