Top 10 Safest Cities in Pennsylvania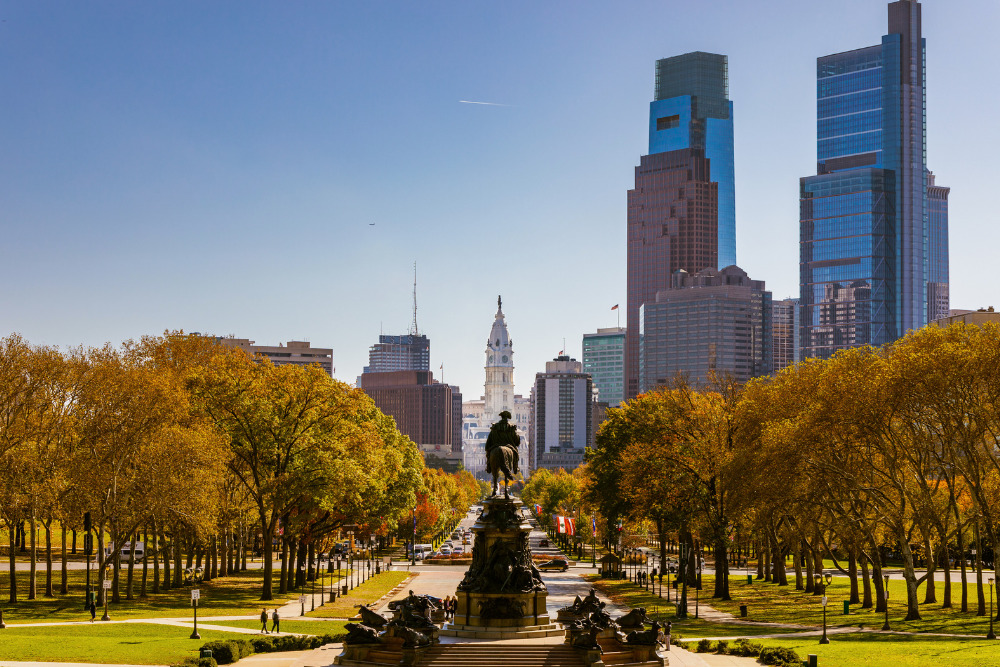 When you're traveling or moving, safety always matters. And what if you're headed to Pennsylvania? As one of the most populous (and popular) states in the country, you've got plenty of destinations to choose from. In that case, you'll want to have a good sense of the safest cities in Pennsylvania and what you can do to protect yourself, no matter where you end up.
Is Pennsylvania Safe?
Before scheduling your moving truck, it's important to consider the safety of your new hometown. First, you might wonder about the state as a whole. Where does it rank in terms of safety?
Crime statistics are a decent, if imperfect, predictor of how likely you are to feel safe in a place. Typically, the FBI's Crime Data Explorer is the ultimate resource for crime statistics. It compiles standardized police reports from across the country and estimates data for agencies that don't participate. However, unreported crimes and voluntary participation make this tool imperfect, and Pennsylvania has one of the lowest agency participation rates in the nation. In other words, take Pennsylvania crime statistics with a grain of salt.
Instead, we can look at Pennsylvania's self-published crime data. This uses a different crime reporting system than the current FBI standard, so it's a bit of an apples-to-oranges comparison, but the big picture is still there. In 2022, Pennsylvania police reported just over 300,000 criminal offenses. Given the state's large population, that's 23.7 crimes per 1,000 residents, almost identical to the national crime rate. In other words, you can expect an "average" amount of crime in Pennsylvania.
However, it's not practical to categorize an entire state as safe or unsafe. There are simply too many factors in play. State-level laws may have some influence, as might the efficacy of the police and judicial systems. But most crucial of all is your location. There are safe cities in Pennsylvania, and there are areas with higher crime rates. To get a more accurate understanding, it's necessary to think locally.
The Safest Places to Live in Pennsylvania
There are plenty of great places to settle down in Pennsylvania. Safety likely isn't your only concern if you're moving to the Keystone State, but it's an important one. Whether you're looking for a tiny town or a bustling metropolis, you should get a sense of where you'll find the safest cities in Pennsylvania.
Top 10 Safest Cities in Pennsylvania (Any Size)
If security is your top priority, then it's important to know safest the places to live in Pennsylvania. Perhaps unsurprisingly, you'll find the lowest crime rates in the smallest and most remote locations. Let's look at the top 10 safest cities in Pennsylvania according to NeighborhoodScout.
Kempton: What is the safest city in Pennsylvania? This town of 169 residents on the state's east side.
Shade Gap: With a population that hovers around 100 residents, Shade Gap sits at the base of the eponymous Shade Mountain.
Volant: Although Volant is also tiny, it has recently blossomed as a quaint and charming tourist attraction with plenty of Amish influence.
Lenhartsville: Thanks to a dose of Pennsylvania Dutch culture, Lenhartsville is "probably the best little town you'll ever visit," according to its website.
Rehrersburg: Founded in 1803, Rehrersburg is home to one of the oldest post offices in the country.
Cherry Tree: This town changed names several times before it settled on "Cherry Tree" in 1907, based on a large tree that marks a boundary line.
Enon Valley: You'll find this town of 300-some people sitting near Pennsylvania's western border.
Crabtree: A former mining town, Crabtree takes up less than 0.1 square miles of land area.
Driftwood: This borough, which sits at the juncture of two waterways, has shrunk down to a population of 36 as of 2020. You would certainly know your neighbors!
Shippingport: Though considered part of the Pittsburgh metropolitan area, Shippingport has its own claim to fame: it's the site of the first commercial nuclear power plant in the country.
It's no coincidence that all of the safest towns in Pennsylvania boast populations of 400 or less. If crime-free living is your paragon, quaint villages with friendly neighbors are perfect. But if you prefer urban living, keep looking.
The Safest Cities in Pennsylvania (Population 50K+)
Some folks don't want to live in a tiny town. So what about the urban areas? Where are the safest cities in Pennsylvania that pack a bit of metropolitan punch?
Pennsylvania is home to a handful of cities with a population of 50,000 or more. Using FBI crime data from 2018, the most complete recent year, here are the safest large cities:
State College: 8.0 crimes per 1,000 residents
Northern York County Regional: 9.4 per 1,000
York Area Regional: 10.0 per 1,000
Millcreek Township: 13.1 per 1,000
Upper Darby Township: 15.8 per 1,000
Lower Merion Township: 17.0 per 1,000
Abington Township: 17.8 per 1,000
Bethlehem: 19.6 per 1,000
Bristol Township: 19.9 per 1,000
Bensalem Township: 22.5 per 1,000
Erie: 22.5 per 1,000
Every other big city in Pennsylvania had a crime rate higher than the state average (23.7 per 1,000). Still, this list gives you plenty of options to explore. Cities of all sizes experience crime, so no matter what, take precautions to protect yourself, your family, and your property.
The Most Dangerous Cities in Pennsylvania
Naturally, if you're concerned about safety, you'll also want to know about the worst places to live in Pennsylvania in terms of crime.
Since one or two incidents can make a small town's per capita crime rate skyrocket, we'll concentrate on cities of 25,000 people or more. According to the same 2018 data from the FBI, the top 10 most dangerous cities in Pennsylvania are:
Chester: 47.7 crimes per 1,000 residents
Philadelphia: 40.1 per 1,000
Upper Merion Township: 36.8 per 1,000
Harrisburg: 36.3 per 1,000
Swatara Township: 36.2 per 1,000
Pittsburgh: 35.9 per 1,000
York: 35.9 per 1,000
Lancaster: 33.4 per 1,000
Whitehall Township: 33.2 per 1,000
Springettsbury Township: 33.1 per 1,000
Of course, this list includes some of the largest cities in Pennsylvania. Consider a suburb or a quiet neighborhood if you plan on calling one of these cities home.
Where Are the Safest Cities in Pennsylvania?
It's one thing to know what the safest cities in Pennsylvania are. It's another thing entirely to know where they are on a map.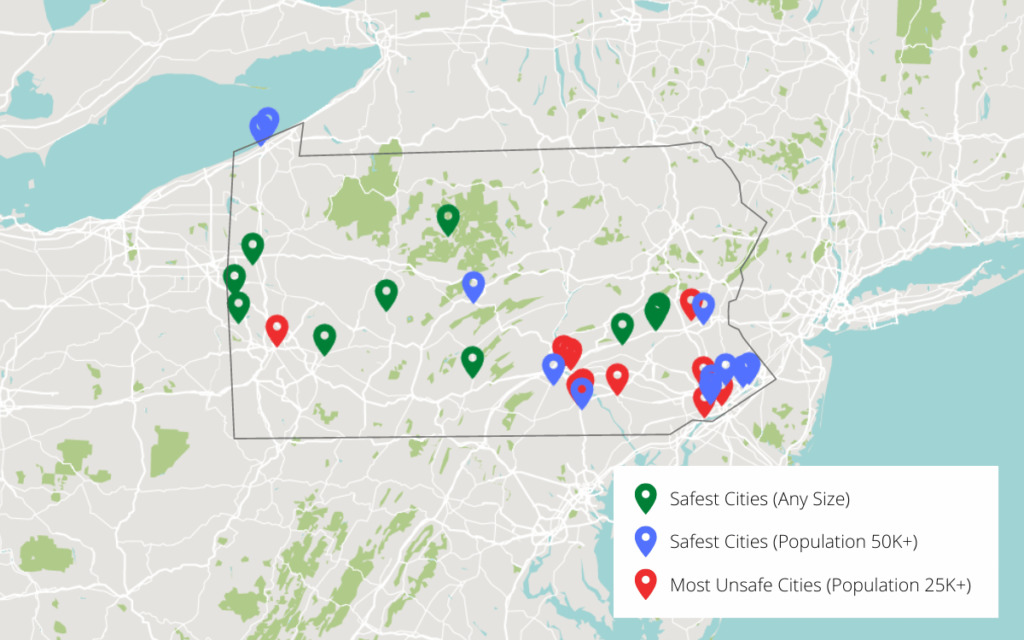 Although there's not a surefire pattern for safe and unsafe areas, this helps to paint a picture. As always, whether you're in a high-crime urban center or a low-crime rural township, it's wise to protect your property to avoid becoming a victim.
Stay Safe in Pennsylvania
To ensure your well-being in the most dangerous and safest cities in Pennsylvania, it's important to take precautions against burglary, vandalism, and other crimes. By following these simple tips, you can sleep soundly at night.
Start by getting to know your neighbors, as they can be your first line of defense if someone is lurking around your property. Always remember to lock your doors, even in areas with low crime rates, to avoid inviting trouble into your home.
Consider implementing crime prevention through environmental design strategies, such as cleaning up your yard and planting thorny bushes near windows, to discourage potential criminals. You can also reach out to your local police department to learn about tips and local resources. Many police forces have crime prevention officers who can offer guidance on how to avoid becoming a victim.
Investing in high-quality home security cameras with live video monitoring and intervention is also a wise decision. Deep Sentinel cameras use AI technology alongside human operators to prevent crime at your property line.
With these steps, you can take control of your safety and protect your Pennsylvania home.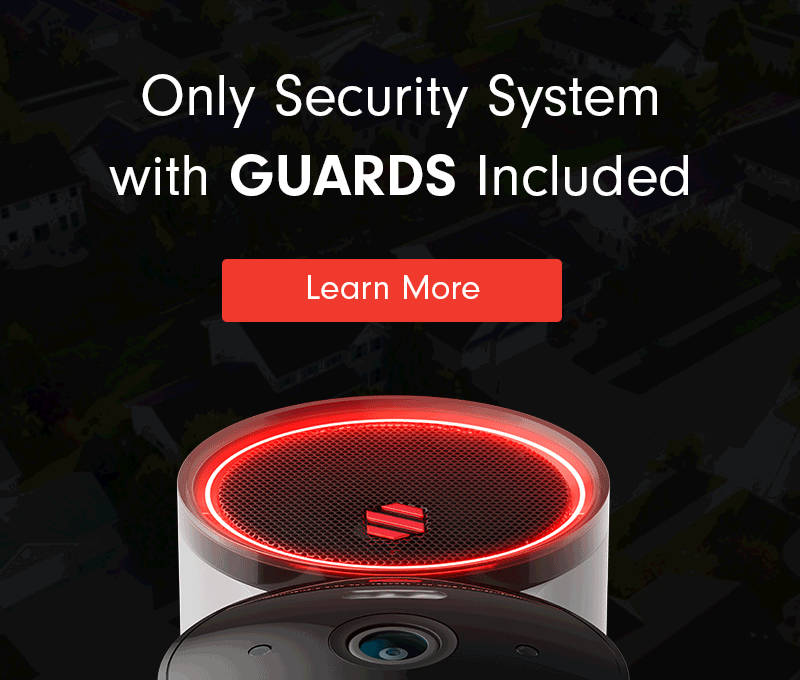 Need a Solution that Prevents Crime?
Deep Sentinel is the only security technology that delivers the experience of a personal guard on every customer's home and business. Visit deepsentinel.com or call 833-983-6006