Tis the Season for Holiday Break-ins and Package Thefts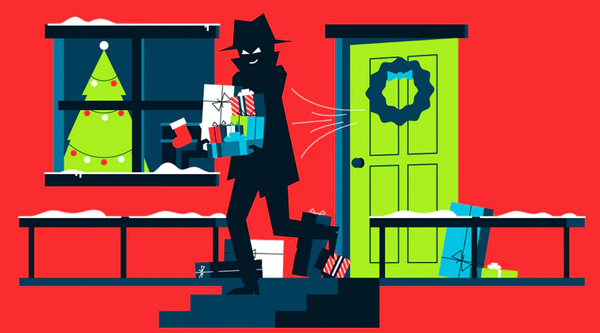 With 2017 eCommerce and Holiday Travel Growth Set to Increase, What Can You Do to Ensure Your Holiday Stays Merry and Your Family Stays Safe?
We wait for the holidays all year. It's a time to celebrate, focus on family and friends, say goodbye to last year and welcome in the next.
For some, it's a time for travel—to tropical beaches, vacation houses, ski slopes, or childhood homes. For others, it's about shopping for the perfect gift for everyone on their list. The unfortunate reality, however, is that all of these scenarios can also involve crime — theft, robbery and burglary.
Every holiday season, almost half a million homes are burglarized in the U.S. 53% of homeowners worry that packages left outside their homes will get stolen. And December rates of robbery and personal larceny are 20 percent higher than the average monthly rate of these crimes.
Why?
The growth of eCommerce is creating even greater job security and opportunity for holiday burglars, robbers and porch bandits.
More packages are left on doorsteps. Last year, in 2016, the United States Postal Service processed 16 billion items, including 750 million packages.
This year, UPS expects its holiday load alone to rise 5% to 750 million packages. FedEx is planning for up to 400 million parcels.
2017 eCommerce holiday sales could peak at $114 billion.
This year, more than 174 million Americans shopped in stores and online between Thanksgiving and Cyber Monday alone. In a latest report released by Adobe, Cyber Monday hit a new record of $6.59 billion in sales, making it the largest U.S. online shopping day ever.
In a survey done by Shorr Packaging Company, 61% of respondents said they felt online retailers are NOT doing enough to prevent package theft.
More People Traveling Makes for More Opportunities to Plan and Carry Out Burglaries
Remember that movie, Home Alone? In it, the two burglars cased the neighborhood — one even pretended to be a police officer coming by to make sure the family has taken the proper precautions against holiday crime, fishing to find out what they have installed in terms of a burglar alarm or surveillance camera. Mrs. McAllister, the mom of the family, even tells the police officer they will be traveling to Paris. Great news for the pseudo cop, who then assures the family that they will be keeping a watchful eye when the family is away.
That isn't too far off from the truth. According to a study that closely examined the decision-making processes of 422 randomly-selected, incarcerated male and female burglars across three states (North Carolina, Kentucky, and Ohio), which was conducted by The University of North Carolina at Charlotte, about a third of offenders reported that they collected information about a potential target prior to initiating a burglary attempt.
According to the UNC study, about 12% indicated that they typically planned burglaries and 37% said they engaged in a combination of spur of the moment and planning. So, it's important this year, more than ever before, to take safety precautions to ensure burglars do not know your comings and goings.
Auto Club AAA has already predicted an uptick in travelers this holiday season, forecasting that 107.3 million Americans will take to planes, trains, automobiles and other modes of transportation from Saturday, Dec. 23 through Monday, Jan. 1. According to AAA, this will be the highest year-end travel volume on record.  And for the benefit of robbers and burglars who are planning a premeditated break-in into your home during the Christmas/New Year's holiday, the average time people are away from home is four nights cites the Bureau of Transportation. That gives them plenty of time to carry out their schemes.
For this reason, it's crucial for homeowners and renters to secure their homes. Police departments recommend all sorts of tips, from the obvious—"lock your doors and windows"—to the offbeat—"get a dog" or "plant thorny shrubs underneath windows."
Some of us might even rewatch Home Alone to get some additional booby trap tips from Macaulay Culkin's iconic burglar-proof home. Critics of the movie wonder why Kevin McCallister, the character Macaulay played in the movie, just didn't call the cops.
Barring setting your brother's Tarantula free inside the house, there are several ways you can secure your home during the holiday season. Take a look at our infographic below to learn about the burglary and theft risks of the holiday season and how you can make sure your home is safe and secure this year.