Robber Slips on Ice, Spills Money in Front of Cop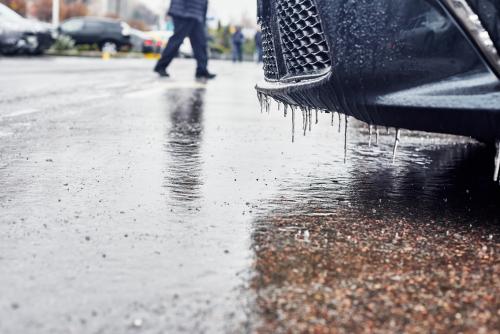 Icy Weather Turns Robbery Drama into Slapstick Comedy
Talk about never catching a break. A hapless robber in freezing cold Maine not only slipped on the ice while attempting to flee the scene of a crime. He spilled the loot as he fell, causing greenback bills to fly everywhere to the amazement of bystanders. One of whom happened to be a state police lieutenant. The state police lieutenant was in his unmarked car in front of a Chinese restaurant about to get lunch when the suspect tumbled to the ground right in front of him, according to the Press Democrat and other news media.
In addition to stolen money, the suspect's gun also flew out of his pocket.
The state police lieutenant, Glen Lang, became suspicious. As bystanders began grabbing at the money being whipped away by the wind, he leaped out of his vehicle and tackled the suspect before he could run away. He then took him into custody just as local Waterville city police arrived.
Lt. Lang is part of the Maine state police computer crime task force. But he certainly knew how to spring into action when a real-life crime unfolded in front of his eyes.
Robber Was in Violation of Parole
The drama began on a quiet, chilly Monday morning when a man entered a suburban branch of the Bangor Savings Bank, pulled out a gun, and demanded cash.
With the stolen money and his gun stowed in his pocket, the robber, 37-year-old Jason Mackenrodt, exited the bank and dashed across several lanes of downtown Waterville traffic into the parking lot of a Chinese restaurant. That's when things came crashing down for him.
That's when he slipped on ice, sending his gun and his ill-gotten gains tumbling out of his pocket.
Mackenrodt was identified as a transient. The police arrested him on charges of robbery, terrorizing, and probation violation—he was on probation for burglary. He went to the Kennebec County jail in Augusta, with bail set at $25,000 cash, according to Waterville's Deputy Chief Bill Bonney. The gun turned out to be a BB gun.
Police Thank Locals for Retrieving Stolen Money
"I've never seen anything like this," Waterville Police Deputy Chief William Bonney told media reporters. The freakish crime story made national as well as international news headlines. "It's such a good feeling when you catch a robbery suspect. It's even better when Mother Nature lends a hand."
In a Facebook post following the robbery, as reported by NBC News Center Maine, the Waterville police chief commended Special Agent Glen Lang for catching the thief. But he also thanked fast-acting bystanders for helping to retrieve the money as an icy gust of wind swirled it in different directions.
"I want to thank all the members of the public who helped gather up the flying money and return it to the officers on scene. And a thank you to all the witnesses that gave officers information about the fleeing suspect. I am sure the robbery was a traumatic experience for all bank employees and they have our thanks and support as they try to move forward from this event," he said.
Depend on Deep Sentinel, Not Icy Pavement
It's fortunate that a combination of winter weather conditions and the would-be robber's lack of balance combined to save the day. But don't count on those factors to protect your family and your home. Depend on Deep Sentinel's home security cameras instead.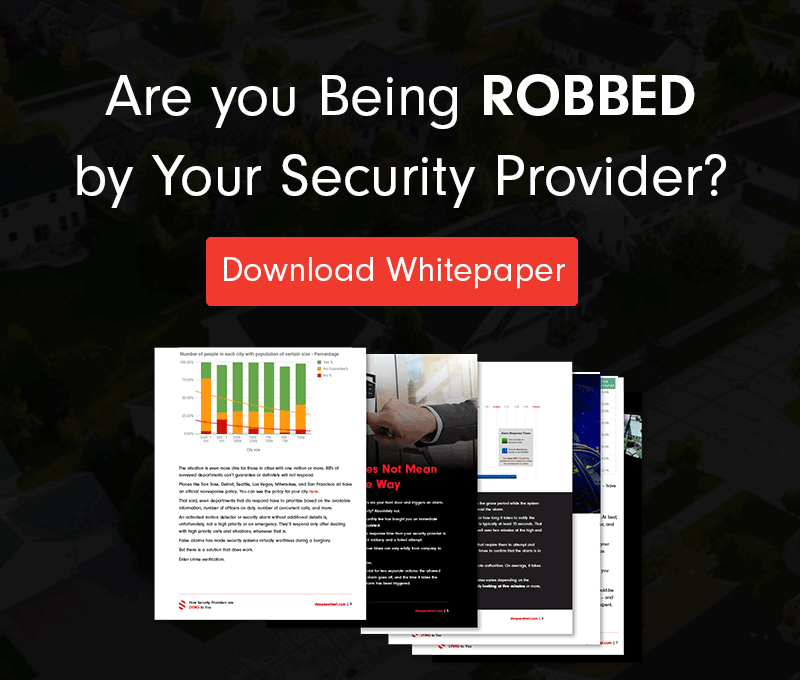 Need a Solution that Prevents Crime?
Deep Sentinel is the only security technology that delivers the experience of a personal guard on every customer's home and business. Visit deepsentinel.com or call 833-983-6006