Deep Sentinel vs. Ring Virtual Security Guard
Both Deep Sentinel and Ring are popular options for home security. However, the two services and the protection they provide are quite different.
Here we compare Deep Sentinel's live monitored security cameras with Ring's DIY home security offerings to help you make the best decision to protect your home and your family.
Comparing Deep Sentinel with Ring Virtual Security Guard
LEVEL OF ENGAGEMENT

---

LEVEL OF ENGAGEMENT

---

Deep Sentinel's home video surveillance service includes live guards that stop a crime before it happens. The security team uses remote access technology to engage with suspects and control the situation. Deep Sentinel never relies on homeowners to intercept criminals.

Ring security is largely self-monitored. This puts the responsibility of reacting to suspicious activity on the homeowner. 

The company recently released a "Virtual Security Guard" add-on service, which uses a third-party security partner to monitor select models of outdoor cameras. The service is only activated when the customer arms their system, unlike Deep Sentinel, which is always on.

MONITORING CENTER

---

MONITORING CENTER

---

In addition to a US-based guard team, Deep Sentinel employees guard teams in overseas offices to provide 24/7 services.

Ring does not own any of its monitoring centers. The Virtual Security Guard service is available through Rapid Response, a US-based third party. To engage this service, customers must also own a Ring alarm system and activate an additional paid Ring Protect Pro or Protect Plus subscription.

INSTALLATION AND SET-UP

---

INSTALLATION AND SET-UP

---

Deep Sentinel gives you options for your hardware and installation. Installing Deep Sentinel wireless security cameras is an easy 30-minute DIY project. If you prefer a wired PoE camera system, Deep Sentinel can recommend a local professional installer.

Most Ring customers install wireless Ring security cameras themselves. For more complicated hardware or wired cameras, professional installation may be necessary. The time for setup depends on the number and type of devices being installed at your site.

SPEED

---

 

SPEED

---

 

Deep Sentinel guards will react to suspicious behavior and verbally engage the perpetrator within 5-10 seconds. If law enforcement is needed, a guard will contact your local police within 30 seconds.

Ring does not have a guaranteed response time. The speed of Ring's self-monitored option depends on the homeowner's ability to react to an alert.

HARDWARE

---

HARDWARE

---

Deep Sentinel's proactive security solution is driven by surveillance cameras and a smart AI hub. The system hardware includes outdoor cameras, a hub (which doubles as a battery charger for wireless equipment), and mounting equipment. Accessories like solar panels, Wi-Fi boosters, and extreme temperature systems are available upon request.

Ring offers a variety of security products, including video doorbells, cameras, security systems, and smart lighting. Professional monitoring is currently only available for Ring alarm systems and some outdoor camera models.

WARRANTY

---

WARRANTY

---

1-year warranty on all hardware for both wireless and Power-over-Ethernet systems

1-year limited hardware warranty
CUSTOMER REVIEWS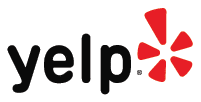 Deep Sentinel
4.6/5.0

Ring
1.5/5.0
"Deep Sentinel saved the day. With any other security system, everything that happened would not even set an alarm."
"The virtual guard de-escalating the situation before calling the cops was exactly what I wanted out of a security system. I was in a meeting while my wife was scared for the safety of our kids, and Deep Sentinel deescalated the situation so effortlessly."
"It's changed the way I live and the way I interact with technology."
"When I come home and wave at the security camera—I know someone is in the back watching—it's like talking to your virtual guard. For that peace of mind, knowing that someone is always watching, and that my family is safe, it's a priceless feeling."
"It's unlike anything I have ever seen in my entire lifetime."
"I am completely amazed at what your security system does. It's like you have a virtual police officer on standby 24 hours a day, 7 days a week."
How Deep Sentinel Compares to Ring
Deep Sentinel: The Only System with Guards Included

​
 

Deep Sentinel

Ring Virtual Security Guard

Guards Who Engage
with Intruders

Yes

Yes

Contact Police Time

Within 30 Seconds

No response time guarantee

Can Verify Crime

Yes

Yes

Warranty

1 year

1 year

Contract Required

1 year

Monthly subscription; also requires the Ring Protect Plan
Similarities & Differences Between Deep Sentinel and Ring
Deep Sentinel and ADT are both used to protect homes and businesses, but their security products and services are quite different.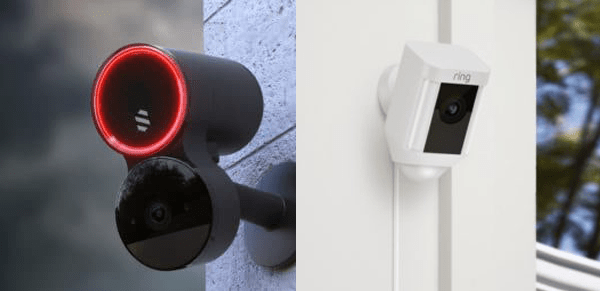 | | |
| --- | --- |
| ✓ | Deep Sentinel and Ring both use surveillance cameras to protect your property. |
| | |
| --- | --- |
| ✓ | Both companies offer wireless systems that you can install yourself as well as hardwired systems. |
| | |
| --- | --- |
| ✓ | With the addition of Ring's Virtual Security Guard service, both companies offer remote security camera monitoring. |
| | |
| --- | --- |
| ✓ | The equipment warranty length is the same for either option. |
| | |
| --- | --- |
| ❌ | Deep Sentinel uses artificial intelligence to filter out false alarms from suspicious activity, while Ring does not use AI and alerts the homeowner any time a camera is triggered. |
| | |
| --- | --- |
| ❌ | Ring's Virtual Security Guard service is only active when a user remembers to arm the system. Deep Sentinel is always keeping watch without any effort on the homeowner's part. |
| | |
| --- | --- |
| ❌ | With Ring, homeowners who want professional monitoring must enroll in additional subscription services. All Deep Sentinel camera systems include the support of a live security team. |
| | |
| --- | --- |
| ❌ | Deep Sentinel guarantees a response time of under 10 seconds. Ring makes no such guarantee. |
| | |
| --- | --- |
| ❌ | Ring's monitoring services are provided through a third-party company, while Deep Sentinel employs its own guard force. |
Why Choose Deep Sentinel for Your Home or Business?
| | |
| --- | --- |
| | When disaster strikes, every second counts. Deep Sentinel combines artificial intelligence with live guards to give you the fastest response time of any security provider, with no false alarms. |
| | Ring cameras notify the homeowner every time the camera is triggered and put the responsibility of assessing the threat on the homeowner. Deep Sentinel is smarter than that. Artificial intelligence filters out harmless triggers like blowing leaves or passing cars and only alerts the guard team (and you) if something suspicious happens. |
| | Deep Sentinel proactively stops criminals before they can cause trouble at your property. Ring and other DIY systems react once trouble has already started. |
| | |
| --- | --- |
| | When disaster strikes, every second counts. Deep Sentinel combines artificial intelligence with live guards to give you the fastest response time of any security provider, with no false alarms. |
| | Ring cameras notify the homeowner every time the camera is triggered and put the responsibility of assessing the threat on the homeowner. Deep Sentinel is smarter than that. Artificial intelligence filters out harmless triggers like blowing leaves or passing cars and only alerts the guard team (and you) if something suspicious happens. |
| | Deep Sentinel proactively stops criminals before they can cause trouble at your property. Ring and other DIY systems react once trouble has already started. |
See Deep Sentinel in Action