Deep Sentinel vs. Nest
Deep Sentinel and Nest offer quality security cameras for homes, but they have vastly different approaches to monitoring and the types of services they provide.
Choose the right security solution for your home with this detailed comparison of Deep Sentinel's professionally monitored surveillance cameras with Nest's self-monitored security devices.
Comparing Deep Sentinel vs. Nest
LEVEL OF ENGAGMENT

---

LEVEL OF ENGAGEMENT

---

Deep Sentinel's video surveillance system promises real-time crime prevention through artificial intelligence and live intervention. Real human guards use remote access to speak with suspicious visitors, set off a siren, and control the situation. They can see and hear every threat without relying on the homeowner.

Nest security is all self-monitored. That puts all control and all responsibility in the homeowner's hands. When the cameras wake, it's up to you to monitor and respond to every activity. Customers can engage through the camera in real time through video and audio technology.

MONITORING CENTER

---

MONITORING CENTER

---

Deep Sentinel is headquartered in California. In addition to a US-based monitoring center, exclusive satellite offices overseas provide overflow and overnight surveillance services.

Nest does not offer professional video monitoring services. Customers with other security devices like motion sensors can add monitoring services from Brinks Home Security, which has one monitoring center in Texas.

INSTALLATION AND SET-UP

---

INSTALLATION AND SET-UP

---

Deep Sentinel has flexible options for hardware and installation. Install any Deep Sentinel

wireless security camera system

yourself in under 30 minutes. If you want

Power-over-Ethernet cameras

, Deep Sentinel will recommend a certified installer from our nationwide network of professionals.

Nest cameras and security devices have a relatively simple DIY installation process. Some cameras, like those that use floodlights, might require professional installation. The time to set up depends on the number and type of devices involved.

SPEED

---

 

SPEED

---

 

Deep Sentinel guards intervene within 5-10 seconds of any suspicious activity. If needed, the guards will contact the police within 30 seconds and provide verified real-time details of the crime.

A Nest customer will typically be able to receive live footage within 10-15 seconds. The homeowners and their ability to react to the situation determine the response time.

HARDWARE

---

HARDWARE

---

All Deep Sentinel systems include a smart AI hub and wireless or hard-wired cameras rated for outdoor use. Accessories like extreme weather packages, solar panels, and Wi-Fi boosters are available upon request.

Nest offers many smart home devices and security products for a connected home. These include thermostats, smoke and CO alarms, locks, video doorbells, and surveillance cameras. Both wireless and hard-wired cameras are available for your site.

WARRANTY

---

WARRANTY

---

1-year hardware warranty for both wireless and Power-over-Ethernet

1-year warranty for new hardware or 90-day warranty for refurbished hardware
"Deep Sentinel saved the day. With any other security system, everything that happened would not even set an alarm."
"The virtual guard de-escalating the situation before calling the cops was exactly what I wanted out of a security system. I was in a meeting while my wife was scared for the safety of our kids, and Deep Sentinel deescalated the situation so effortlessly."
"It's changed the way I live and the way I interact with technology."
"When I come home and wave at the security camera—I know someone is in the back watching—it's like talking to your virtual guard. For that peace of mind, knowing that someone is always watching, and that my family is safe, it's a priceless feeling."
"It's unlike anything I have ever seen in my entire lifetime."
"I am completely amazed at what your security system does. It's like you have a virtual police officer on standby 24 hours a day, 7 days a week."
Deep Sentinel for your home
The Only Security System with Real Guards
 

Deep Sentinel

Nest

Guards Who Engage
with Intruders

Yes

No

Preventing Crime

Outside of Property

Outside of Property

Contact Police Time

Within 30 Seconds

Dependent on Customer

Can Verify Crime

Yes

Dependent on Customer

Warranty

1 year

1 year

Contract Required

1 year

No monitoring service
Similarities & Differences: Deep Sentinel Security vs. Nest
Deep Sentinel and Nest both offer security solutions for homeowners, but their approach and results are quite different.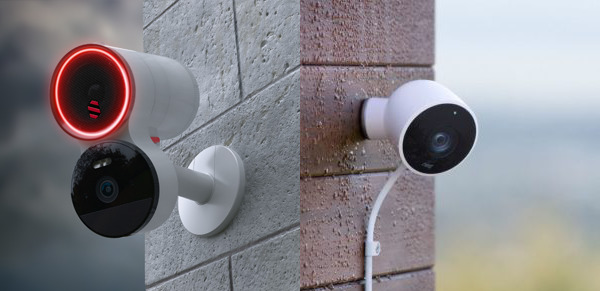 | | |
| --- | --- |
| ✓ | Deep Sentinel and Nest both manufacture their own residential security devices, including surveillance cameras. |
| | |
| --- | --- |
| ✓ | Homeowners can choose DIY wireless cameras or hard-wired cameras with either provider. |
| | |
| --- | --- |
| ✓ | Both companies offer some version of event identification, which helps to determine what or who is on camera. |
| | |
| --- | --- |
| ✓ | Cameras from both providers are equipped with two-way audio, which enables someone to speak with visitors. |
| | |
| --- | --- |
| ❌ | Deep Sentinel uses artificial intelligence to identify threats and alert live guards before any trouble arises. As a self-monitored system, Nest relies on the homeowner to respond to threats, and artificial intelligence tools are only available with an upgraded subscription. |
| | |
| --- | --- |
| ❌ | Deep Sentinel guards can intervene and alert police on your behalf, offering the fastest response time in the industry. By comparison, Nest is simply a tool for homeowners to keep an eye on their own property and cannot intervene or call the police. |
| | |
| --- | --- |
| ❌ | With Deep Sentinel, 24/7 monitoring and recording is included. Nest requires customers to upgrade their service in order to record footage or use AI tools. |
| | |
| --- | --- |
| ❌ | Nest cameras are part of a lineup of smart home devices, while Deep Sentinel is dedicated to providing maximum security through advanced surveillance cameras. |
Why Choose Deep Sentinel for Your Home or Business?
| | |
| --- | --- |
| | In an emergency, every second matters. By combining AI with live human intervention, Deep Sentinel offers the fastest response times of any security provider. |
| | Nest, like other DIY home camera systems, alerts you every time there is motion in your camera's field of view. Deep Sentinel's AI filters out harmless triggers like passing cars and wildlife, eliminating false alarms and raising the alarm only when it counts. |
| | Deep Sentinel guards are skilled professionals who are trained to protect your home and de-escalate dangerous situations within seconds. With professional monitoring, you'll never have to worry about the security of your property when you're away, asleep, or unable to respond to an alert. |
| | |
| --- | --- |
| | In an emergency, every second matters. By combining AI with live human intervention, Deep Sentinel offers the fastest response times of any security provider. |
| | Nest, like other DIY home camera systems, alerts you every time there is motion in your camera's field of view. Deep Sentinel's AI filters out harmless triggers like passing cars and wildlife, eliminating false alarms and raising the alarm only when it counts. |
| | Deep Sentinel guards are skilled professionals who are trained to protect your home and de-escalate dangerous situations within seconds. With professional monitoring, you'll never have to worry about the security of your property when you're away, asleep, or unable to respond to an alert. |
See Deep Sentinel in Action
See Deep Sentinel in Action