Looking for an alternative to
ADT? Meet Deep Sentinel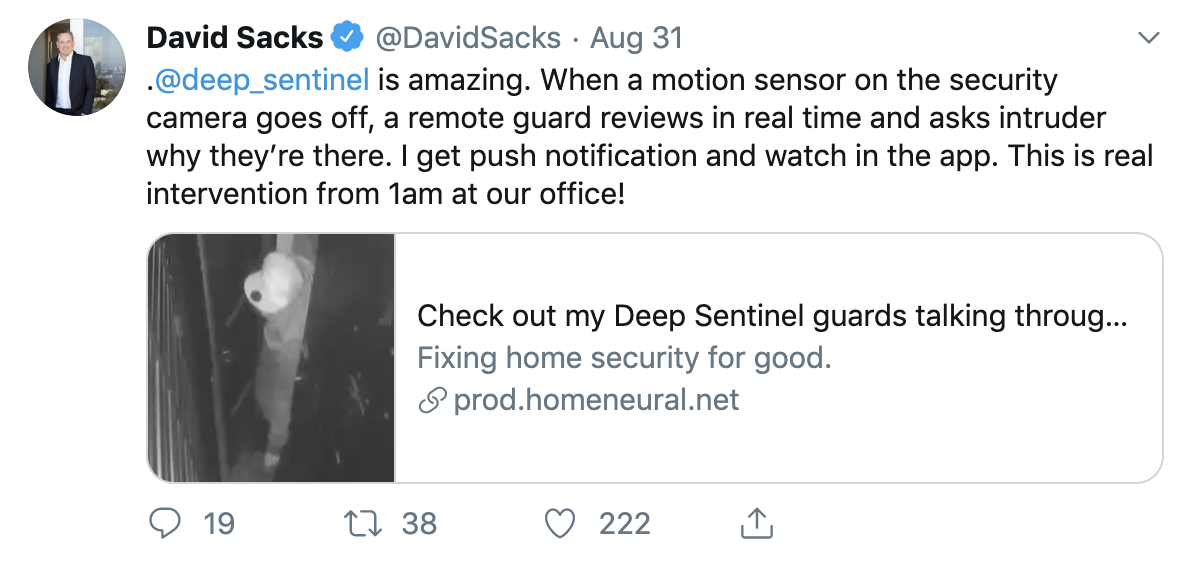 How does Deep Sentinel compared to ADT? PROACTIVE
Predicting & Preventing Crime
You don't want evidence of a break-in; you want it to never happen in the first place. Deep Sentinel provides private security guards to watch the perimeter of your home 24/7.
Like security guards posted on your roof, Live Sentinel Guards are able to intervene on suspicious behavior and contact law enforcement before a break-in.
REACTIVE
Reacting to an Intruder inside the Home
Traditional home security systems, like ADT, only notify you after someone has entered into your home. Door and window sensors trigger only upon intrusion.
Alarm companies have no idea if the individual is an intruder – delaying police response times – giving them plenty of time to take what they want from your home. 
INSTANT RESPONSE
30 Seconds 
Deep Sentinel provides surveillance agents who monitor suspicious behavior on the outer perimeter of your property. 
Live Agent involvement means real-time steps to engage, deter, and alert police as the situation is unfolding beyond the front door. In 30 seconds or less.
DELAYED RESPONSE
10 Minutes 
If you believe your security system and monthly fee has bought you an immediate response, you're going to be very disappointed.
There are several actions that occur when someone triggers an alarm: the allowed time in which to enter a code before the alarm goes off, and the time it takes the security provider to be notified that the alarm has been triggered. 
LIVE EYES & EARS
Verified 
Because Deep Sentinel has live ears and eyes on the scene, they can verify the crime. When contacting the police, Deep Sentinel can provide key information to police: location of suspect, behavior, crucial description of perpetrator, and potential threats to offer safety to police.
TRIGGER BASED
Non-Verified
Typically when a traditional home security system goes off, no one can verify why. Systems like ADT, will try to contact the homeowner, but with no eyes and ears on the scene, police classify that as a non-verified crime. That means a slow response if at all.
0% FALSE ALARMS
Real-time Assessment to Police
Deep Sentinel puts human eyes on the scene so that threats can be assessed at the perimeter of the property. Eyes and ears on the scene mean real-time steps to engage, deter, and alert police as the situation is unfolding.
When threats are verified by human agents, incidents can be reported within mere seconds, and real-time reporting can be made to officers en route to the scene, helping them to catch criminals in the home or as they exit the scene of the crime.
95% FALSE ALARMS
A Problem for Police
Forgotten codes and accidental activations are major issues with alarm systems. 
Police in the United States respond to 36+ million home security alarms every year at a cost of $1.8 billion. Most of them are false alarms, wasting valuable time and money while taking resources away from actual crimes-in-progress.
With statistics like that, it's not a surprise that the majority of police departments can't or won't prioritize home security alarms.