How to Start a Cannabis Business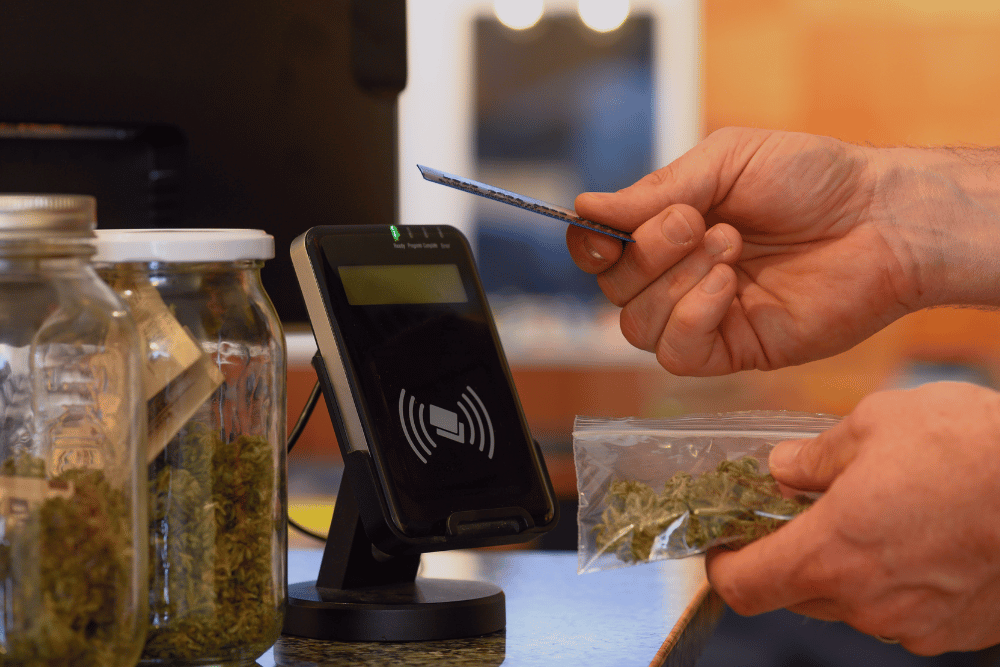 Cannabis is one of the hottest emerging markets for entrepreneurs. As more and more states pass legalization bills, business opportunities abound. But starting a cannabis business or dispensary isn't a simple endeavor. Even owners with solid business plans face issues with getting funding, following regulations, and securing their facilities. Let's look at how to start a cannabis business in a way that will set you up for success.
The U.S. Cannabis Market
Cannabis legalization efforts are sweeping the country. California was the first to legalize medicinal use in 1996. Then, in 2012, California and Washington became the first states that permitted legal recreational use. Cannabis is still under a federal-level ban, but as of September 2023, recreational cannabis is legal in 23 states plus Guam and the District of Columbia.
Pent-up demand has spurred impressive industry growth. MJBizDaily estimates that the legal medical and recreational market is currently worth $33.6 billion annually. This could grow to more than $56 billion over the next five years.
A 2022 Gallup poll found that 16% of Americans smoke marijuana, and nearly half of all American adults have tried it. And these figures don't include other forms of cannabis products like vaping, edibles, or CBD oil. All in all, that's a big potential audience for a new cannabis business.
That said, as more companies enter the market, the forces of supply and demand are bound to shift. Starting a cannabis business isn't a surefire venture, but with the right preparation, it can be a worthwhile endeavor.
How to Start a Cannabis Business
The exact process of starting a cannabis business depends on what state you'll operate in and what type of business you choose to start. However, there are a few important steps that any product-touching business will take.
Choose a Business Type
Before you get too deep into thinking about how to start a cannabis business, you'll need to figure out what kind of business to start. A store isn't your only option. Here are a few of the many kinds of cannabis-related businesses you could operate.
Retail: Selling cannabis, edibles, CBD oil, and related products to the general public for recreational or medicinal use. Some retailers also offer onsite consumption, but it's not legal everywhere.
Cultivator: Breeding and growing marijuana plants to sell to retailers or manufacturers.
Manufacturer: Extracting THC and CBD for use in products like edibles and vape cartridges or making these goods yourself.
Laboratory: Testing cannabis products for quality, safety, purity, and dosage.
Distributor: Transporting cannabis products from one business to another—or, sometimes, directly to consumers.
Hybrid: Incorporating cannabis into another popular activity, such as fitness, massage, art, or baking.
There are plenty of other opportunities that don't necessarily involve the product itself. The cannabis industry has business needs, just like any other. Consider providing support services like packaging, marketing, graphic design, financing, or legal help. This is a great way to be part of the cannabis industry if you have specialized skills or can't get a license.
Make a Plan
Any successful business requires detailed, thorough planning. You can certainly make a plan on your own, especially if you've managed a business before. Or you can enlist the help of a small business development center, incubator, or a similar service.
Your plan should include the following essential topics:
Business Model: What products and services are you selling? How exactly will you generate profits?
Funding: How much startup money will you need? How will you get this money? (More on this below.)
Management: What legal entity will your business be (LLC, sole proprietorship, etc.)? What staff will you need? What is your organizational hierarchy?
Niche: What unique gap are you trying to fill in the market? Why should people choose your business and not others?
Audience: Who are your customers? What do you know about them, their attitudes, and their behaviors?
Marketing: How will you spread the word about your business and what it offers?
Once you've covered these areas, you can expand your plan to explore the competitive landscape, your supply chain, potential distribution channels, and so on. Start with the basics to ensure that your cannabis business is viable and that you're not missing anything important. Starting a cannabis business is challenging, but your plan gives you a solid foundation.
Find a Location
Most cannabis businesses operate out of a brick-and-mortar location of some kind. That might be a store, a manufacturing facility, a lab, or something else. But you'll need to settle on a location before you go much further since you'll need the address for a lot of paperwork.
This step must go hand-in-hand with seeking a license (the following step). Some counties and cities do not allow cannabis-related enterprises within their borders, even if a state has passed legalization laws. If that's the case, you'll need to find somewhere else to start a cannabis business. Keep an eye out for any zoning restrictions about where your business can be located or what it can be near. For example, cities commonly prohibit cannabis businesses from operating near schools.
Applications, Licenses, and Other Legal Steps
The cannabis industry is one of the most strictly regulated industries out there. If you want to start a cannabis business, you'll have to jump through some hoops and follow local regulations. Full compliance with the law is critical to ensure that your business remains operational.
First, make sure to register your business under your chosen legal entity and business name. You'll need to complete this step to get an employer identification number (EIN) and tax ID. Sales and excise taxes are instrumental to the industry's legalization efforts.
You'll also need to apply for a license or permit. Check with your local government to see whether your chosen business is legal in your area, what type of licensure you'll need, and what steps and forms you must complete. In some cases, local regulations may be stricter than state regulations. Be prepared to alter your plans or find a different location to get started.
Get comprehensive insurance coverage for your business and everything in it before you open your doors. Consider getting policies for your building, employees, inventory, customers, and any vehicles you may use. In the event of a disaster, you'll be glad you got insurance.
There are, of course, other legal considerations. Depending on your plans, you'll want to look into laws about intellectual property, zoning, employment, food safety, and more. Due to the legal complexity of starting a cannabis business, contracting a lawyer is never a bad idea.
Financing Your Business
Launching any business is expensive, possibly even more so than you might think. You'll need significant startup capital to start a cannabis business. But there's a catch. Since cannabis is still a controlled substance at the federal level, and most major banks are federally insured, it's tricky for cannabis businesses to get financial services.
So how do you get funding? Large financial institutions with the FDIC label are not your best bet. Instead, look into small local banks or credit unions, private investors, and specialty industry lenders like Canna Business Resources or FundCanna.
Similarly, you'll also want a business bank account for depositing sales and paying expenses. The retail industry still operates largely on a cash basis, and you need to keep those proceeds somewhere safe. As the industry grows, specialty banks like Safe Harbor Financial are popping up to serve new businesses. You might also have luck with a local financial institution.
Cannabis Security Requirements
One of the most important steps to opening a cannabis business is to protect your business from criminal activity. Strong cannabis security doesn't just prevent crime. It's also required by law.
The cannabis security laws you must follow might change depending on the type of business you run. However, most states require certain security measures for all cannabis businesses:
Business security cameras that record entrances, point-of-sale areas, limited access rooms, and anywhere you store inventory
Access control in areas with cannabis products
A monitored alarm system securing entry points
Commercial-grade locks
Inventory management system for tracking plants or products
You may find different requirements at the county or municipal level. Be sure to check with your local administration.
Dispensaries and cannabis stores are frequently the targets of crime. Investing in your security is always a good idea. There are plenty of additional services and devices that can enhance your protection, from full-time guards to haze or pepper spray machines.
Other Business Considerations
As your business grows, you'll discover many other challenges and opportunities. Stay nimble, use your resources, make informed decisions, and seek help as needed. Some things you may want to consider:
Human Resources: Acquiring and keeping the right people through recruitment, onboarding and off-boarding, training, compensation, benefits, and workplace culture.
Growth: Expanding your business by developing new products or services, reaching new markets, forging partnerships, making acquisitions, and vertical integration.
Strategy: Planning for the future by setting long-term goals, analyzing the market, budgeting, forecasting, capital investment, and continuous process improvement.
Now that you know how to start a cannabis business, it's time to get to work. Good luck and enjoy your journey to entrepreneurship!
Secure Your New Cannabis Business with Deep Sentinel
Starting a cannabis business requires a lot of your time and effort. The last thing you want to be worried about is a criminal striking your new business. Take one thing off your plate by entrusting security to the professionals at Deep Sentinel.
Dispensary owners, growers, and more across the country trust Deep Sentinel's cannabis security solutions to protect their businesses. How does it work? When the AI-powered business security cameras detect someone at your property after hours, the system alerts a live security guard team. The guards can intervene and contact the police on your behalf in mere seconds.
Deep Sentinel exceeds state and local security standards for cannabis businesses because we understand that your business means everything to you. We're as invested in your company's well-being as you are.
Protect your cannabis business with the best cannabis security solution around: Deep Sentinel.
Read More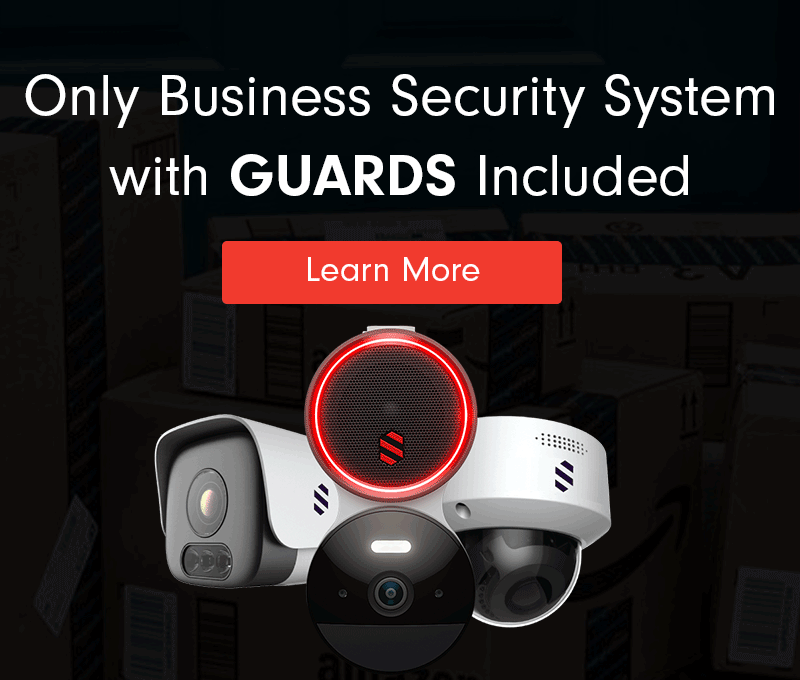 Need a Solution that Prevents Crime?
Deep Sentinel is the only security technology that delivers the experience of a personal guard on every customer's home and business. Visit deepsentinel.com/business or call 833-983-6006