Security Cameras with Audio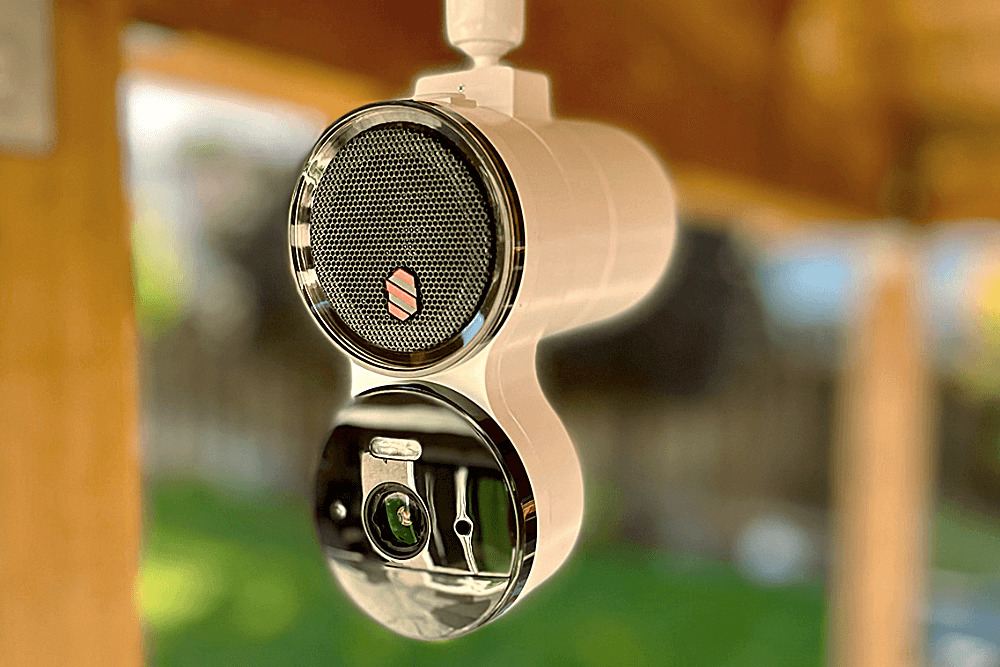 Security cameras are great for getting a visual of what's going on outside your front door. But for ultimate protection, audio is also important. The good news is that there are many security cameras with audio on the market. You'll find some with built-in microphones, some with external microphones, and some with two-way audio… But what's the difference? And which do you need? Let's find out.
Why Prioritize Security Cameras with Audio?
Audio may sound like a nicety, especially if you think it means talking to visitors or pets when you're away. But audio is more than a nice-to-have feature. It can be a fundamental part of your security strategy.
Depending on your choice of features, security cameras with audio capabilities can provide more context for what's being recorded. You'll not only see who's outside but also hear and maybe even talk with them. Audio can enhance your system's ability to deter crime, manage incidents before the police arrive, and provide a more complete picture of the situation.
Think of the sounds that would be useful to know about: breaking glass, conversations between suspects, car alarms, and many more. A camera with audio recording and two-way speakers lets you not only capture these details as evidence but also act in the moment to prevent a crime.
Audio Options
Once you've decided you want security cameras with audio capabilities, there are still many different audio options to consider, each with different price points and technical requirements.
One-Way Audio vs. Two-Way Audio
There are three audio transmission modes available for security cameras: simplex, half-duplex, and full-duplex audio transmission.
Simplex: Audio is one-way, and no interaction is possible. For example, you can shout at someone on your front porch, but they can't say anything back. (Or vice versa: They can speak to you, but you can't answer.)
Half-duplex: These two-way audio IP cameras allow one party to send or receive audio data at a time. So, it requires the homeowner and visitor to take turns talking. Picture a walkie-talkie.
Full-duplex: Two-way audio cameras with full-duplex mode allow both parties to send and receive audio data simultaneously, similar to a phone call.
One-way audio is better than nothing. At least you can hear what's happening on your property or provide basic instructions. But it obviously has its limitations.
You might opt for a two-way audio security camera that pairs with a mobile app. Wired or Wi-Fi security cameras with two-way audio (also known as 2-way intercom cameras) typically have built-in microphones and speakers. With these cameras, you can both listen to the happenings outside your home and address visitors—or crooks—in real time. You don't need to purchase an external microphone or speaker to enable the 2-way audio function.
Other Audio Considerations
In addition, it's one thing to have two-way audio and yet another to have a security camera system with audio recording. The recording aspect requires paying attention to local and state laws (more on that below). Two-way audio video security cameras with real-time communication plus audio and video recording offer the most functionality if you're serious about security.
When you've narrowed your selection, pay attention to audio quality as well. Important factors include volume, clarity, and whether there is a delay when the system relays sound data. Reading reviews and feedback from other customers about each camera you're considering helps you understand how well the camera functions in real life. In addition, you can often find a recording from a two-way audio security camera online to garner a more dimensional understanding of how well it works.
Legal Considerations for Security Cameras that Record Audio
Having a camera with audio recording (one-way or otherwise) creates legal considerations that you must address. Video-only security cameras are treated differently from security cameras that record audio in legal scenarios. That's because different laws cover the collection and use of audio vs. video data. Stay out of trouble by brushing up on security camera laws.
Privacy laws, which are the basis for many camera-related laws, vary from state to state. Most states have specific laws that govern the electronic recording of conversations, typically under the umbrella of eavesdropping laws. In "two-party consent" states, it's illegal to record audio without the permission of all parties being recorded. In other "single-party consent" states, recording is allowed as long as one person in the recording gives consent (and that person can be you).
Two-party Consent States (More Restricted)
Single-party Consent States (Less Restricted)

California
Connecticut* (electronic recordings)
Florida
Hawaii*
Illinois* (in-person conversations)
Maryland
Massachusetts*
Montana*
New Hampshire
Oregon* (in-person conversations)
Pennsylvania
Washington*

Alabama
Alaska
Arizona
Arkansas
Colorado
Connecticut* (in-person or phone calls)
Delaware
Georgia
Hawaii
Idaho
Illinois* (electronic conversations or police officers)
Indiana
Iowa
Kansas
Kentucky
Louisiana
Maine
Michigan*
Minnesota
Mississippi
Missouri

Nebraska
Nevada
New Jersey
New Mexico
New York
North Carolina
North Dakota
Ohio
Oklahoma
Oregon* (electronic conversations)
Rhode Island*
South Carolina
South Dakota*
Tennessee
Texas
Utah
Vermont
Virginia
Washington, DC
West Virginia
Wisconsin*
Wyoming

* = Laws contain state-specific exceptions or nuances
Camera placement also matters. In some states, consent laws change if the cameras are in a private location like a bedroom or changing room. Do your research on federal, state, and local laws before installing security cameras that record audio. And consider consulting an attorney.
Examples of Security Cameras with Audio Capabilities
There are countless security cameras with audio capabilities on the market. Let's look at audio recording security cameras from Lorex Technology, Swann, Reolink, and Deep Sentinel to give you a taste of what's out there.
Lorex Technology
Lorex's 4K Ultra HD Smart Deterrence IP Camera with Smart Motion Plus offers two-way audio with recording capabilities. With a built-in speaker and mic, each camera allows you to hear and talk directly to anyone on your property using the Lorex Cloud app on your smart device. The cameras have smart face person and vehicle detection, but some reviewers note that there are still false alarms. Another downside: you have to monitor the cameras and interact with visitors yourself.
Swann
The Swann CoreCam Wireless Security Camera includes a variety of features like night vision and a weatherproof design. It also includes a "2-way Talk & Siren" function that lets users greet guests or warn intruders, including deterring activity with a loud siren. It scored 4.6 out of 5 stars. The most common criticisms were connectivity issues, local storage limitations, and feed delays.
Reolink
The Reolink Argus 2 is another option. It's fully wireless and IP65 weatherproof in addition to offering two-way audio. Users can access the free Reolink app to communicate with anyone in view of the camera. Like the Lorex and Swann cameras, you (the homeowner) are responsible for communicating with people on your property. This camera system doesn't have advanced smart detection, so be ready for lots of notifications.
Deep Sentinel
Finally, there is Deep Sentinel. All Deep Sentinel security cameras offer two-way audio as an effective crime deterrent. Local AI analyzes the camera feed within moments to detect potential threats and weed out false alarms—the fastest detection solution available out of all security camera services. Through security camera monitoring, live security guards watch every time a person steps foot on your property. Guards can engage potential criminals with two-way audio and contact police within seconds, so you don't have to.
Security Cameras with Audio Keep You Safer
The bottom line is that many security cameras offer two-way audio functionality that broadens home protection. It is important to balance the availability and accessibility of such functionality with potential legal pitfalls. But the ability to communicate with guests or strangers outside your property is an invaluable feature that you should consider when shopping for security cameras.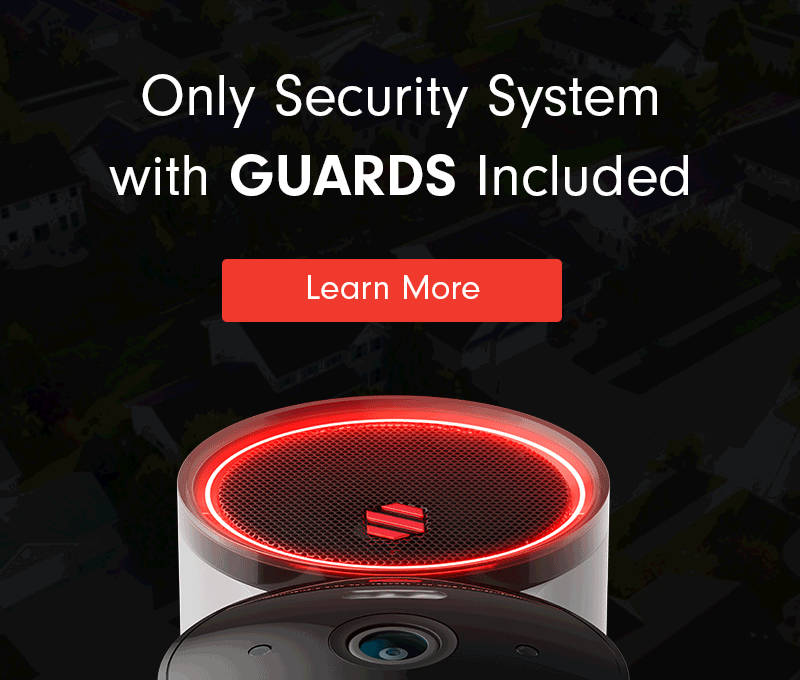 Need a Solution that Prevents Crime?
Deep Sentinel is the only security technology that delivers the experience of a personal guard on every customer's home and business. Visit deepsentinel.com or call 833-983-6006