What to Do After a Business Break-In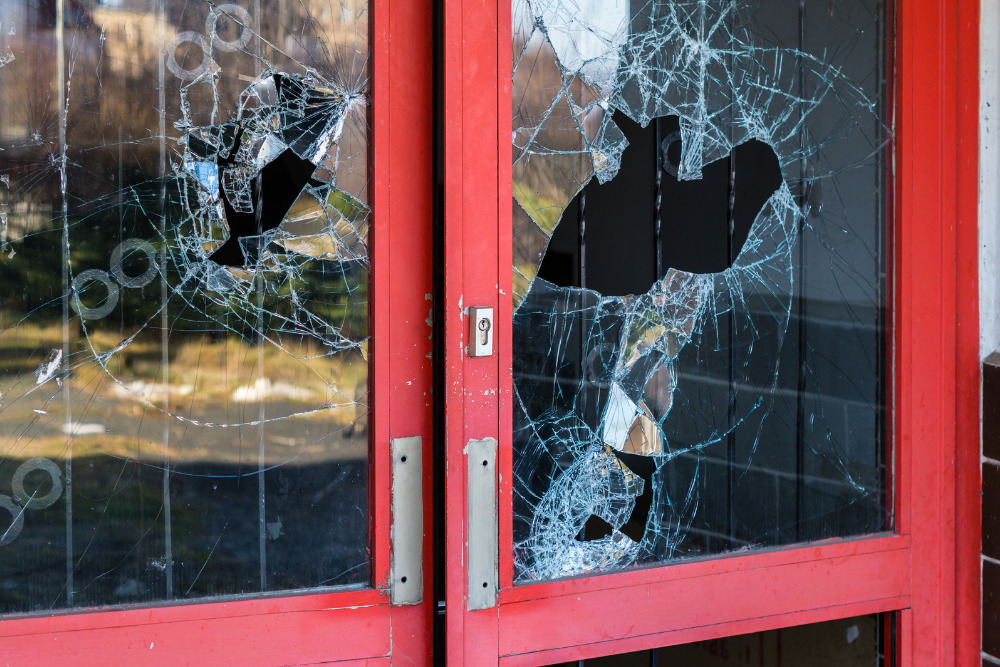 If you own a business, there's a good chance you'll suffer a break-in at some point, if you haven't already. (As one example, 56% of small retailers have experienced theft in the past twelve months.) So, say the worst has happened despite your best efforts, and you've experienced a business break-in. Now what?
Business Break-Ins: What to Do After the Fact
It's easy to feel overwhelmed, angry, or even violated after a business break-in. Ideally, you have a documented process for how to deal with it to keep on track despite the emotions you may be experiencing.
Specific circumstances will vary from one case to another, but everyone should at least follow these four steps:
Notify the police
Document the damage, if any
Take inventory
Contact your insurance provider
Simple enough, but the devil is in the details.
Step 1: Call the Police
You may not immediately think this is necessary, but contacting the authorities is very important for multiple reasons. It's a requirement for insurance purposes, it helps keep accurate statistics, and you may need protection or assistance, even if you don't realize it.
As a general rule, a burglary is not an emergency. Since it's a completed crime, you would call your local precinct, not 9-1-1. You can find the number online if you don't have it already. (It should be part of your documented response procedures, so take note of it now!)
But–and this is a big but–you should call 9-1-1 if there's even a chance that the burglar is still on the premises. If you arrive at your place of business and notice a break-in from the outside–a broken window or kicked-in door, for example–call the police immediately and do not go inside. Report a possible crime in progress and wait for officers to arrive before entering the building.
Step 2: Document the Damage
Once it's safe to do so–the police have cleared the premises or you know for a fact the suspect is gone–it's time to document any harm done to your property. Take photos of anything that looks different compared to before the break-in. That might include windows, doors, fences, security devices, safes, desk drawers, or anything else the burglar might have broken or damaged.
Pro tip: take pictures from multiple angles. And create backup files for every picture. It's better to have too many photos than to miss something required or requested by your insurance company later.
Step 3: Take Inventory of Your Losses
Make a list of stolen or missing items, including quantities and serial numbers, if applicable and available. You might as well include damaged items on the list, too.
Your insurance provider will have a specific document for official use, so this is more of an exploratory rather than a definitive list.
Step 4: Contact Your Insurance Company
Opening an insurance claim is an easy task these days. You can get the process started via a 24/7 telephone number or possibly even via chatbot or mobile app.
Different providers may need different things at this stage, but you can expect to provide them with the date, time, and location of the incident, at a minimum. They may want a preliminary rundown of damaged and stolen items. That said, many will send an adjuster or document to collect those details later. At this point, they'll provide you with any next steps and other requirements. Eventually, they'll need a copy of the police report, a full inventory list of stolen items, and photos of any damage.
Those are the four main steps after experiencing a business break-in. But don't stop there.
What You Should Do After a Business Break-In
Beyond the required steps listed above, there are a few additional things you should do after a burglary.
Audit the Incident
First and foremost? Review your existing security protocols and how they fell short. If you have none, this step is easy. You'll skip right to the next section about preparing for a business break-in. But if you do have procedures and security devices in place, now is the time to review them.
Ask yourself:
What specifically happened?
How did the burglar gain access? How did they bypass existing security devices like alarms or fortified doors?
Was this the result of forced entry, or was there a disastrous security lapse like an unlocked door or open window?
Did anything fail to work as expected? Was anything not done that should have been done?
What, if anything, could you have done that would have prevented this break-in?
What, if anything, has this break-in taught you?
A business security plan is not a one-and-done scenario. It should be revisited and tweaked regularly and as necessary. A break-in would definitely be an "as necessary" scenario.
Update Your Security Plan
After reviewing it, you may need to adjust or completely rewrite it based on your findings. Examining a successful break-in provides invaluable insight into how to prevent it from happening again. Use the opportunity to make your security protocols better and stronger. It's the one silver lining from the experience. Some examples:
Did the burglar enter via a backdoor that currently has no camera or alarm? Make plans to install one immediately. More than half of burglary victims are hit again in a month or two.
Was cash left in a register overnight instead of in the safe? Update the end-of-day checklist to ensure that never happens again.
Did the break-in seem planned, like the burglar knew how to gain access and where to go? It may be time to rethink your hiring and management policies.
Cooperate with the Police
Finally, if you have it and you haven't already, share any security camera footage with the police. This evidence may help them with their investigation.
How to Prepare For Business Break-Ins
Hindsight is 20/20, or so they say. But it's also true that an ounce of prevention is worth a pound of cure. So what should you do before a break-in happens?
Get Insurance
It's paramount that you have the proper coverage from your insurance provider in place. If you don't have it, get it.
A good jumping-off point for SMB owners is a business owner's policy (BOP). It's a relatively straightforward way to get everything you need in one convenient bundle. Insurance can be confusing, but most providers would be happy to share information about various umbrella policies for businesses.
A basic BOP includes:
Commercial property insurance
General liability insurance
Crime insurance
Business income
There are other coverage options that may make sense for you and your business, so talk to your provider. You don't want to discover after a break-in that you're not covered for something you should have been.
Be proactive, not reactive.
Increase Your Security
By extension, you'll want a security system that covers your points of entry and interior with business security cameras and alarms. You may also want security floodlights and motion detectors, too. Anything that increases the risk of detection or getting caught is well worth the investment.
And, perhaps most importantly, you'll need someone watching those cameras. A record of a break-in is better than nothing, but professional video monitoring–as opposed to self-monitoring–can prevent or disrupt the crime, saving you from financial losses and frustration.
Beyond security devices, every business should have a detailed closing routine that walks employees through everything that must happen at the end of the day. Write it down. Share it with everyone.
A business security checklist makes simple work of confirming that everything is in its place, security devices are activated, and you've mitigated all known risks as much as possible.
If the budget allows for it, your security plan may include hiring security guards. That said, it's not the solution for everyone, even if you can afford the steep cost. The location of your business, your industry, the layout of your property, and a variety of other factors can obliterate the ROI. So choose wisely.
How to Prevent the Next Business Break-In
The easiest way to prevent break-ins? With Deep Sentinel.
It's one of the easiest decisions you can make to upgrade the safety and protection of your business instantly.
Deep Sentinel's business security solution combines high-definition security cameras–either wireless or Power-over-Ethernet–with artificial intelligence and real human guards.
Equipped with powerful night vision and motion detectors, the cameras activate as soon as there's movement on your property. But instead of notifying you every time a critter passes by, the system uses AI to identify and dismiss any non-threats. Any suspicious behavior is escalated to the LiveSentinel surveillance guards. They assess the situation and take appropriate action, such as engaging with suspects via 2-way audio, triggering a high-decibel siren, and notifying the police of a verified crime in progress. And they can do it all in less than 30 seconds.
Deep Sentinel is proactive protection to stop a crime before it happens. It's a premium product for a DIY price. Call 833.983.6006 for your security consultation today.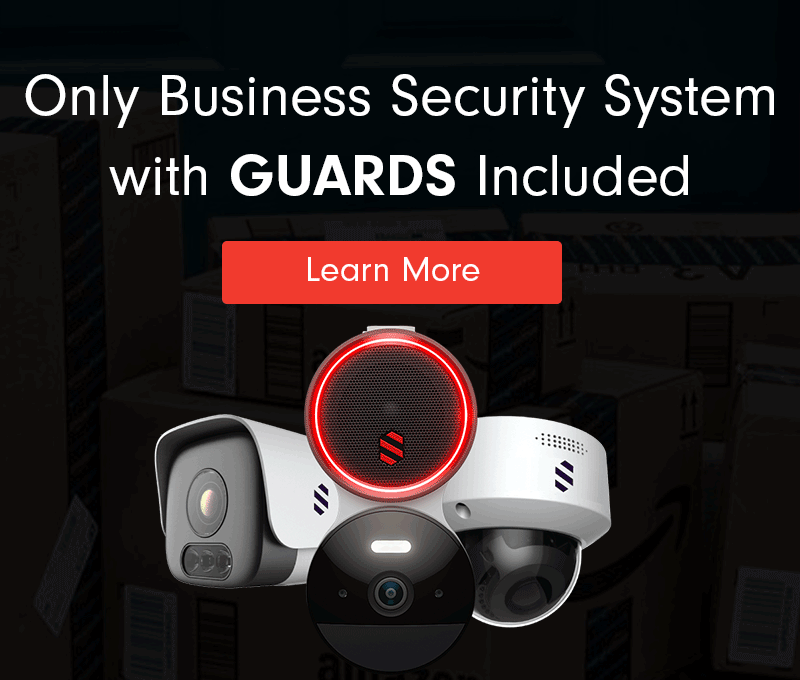 Need a Solution that Prevents Crime?
Deep Sentinel is the only security technology that delivers the experience of a personal guard on every customer's home and business. Visit deepsentinel.com/business or call 833-983-6006