All About Security Floodlights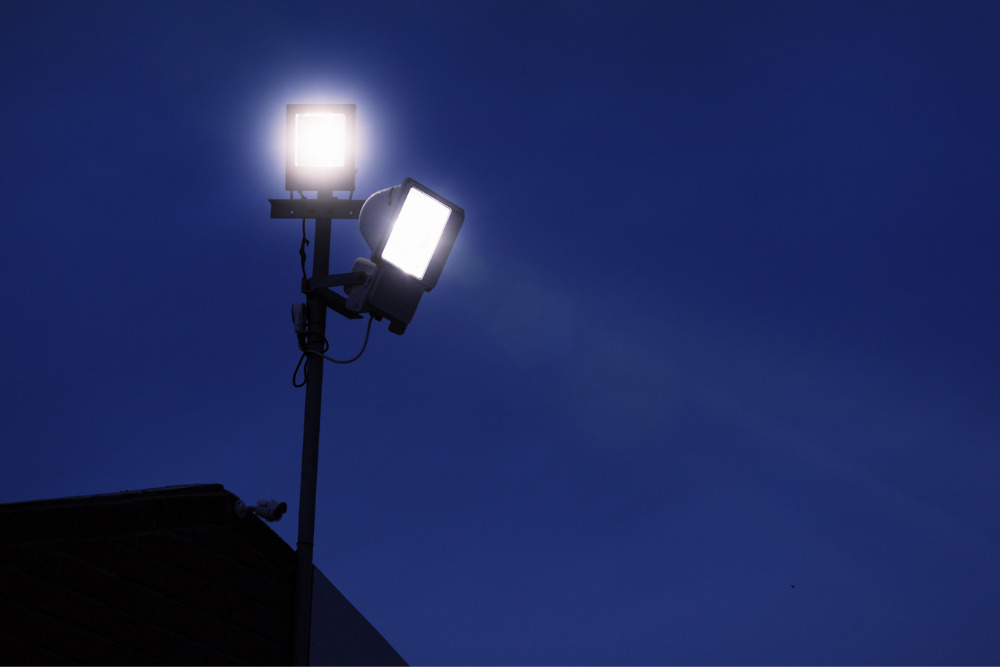 As humans, we naturally fear the dark. Call it something our ancestors passed down or the fear of the unknown, but everyone instinctively knows that darkness is perilous. One of the best ways to make your property feel safer is to ensure there is plenty of lighting. Security floodlights perfectly solve your illumination woes.
What Are Security Floodlights?
As the name entails, these fixtures "flood" an area with light, covering a large span from a single source. This is an efficient, effective way of shedding a little light on your property. Floodlights offer several notable advantages:
Out of all possible security devices, floodlights are one of the cheapest and easiest to implement.
Instead of installing a slew of lights, you might only need one or two floodlights in key areas. This saves you money on fixtures, installation, and power bills.
On a related note, lower power consumption means these lights are environmentally friendly. Some models offer eco-savvy features like LED bulbs and motion sensors.
A floodlight gives you, and any security cameras that you might have installed, a better view of your situation.
There are a few pitfalls to floodlighting and some variations among models. Let's help you avoid the mistakes and get the right fixture for your specific needs.
What Kind of Security Floodlights Do I Need?
Floodlights range greatly in terms of quality and price. You can get basic lighting for less than $20, or you can get all the fixings with motion sensors and multiple lighting heads for over $100. So how do you choose?
What's important to consider is what you need.
Do you want something on all the time? Consider LED lighting, as it will save you some cash on your power bill.
Do you have a large area to cover? Then you should look at some brighter options with more lumens.
Are you installing this as another layer of security? Consider lights that are built into or integrated with other systems. (As an example, security cameras only work if they can see what's happening.)
Are you doing this on your own? If so, make sure you get a DIY-friendly system and read up on security light installation.
Here are a few top-rated floodlights to explore. As you can guess, there are many, many others, but these are a starting point.
Simple, Budget Friendly, and Effective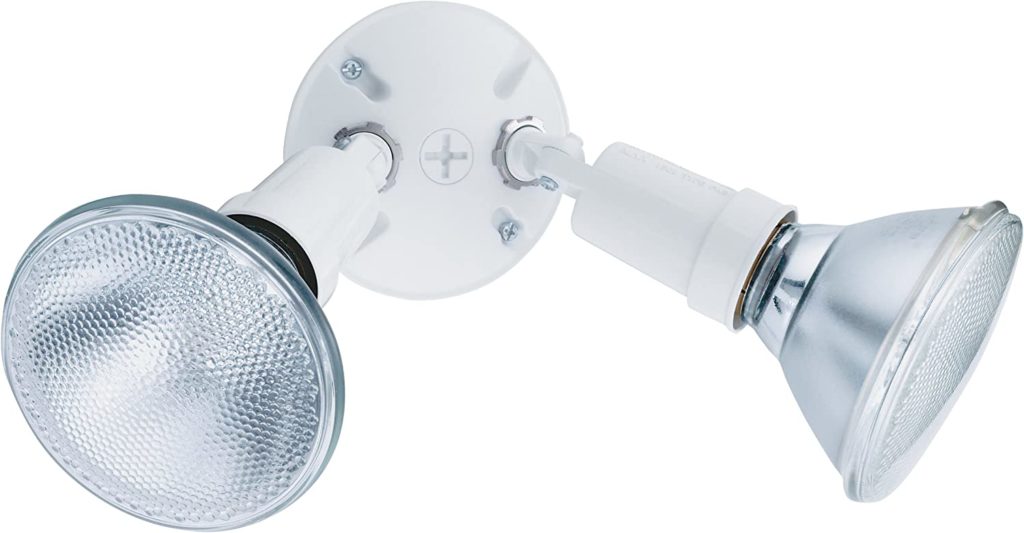 Lithonia Lighting Outdoor Twin Floodlight
Features and specifications:
300 watts (total)
Hardwired
On/off switch and dusk-to-dawn options
Two adjustable light heads
Weather- and rust-resistant aluminum housing
1-year warranty
At the time of publishing, the Lithonia was on sale for less than $20. It must be wired into a wall or similar surface, but once installed, it's perfect for back patios, porches, and walkways. Two adjustable lights offer some flexibility in where the light goes. An aluminum frame resists rust, perfect for the rainy season. It boasts a "dusk-to-dawn" automatic turn-on/off option, but some reviewers report that this feature can be inaccurate. The company also offers an on/off switch version, which can save you a few more dollars if you don't mind having to remember to hit the switch. For the price, you can't go wrong with the function.
Mid-Tier, Does a Little of Everything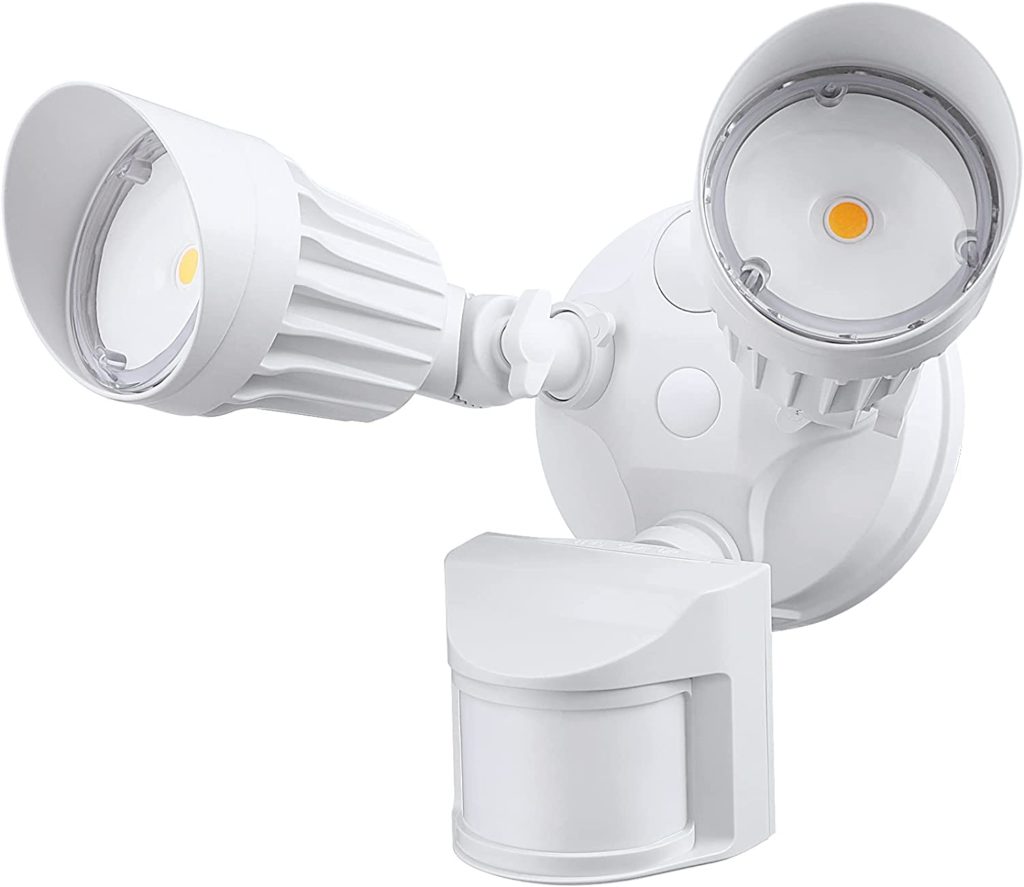 Features and specifications:
20-watt LEDs (150-watt equivalent)
Two adjustable light heads
IP65 waterproof
180-degree and 70-foot motion detection
Three on/off modes
5-year warranty
This light does some amazing things for around $50. The powerful motion detection feature is fully adjustable for sensitivity. You can choose from three different on/off modes: manual, time-based dusk-to-dawn function, and light-sensing. LEDs save lots of power and, as a result, money. It comes in a sturdy water-resistant design that's backed by a 5-year warranty. One potential downside: some buyers complained about confusing directions, so if you're considering this one, maybe think of hiring a professional for installation.
The Top-of-the-Line Model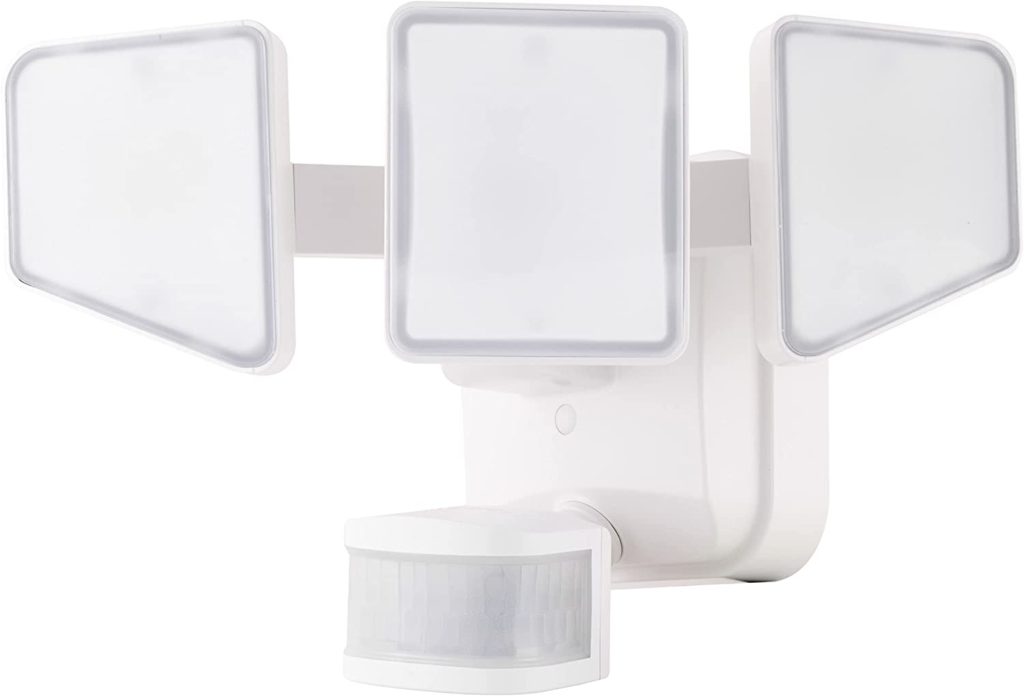 Enbrighten 2-in-1 LED Outdoor Floodlight
Features and specifications:
43-watt LEDs, up to 3200 lumens
Three adjustable light heads
240-degree and 70-foot motion detection
Weather resistant
Integrated accent light
15-year warranty
If price is not a concern, and you want a light that does it all, this should be your pick. At around $100, this light packs a big punch. It can pick up motion from up to 70 feet away anywhere within a 240° range. (This feature is, of course, adjustable.) It offers several light temperature options and is easily the brightest light on this list. The light is also easy to install. Built-in LEDs mean you never have to worry about replacing a bulb. Plus, it promises a no-hassle, easy installation with all of the hardware that you need included. If you're covering an expansive area or need sensitive motion controls, this is the light for you.
Tips for Using Security Floodlights
Now that you're familiar with some of the best-rated lights out there, it's time to think about installation. Here are some useful tips to keep in mind while you're planning for your lighting options.
Hire an electrician. Any electrical installation is going to require wiring, and if you're not confident in your electrical skills, you could end up doing a lot of damage to your property. Save yourself the hassle and the doubt and hire a professional. It's worth it in the long run.
Install lights at the main point of entry. Install your lights at the front door or back door. Or, better yet, both.
Motion sensors make it easier. Lights popping on deter would-be burglars, plus you'll save money on electricity.
Position them high at least 9 feet off the ground. Security devices aren't useful if kids them bump them out of position or intruders can tamper with them. Installing your light up high keeps them safe and keeps you safe.
Avoid light pollution. Point your lights down, not up or sideways, to avoid causing needless light pollution. Also, be aware of the brightness of your light. Choosing warmer colors can help. And if your security floodlights use a photocell, make sure other ambient sources of light don't affect the light-sensing technology.
Don't light places you don't want people to go. This is easy to forget. If there's a dangerous or forbidden part on your property, lighting it is only going to make people think it's okay to go there. Be careful what you light.
How Deep Sentinel Fits In
What if a little illumination isn't enough? (Spoiler alert: it isn't.)
The best way to stay safe is to invest in layers of security for your property. One of those layers should be an array of Deep Sentinel home security cameras. These state-of-the-art cameras are backed by AI and instant intervention by live security experts. But, like any security cameras, they're more effective for a well-lit property. Deep Sentinel's DS2 wireless security cameras incorporate built-in LED floodlights to shed some light on the scene of the crime. Or, if you choose a PoE camera system, you'll enjoy industry-leading night vision technology.
No matter what, installing redundant security lighting is never a bad idea. When it comes to security, more is always more, and that goes for illumination, too.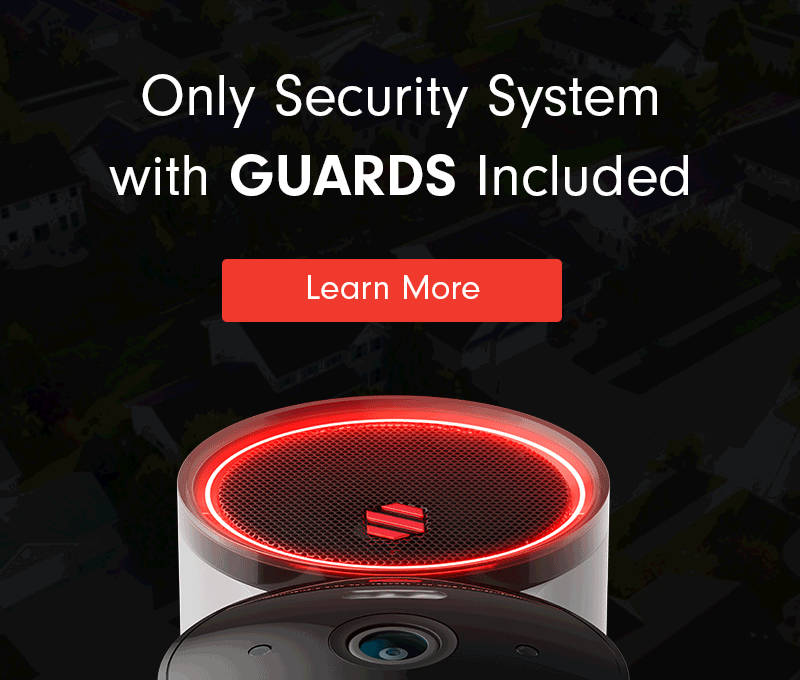 Need a Solution that Prevents Crime?
Deep Sentinel is the only security technology that delivers the experience of a personal guard on every customer's home and business. Visit deepsentinel.com or call 833-983-6006