Worst Cities for Security System False Alarms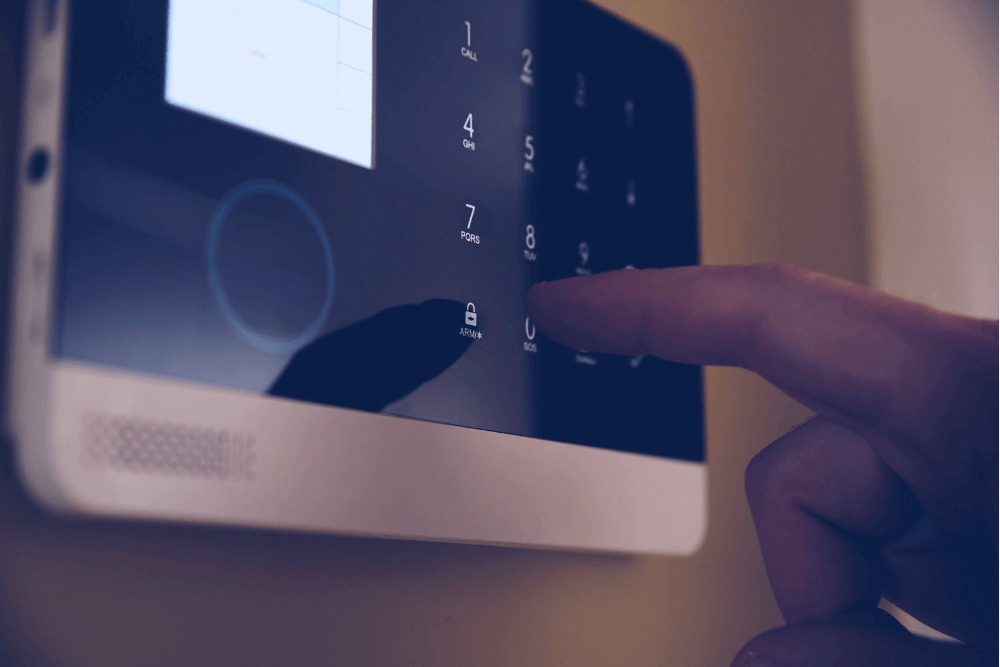 No matter where you live, security system false alarms are bad. Bad for you as the homeowner and bad for your community. But in some places, false alarms are especially harmful. Do you live in one of the worst cities for false alarms in the United States? Let's find out.
What's at Stake
Law enforcement can't be everywhere. With resources spread thin, first responders have had to prioritize certain calls. One of the biggest problems is the prevalence of false alarms. Some figures estimate that up to 98% of alarm calls are a mistake—hence why police departments call them "nuisance alarms." To make sure police attention can stay where it's needed, many cities have instituted fines and penalties for false alarms. Some police agencies have stopped responding to unverified alarms altogether.
In addition to false alarms, and often because of them, some cities struggle to reduce their average emergency response time. When you call emergency services, the hope is that they will arrive in minutes. But the reality is that in some cities, it can take almost an hour to get help. Note that there is no standard for measuring response times. Some police departments self-report the data, which may not consider factors like call prioritization or geographic distance. Still, slow response times indicate an overburdened police force that may not come to your aid as quickly as you need it to.
Here's the issue, put another way. In a community that's rife with alarm calls, there are two possible outcomes when your traditional home security system goes off:
It's a false alarm. On top of the anxiety of dealing with the situation, you might have to pay a steep fee.
It's a real alarm. You're in trouble, and the police may not arrive in time. Or at all.
Worst of all, if you have an actual crime on your hands, you might assume your system is giving you a false alarm like it has many times before. You've just become a victim of the alarm system that cried wolf.
The Worst Cities for False Alarms
Where are the worst cities to have a false alarm? It's a complicated question, but we've touched on the most important factors. This list includes cities with strict penalties for false alarm calls, slow law enforcement response times, or both.
#5: Las Vegas, NV
Crime rate: 28.2 crimes per 1,000 residents
Average police response time: 6.7 minutes
Alarm penalties: 
1st false alarm: $50 

2nd: $100 

3rd: $150 

4th: $200 

5th: $250 

6th: $300 and possible deactivation

Lack of registration may result in immediate disconnection
Las Vegas has a typical fine schedule and a relatively responsive police department. The crime rate is slightly higher than the national average of 24 crimes per 1,000 residents (not bad for a large city). However, the city's strict registration rules earned it on this list. If you have an alarm system in the area, it is very important that you register your system and use a licensed installer, or you risk immediate disconnection. And a disconnected alarm is the same as no alarm at all.
It's also noteworthy that the Las Vegas Metropolitan Police Department answered more than 1.2 million 9-1-1 calls in 2021 alone, an average of 3,400 emergency calls each day. It's no wonder the city enforces penalties for false alarms.
Even if you're in one of the best neighborhoods in Las Vegas, it's still one of the worst cities to have a false alarm.
#4: Atlanta, GA
Crime rate: 44.8 crimes per 1,000 residents
Average police response time: 10-13 minutes
Alarm penalties: 
1st false alarm: No fee

2nd: $50 

3rd: $100 

4th-6th: $200 each

7 or more: $500 each

No cost to register alarms
Atlanta has been cracking down on false alarm costs, especially since their response time is on the slow side. While it starts off fairly lax, repeat offenses drive the cost up for alarm owners. A faulty or oversensitive system could cost you thousands. At the same time, the city's crime rate nearly doubles the national average. You could be in trouble, and help won't be there for an agonizingly long time.
#3: Houston, TX
Crime rate: 55.9 crimes per 1,000 residents
Average police response time: 10 minutes
Alarm penalties:
1st false alarm: No fee (with a residential permit)
2nd: $140
3rd: $280
4th: $420
Houston has no mercy for repeat offenders. Considering most alarm owners are expected to set off an alarm at least once during setup, the penalty for the second offense is very steep. And the fees only get higher and higher, earning Houston its spot on this list. (High crime and slow police response times certainly don't help.)
#2: Detroit, MI
Crime rate: 55.8 crimes per 1,000 residents
Average police response time: 14 minutes (although some sources suggest that in certain areas it is much longer) 
Alarm penalties:
1st-2nd false alarm: No fee (with permit)

3rd-5th: $50 

6th-7th: $100 

8th-9th: $250 

10th or more: $500 

Failure to register: $100 fine 
Detroit's progressively expensive fees, penalties for unregistered systems, and poor (perhaps misrepresented) response times earned it a spot on the list. The city is also notorious for violent crime, including having one of the highest per capita homicide rates out of all U.S. cities. A faulty alarm system could prove deadly here.
#1: Los Angeles, CA
Crime rate: 30.0 crimes per 1,000 residents
Average police response time: 20 minutes
Alarm penalties:
1st false alarm: $267 (without permit +$100)

2nd: $317 (without permit+$200)

3rd: $367 (without permit +$300)

4th: $417 (without permit +$400)
It's clear why L.A. tops the list of worst cities for false alarms. It has an exceptionally long average wait time for a response from law enforcement. The cost of a first offense is almost five times what most other cities charge. When you also consider how fines scale up for alarms without a permit, alarm system owners in the City of Angels need to understand how their security system works and how to prevent unnecessary fines.
How to Combat the False Alarm Problem
If you live in one of these cities, false alarms are bad news. So what should you do? Minimize the likelihood of false alarms by rethinking how you secure your property.
False alarms and the fines they carry can be a huge nuisance to both law enforcement and security system owners. They divert attention away from high-priority crimes and create an expensive problem for cities, taxpayers, and homeowners. Many police forces require someone with eyes on the scene to verify that a crime has occurred before they respond to your alerts, and then it might be too late. The only sure way to avoid the consequences of false alarms is to avoid false alarms in the first place.
That's why so many people trust Deep Sentinel to protect their homes. Deep Sentinel home security cameras use AI to screen out harmless triggers like pets running around and weather interference. If the technology detects a person near your property, a live security guard closely monitors the feed and intervenes if necessary. This real person verifies any crimes before calling the authorities, ensuring that law enforcement will take the threat seriously and respond quickly.
If every security system owner had a Deep Sentinel system, false alarms would be a problem of the past.
---
Resources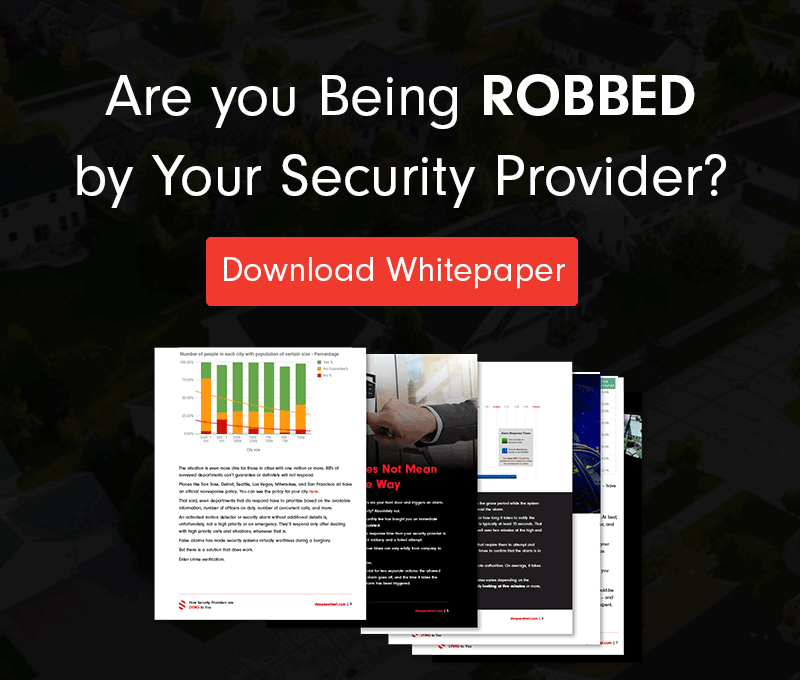 Need a Solution that Prevents Crime?
Deep Sentinel is the only security technology that delivers the experience of a personal guard on every customer's home and business. Visit deepsentinel.com or call 833-983-6006