The Role of Video Surveillance in Apartment Complex Security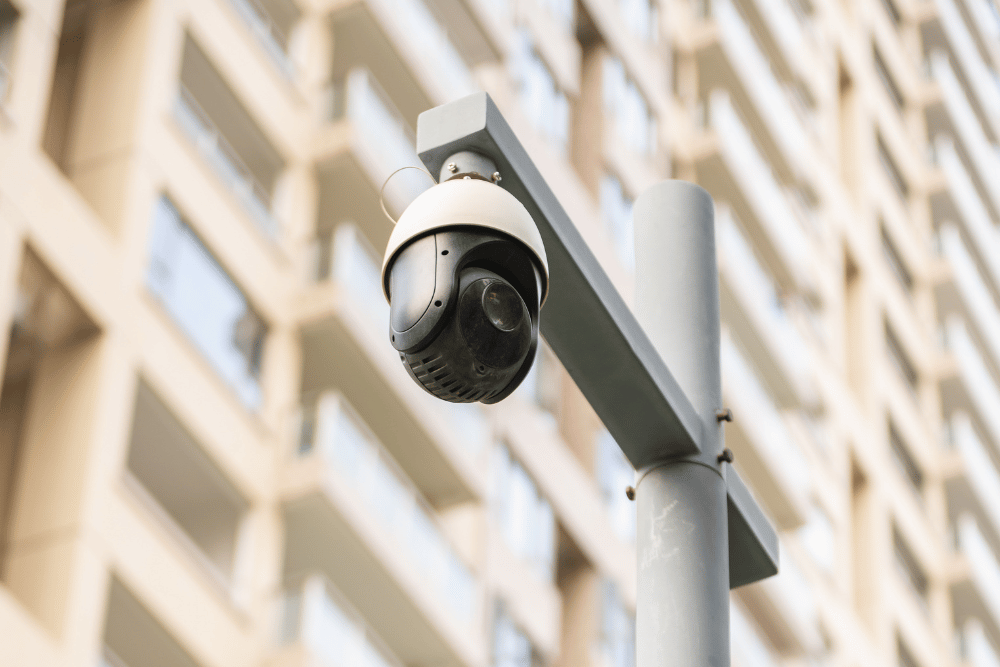 When setting up an apartment complex security plan, don't underestimate the importance of effective video surveillance solutions. Using the latest video surveillance technology at your apartment complex, you get the protection of dozens of live guards—at a fraction of the price.
To understand how video surveillance can be so financially efficient as well as effective, let's take a step back and consider an important question.
Why Worry About Apartment Complex Security?
The answer: People like to live and work where they feel safe.
If break-ins, vandalism, and other common multifamily property crimes are rampant in your complex, you'll struggle to attract and retain tenants. As a result, you might have to lower your rent.
Thanks to crime data apps, it's easier than ever for people to figure out whether your complex is a safe place to live. Plus, research done by the insurance company Assurant determined that 54% of tenants are willing to pay higher rent for better security.
Buildings with a comprehensive security plan can reduce staff headaches, too. Like your tenants, when staff feel safe and valued, they're more likely to stay.
Basic Apartment Complex Security Measures
So, what security measures do you need? What will drive down crime and create that critical sense of safety?
First, there are a few no-brainers. Unit locks should meet the ANSI grade of 1 or 2, along with secondary grade 1 deadbolt-style locks. You'll also want to install adequate lighting in all common areas, including walkways, entrances, parking areas, elevators, hallways, stairways, laundry rooms, and storage areas.
Other key apartment complex security measures include:
Heavy-duty, reinforced doors and windows
Updating keys from one tenant to the next
Limiting the number of master keys
Screening tenants and employees
In addition, video camera surveillance is a must. According to the Office of Justice Programs, video monitoring lowers crime by 14% and property offenses by 16%.
How Apartment Complex Video Surveillance Works
Video surveillance involves using cameras to watch your property. Sometimes you're doing the watching, and sometimes it's an outside service. Sometimes the watching is happening live, and sometimes it's a recording of past events. It all depends on your setup.
In addition to spotting and catching criminals, video surveillance can keep you informed about all activities in your apartment complex. That includes:
Outsiders taking advantage of your amenities
Tenants breaking community rules
Staff using amenities improperly
However, keep in mind that your tenants have a legal right to privacy within their units.
Choosing a Video Surveillance Solution for Your Complex
Not all surveillance systems are equally effective. You have some critical decisions to make when choosing apartment complex security cameras.
Decision #1: Passive vs. Active Monitoring
"Passive monitoring" is what old-school security alarm companies tend to offer. Rather than keeping a constant watch, these companies only check on your property after an alarm goes off.
As you can imagine, smart criminals know how to avoid alarm sensors. On top of that, these passive systems often lack video cameras. That means the service can't always check to see what set off the alarm. The result: repeated false alarms that result in annoyed police officers, scared tenants, and possibly even hefty fines.
Active monitoring, on the other hand, means someone (or something in the case of AI) is always watching. This massively speeds up response time. With active camera monitoring services, police are often called within seconds. It also eliminates false alarms and unneeded law enforcement calls.
Decision #2: Humans vs. AI (Or Both)
Some video systems require humans to monitor them at all times, regardless of whether anything is happening on camera. Not only is this expensive, but it's also not as effective as newer technology that uses pattern recognition software to evaluate the footage.
For example, Deep Sentinel surveillance systems use artificial intelligence to scan video footage for abnormalities. AI can identify trouble much more quickly and effectively than any human. It also remains alert and never takes a break.
But artificial intelligence alone isn't enough. Once the AI picks up on a problem, it can alert a live human guard to check the feed and take action.
AI-augmented technology is less expensive and more effective than an onsite security guard. To hire onsite security guards for your multifamily property, you'll have to pay about $6,000 to $8,000 a month. A hybrid system will cost a fraction of this total. You can get the best of both worlds: cost savings and robust protection.
Decision #3: Low Definition vs. High Definition
Older video surveillance systems capture grainy images that make it difficult for someone to see and truly understand what's happening.
Newer cameras, on the other hand, come in higher resolutions and provide a sharp, clear color image. They make it easier to tell the difference between a tenant locked out of their apartment and someone trying to break in.
Security camera resolution is calculated in megapixels (MP). You'll see modern cameras ranging from 2MP (also called 2K or high definition) to 8MP (also called 8K or ultra-high definition). Higher resolutions may cost more, but the extra image clarity is a worthwhile investment. Choose the best you can afford, but definitely 2MP or higher.
Decision #4: Standard Cameras vs. Night Vision Cameras
Typical video cameras can only capture a clear picture in optimal lighting.
If you're placing cameras outdoors, you'll need cameras capable of filming clear footage in low-light situations. Look for one (or both) of the following:
Night vision: These cameras capture crisp, clear footage in low-light situations. Leading night-vision cameras contain specialized filters that allow them to capture clear footage at any time of day.
Floodlights: Motion-activated floodlights built into the camera's housing can illuminate the camera's view.
Even if you use cameras with night vision (or don't use outdoor cameras at all), security floodlights are still a good idea. They minimize shadowy hiding spots and help everyone avoid safety risks like tripping hazards.
Deep Sentinel: The Clear Apartment Complex Security Solution
Deep Sentinel provides the latest and greatest multi-family residential security solutions—featuring AI-powered video surveillance. The proprietary AI software picks out perpetrators instantaneously and alerts highly skilled Deep Sentinel security guards for intervention.
These guards are industry experts with extensive experience in physical security, law enforcement, military, customer service, and more. All guards undergo specialized training in areas like de-escalation techniques and dispatch communication. Then, they receive ongoing training and evaluation, so the entire team stays well-versed in current best practices.
No one will protect your apartment complex more effectively than Deep Sentinel. Call 833.983.6006 to learn more.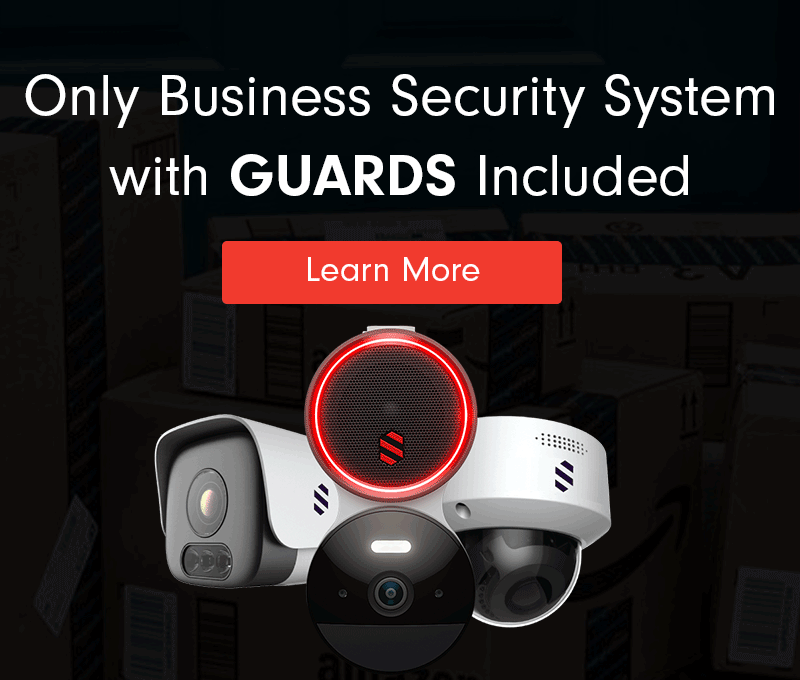 Need a Solution that Prevents Crime?
Deep Sentinel is the only security technology that delivers the experience of a personal guard on every customer's home and business. Visit deepsentinel.com/business or call 833-983-6006