Opening the Door to Doorbell Cameras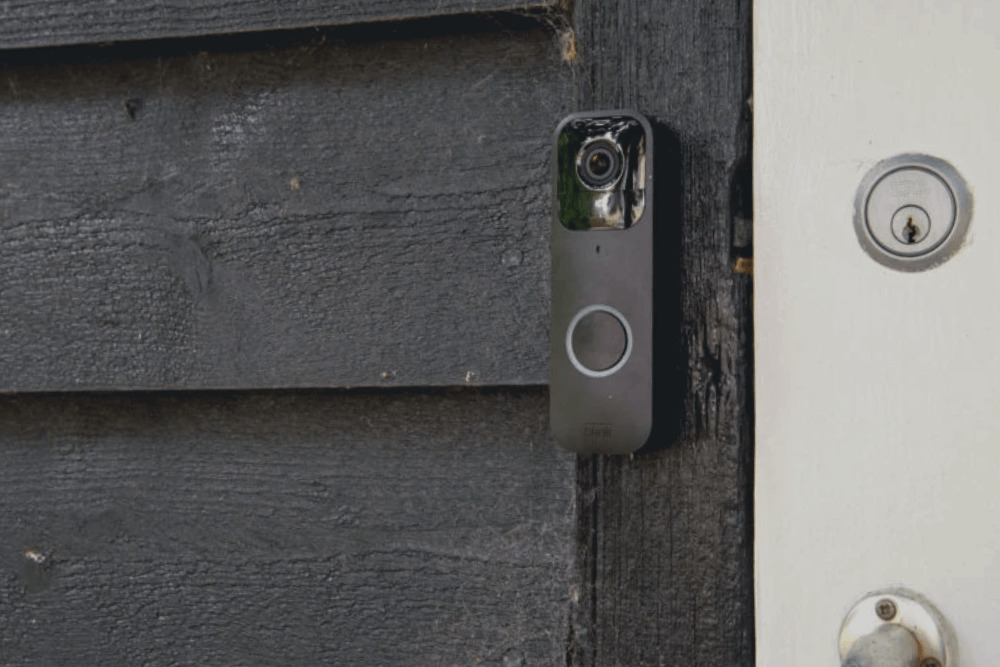 Doorbell cameras are handy devices. Many homeowners find a video doorbell to be a user-friendly home security option. But are they right for you? Read on for some helpful notes, definitions, and factors to consider when looking at this piece of hardware.
What Is a Doorbell Camera?
The name says it all. Installed on the exterior of your home next to the door near eye level, a doorbell camera functions as both a doorbell and a video camera. You might also hear the term video doorbell. There are wireless units that provide everything you'd need in a single device. There are also cameras that can be hard-wired into the doorbell you already have.
At its most basic level, a doorbell camera is like a high-tech peephole for your front door. Depending on the doorbell and data service plan you choose, you can see who's outside your home in real time or recordings of past visitors.
Advantages of a Doorbell Camera
Doorbell cameras are appealing partly thanks to their user-friendliness. With most models, it isn't too difficult to install a doorbell camera yourself. Another major selling point for the doorbell camera is convenience. Whatever the camera is recording, it can stream to your mobile device live. When someone comes ringing (or knocking), you don't even have to be at home to see who's there. You can simply check your phone app to see what the camera sees.
In addition, doorbell cameras feature two-way audio communication. So not only can you see what's happening outside your door, but you can also converse with anyone who might be there. Even if you're miles away, they'll hear you when you tell them, "Just leave the package on the porch," "Sorry, I'm not home," or even "Go away, stranger. You look suspicious." The possibilities are endless!
Doorbell Camera Video Quality
The major points to consider when evaluating the video quality for your doorbell camera are resolution, night vision, and lens angle.
We've covered the details of security camera resolution before, but here's the upshot: the higher the resolution, the better. At the time of writing, the maximum for doorbell cameras is 1080p. That's roughly 2MP (megapixels), which is quite sharp.
Night vision capability is an important feature as well. After all, high resolution is moot at night without the ability to see in the dark. Most doorbell cameras have night vision as a standard feature, but some don't. It's important to check before making your purchase.
The camera's lens angle decides its field of view, or FOV—how much the camera can "see." As with resolution, the higher the better. That means a larger FOV, which is what you want. A 180-degree angle is the best possible for a doorbell camera. That captures everything in front and as much of the sides as possible. With a narrower range, you'll only see directly in front and maybe a smidge in either direction. It's better than nothing, of course. But the closer you can get to 180, the better.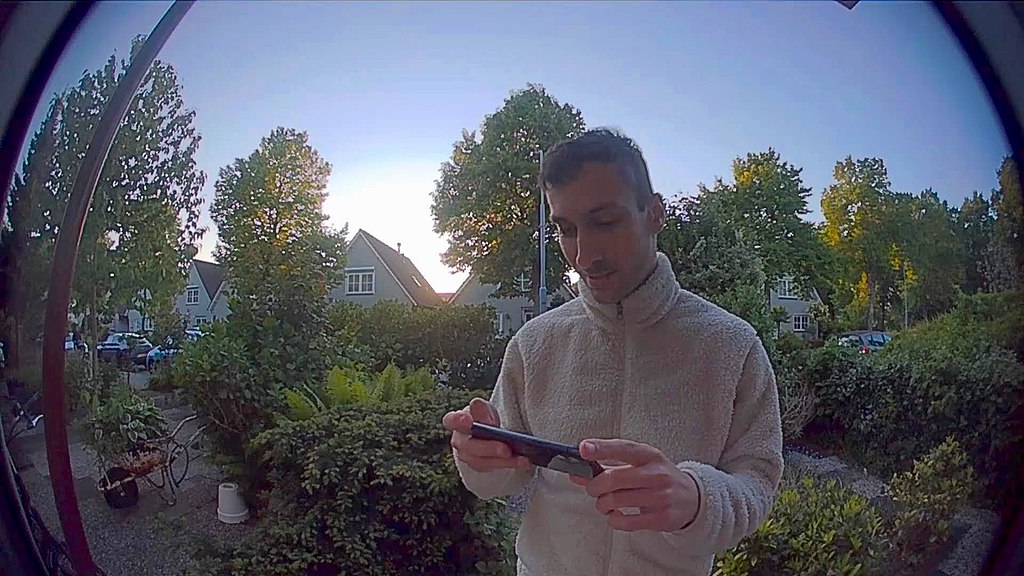 Tech Features and Options
As far as home security technology goes, video doorbells are typically simple, standard affairs. There are just a handful of options to weigh as you shop for a doorbell, but they're important to consider.
Storage
Being able to live-stream footage of what's outside your door, whenever and wherever you like, is a fantastic feature of doorbell cameras. But it's also important that you're able to store the footage for future playback. If something unpleasant occurs at your door, and you've got the perpetrator caught on video, you'll want to have the incident documented. So, when shopping around, examine closely how much storage each option allows.
Some cameras may require a memory card, which you have to empty before being able to record more. Several factors will go into how much footage can be stored per gigabyte. As you might expect, higher-resolution footage takes up more space than low-resolution video. Also, it will depend on whether your camera records constantly or only when it detects movement. If it's the latter, the memory will last significantly longer.
Beyond the storage that's part of the physical hardware, many doorbell cameras give the option of cloud storage. That's a pricier choice, though it does eliminate the inconvenience of constantly replacing or erasing your memory card. It's unlikely that cloud storage will be a one-time add-on when you buy your camera. Instead, you'll probably pay a monthly fee for the service. It's a cost vs. convenience ratio that you'll have to judge for yourself.
Motion Detection
Depending on which model you go with, your doorbell might incorporate or connect with motion sensors. A motion sensor doorbell camera will start recording whenever there's activity outside your door, which also triggers a smartphone notification.
Some of the more advanced technology allows you to program "motion zones" in the camera's FOV and create specific instructions for each zone. So, for example, if there's a street in the camera's FOV, you can program the zone so that you're not alerted every time a car drives past. That cuts down on annoying junk notifications.
Smart Technology
Another feature of some doorbell cameras is the ability to distinguish between objects, like people and animals. You could be "pinged" when a person is outside, but not a stray cat. (Or, you can make sure you're alerted to cats, too. They are adorable, after all.) Facial recognition is also an option on some devices, allowing you to create a database of trusted friends and family who don't trigger alerts.
There are plenty of other variations on "smart" (or "rich") notifications as well. Some providers send quick screen captures sent to your phone so you can evaluate the situation before opening the full app. This saves time since you can simply glance at the thumbnail and decide in an instant whether the situation is worth looking at in more detail. You'll still need to look at your phone, though. This solution doesn't eliminate false alarms, but it makes them less annoying.
As with cloud storage options, "smart" features are often an add-on that may require a subscription.
Compatibility
Lots of doorbell cameras interface with other tech platforms, including smart home automation like Alexa or other security devices. If that's a must-have, make sure the model you pick integrates with your technology of choice.
Another thing to note: The speed of the "real-time" connection between the doorbell camera to your smartphone will depend on the connection speed of your Wi-Fi and/or the reliability of your phone service. When shopping around, try to find information about compatibility with your providers, as this may vary from one brand to another. If one part of the chain of communication is slow, you may find yourself getting an alert about someone at your door after the visitor has already departed.
Installation and Power Sources
As noted above, installation can be very easy, particularly if it's an all-in-one battery-powered doorbell camera.
That said, some models involve connecting the video doorbell to your home's existing doorbell wiring. If that sounds like something you don't know how to do, you might want to pay for professional installation. The advantage is that you don't have to worry about the power source for the camera. It will simply draw electricity from the wiring. As a plus, this arrangement also means your new doorbell will chime in the house just as it always has.
Batteries, on the other hand, need to be replaced periodically. You don't want your doorbell to die when there's a visitor at the door! Still, a battery-operated doorbell camera doesn't require complicated wiring. And of course, if your living space isn't already wired for a doorbell, a wireless doorbell camera is your only easy option. Another bonus? It's portable and can come with you if you move.
Popular Options
Here are some popular doorbell cameras for you to consider:
Home Security that "Rings" True
Doorbell cameras are an inexpensive and convenient way of providing extra security for your residence. Make sure you've considered all the significant factors before deciding on which one you want.
That said, a doorbell camera isn't the only way to protect your home. It's also not the best way to protect your home. All video doorbells, even the smartest ones, suffer from some key problems. They trigger a lot of false alarms, and you're responsible for managing notifications and engaging with visitors. Plus, a doorbell camera only catches what's happening by your front door—what about a burglar sneaking in through a window or side door?
For better security, consider a smart security camera system that's monitored and managed by live security personnel who interact with visitors on your behalf. With Deep Sentinel, you can still choose to greet the person at your front door, or you can let professional guards take the reins. Advanced AI threat detection means no more useless notifications. You'll only get alerted when there's a potential threat. And, of course, Deep Sentinel cameras watch your entire house, not just your front door.
So before you buy that doorbell camera, think twice. Maybe Deep Sentinel is the better solution for you.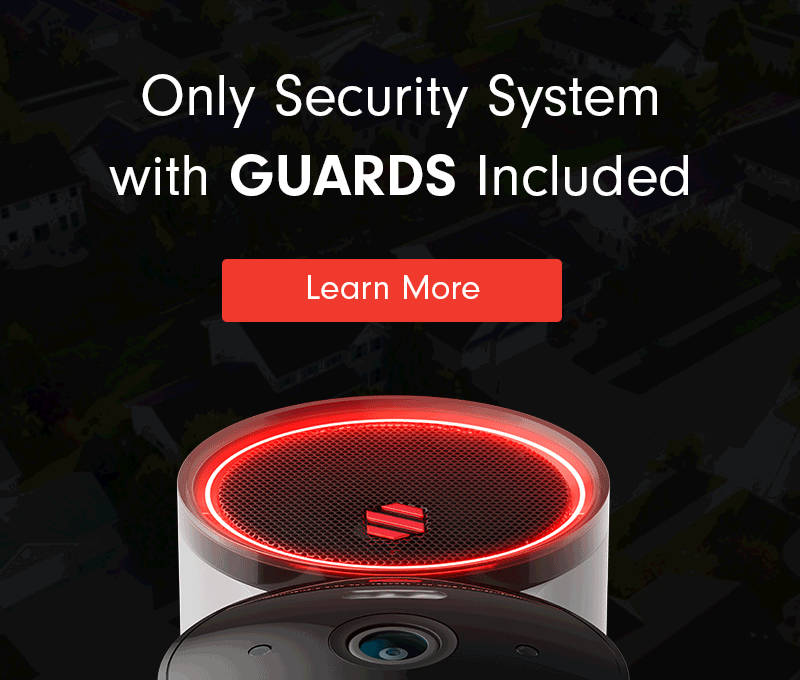 Need a Solution that Prevents Crime?
Deep Sentinel is the only security technology that delivers the experience of a personal guard on every customer's home and business. Visit deepsentinel.com or call 833-983-6006