A Crash Course in Mobile Surveillance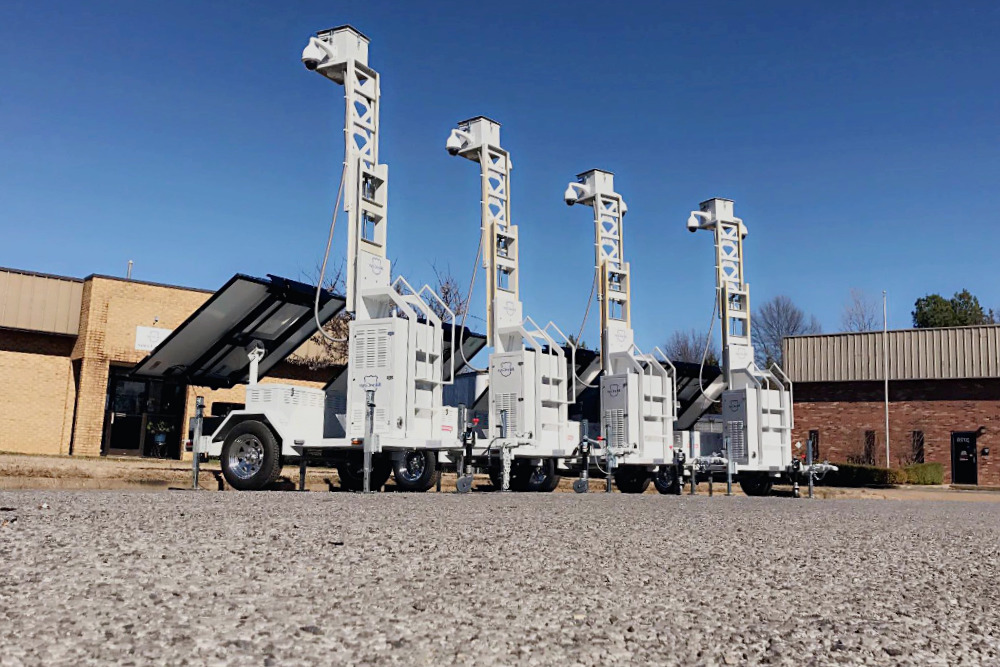 Security cameras are a modern-day necessity. A traditional security camera is permanently hard-wired in one spot. It reliably gets the job done. But it's not the only solution available. There are many types of security cameras, allowing you to choose the features you want or need. Typical security cameras can cover many situations… but not all. Enter portable mobile surveillance cameras.
What is Mobile Surveillance?
As the name suggests, a mobile surveillance unit (MSU) is a portable security system for locations and situations where a hard-wired security camera is impossible or undesirable. You'll find them in rural and remote locations, construction sites, oil fields, industrial sites, or any other area that requires protection but lacks the infrastructure—electricity, walls, buildings, Wi-Fi, and so on—for a traditional set-up.
An MSU is either small enough to fit in a vehicle or attached to a trailer of some sort. In that way, it can be easily transported to the location and moved around once there. Mobile camera systems might attach to an existing wall or fence, but more often than not, they are self-contained and self-sufficient units.
At a minimum, an MSU includes at least one HD camera, a tower or pole, and possibly wheels if it's too heavy or cumbersome to be picked up. And like most security devices, there are plenty of upgrades available too. These upgrades include motion detection, radar technology, LED lights, photo sensors, 2-way audio, high-decibel sirens, thermal imaging, video analytics, and cameras with PTZ functionality and night vision. Most providers can customize their products to meet your needs and specifications.
The unit includes a rechargeable battery powered by either an attached generator or solar panels. It live-streams footage and uploads this data to the cloud via a 4G connection, eliminating the need for a reliable Wi-Fi signal.
In short, if you're a candidate for MSUs, they offer comprehensive protection wherever and whenever you need it.
The Case for Mobile Surveillance Security Systems
So why would someone use MSUs? What are the benefits of mobile surveillance?
Mobile Surveillance Equipment Means Security Wherever, Whenever
The most common reason for using MSUs is simple: necessity. MSUs go where other security solutions can't, and that is their unique selling proposition and best asset. A lack of infrastructure shouldn't mean you don't—or can't—secure your location. Would-be thieves are everywhere.
Mobile systems are engineered to handle outdoor conditions like extreme weather and a variety of terrains. Cameras communicate with a mobile app and/or monitoring center via the 4G cellular network. No need for Wi-Fi.
Portability allows the equipment to be temporarily set up in a particular location. It can then be moved as work or materials move to another area of the site. And that portability means MSUs are practically turnkey. Put it in place, turn it on, and you're good to go.
Plentiful Technology Options and Features
MSUs are tamper-proof and notify stakeholders whenever someone attempts to disable or move the unit, in addition to triggering a siren that scares away all but the most determined of thieves.
Some mobile surveillance products incorporate technology that sends an alert only when it detects a human. This eliminates the need for a dedicated individual to watch the live stream 24/7. Flashing lights and pre-recorded messages can deter thieves, while 2-way audio allows a property owner or guard to engage with undeterred suspects or unknown visitors.
Depending on the height of the pole or tower and the configuration of the camera(s), units can provide a 360-degree view. That means no blind spots.
Other Benefits
Beyond that, the equipment usually integrates well with existing camera systems and other mobile surveillance units. You can combine as many as necessary into a cooperative system that provides extensive coverage of the entire area.
Equipment can be purchased (a capital expense), leased, or rented (an operational expense) for a fraction of the cost of hiring security guards and other personnel. It shouldn't bankrupt you to protect your property.
Who is Mobile Surveillance For?
In short? Anyone.
More specifically? Anyone looking for a short-term security solution in a temporary or remote location.
MSUs are common choices for auto dealerships, construction sites, parking lots, oil and gas fields, special events like outdoor concerts or festivals, mining sites, ranches, laydown yards, factories, farms, public gatherings, power plants, agricultural operations, airports, railway yards, pipeline construction sites, public housing, malls, and more.
The presence of a mobile surveillance unit sends a powerful message to would-be thieves and customers, guests, and employees: someone protects this property and takes security seriously.
But mobile surveillance includes more than just self-contained tower units.
Portable Cameras
Any security camera that can be easily and quickly moved from one location to another can be a mobile surveillance solution.
Box cameras typically sit on a tabletop, counter, or shelf. They may use a power outlet or batteries, but either option is portable to at least some degree. A simple plug-and-play webcam or video baby monitor would also fall under the mobile surveillance umbrella. Toss them into a bag and take them with you.
Just remember that security cameras—whether or not they're mobile—can be either monitored or unmonitored. There are pros and cons for each, but be sure you know what you're getting.
Deep Sentinel's Wireless Cameras
As far as mobile surveillance goes for both home and business, you can't get much better than Deep Sentinel's wireless security cameras. With a 3-month battery life and a wireless range of 100 feet, these cameras can easily move from place to place within the radius of the Wi-Fi router or mesh network. Installation typically takes 30 minutes or less.
Point it at your driveway during the summer, for example, to watch over vehicles parked outside. Relocate it to the side garage door during the winter when you've safely tucked your car inside. Multiple backdoor break-ins in your neighborhood? Move the camera there for extra backyard security. Frequent package thefts recently? Reposition it to cover your front steps, stoop, or porch.
The possibilities are endless.
Deep Sentinel cameras are temperature-rated for -4°F to 122°F—or as low as -40°F with an optional upgrade. And the IP65 rating means they're ready for rain, dust, and more. But the camera technology is just the start.
What really sets Deep Sentinel apart is its smooth integration of unblinking artificial intelligence and live security guards. The AI evaluates any motion in seconds, ignoring non-threats like a squirrel or tree branch swaying in the breeze, but notifying LiveSentinel surveillance guards of any human activity. The guards take over, assessing the situation, engaging with the suspect via 2-way audio, and notifying the authorities if necessary.
It's proactive monitoring unlike anything else available in the industry. Zero false alarms. Less than 30 seconds from threat to police contact.
That's affordable and portable peace of mind. That's Deep Sentinel.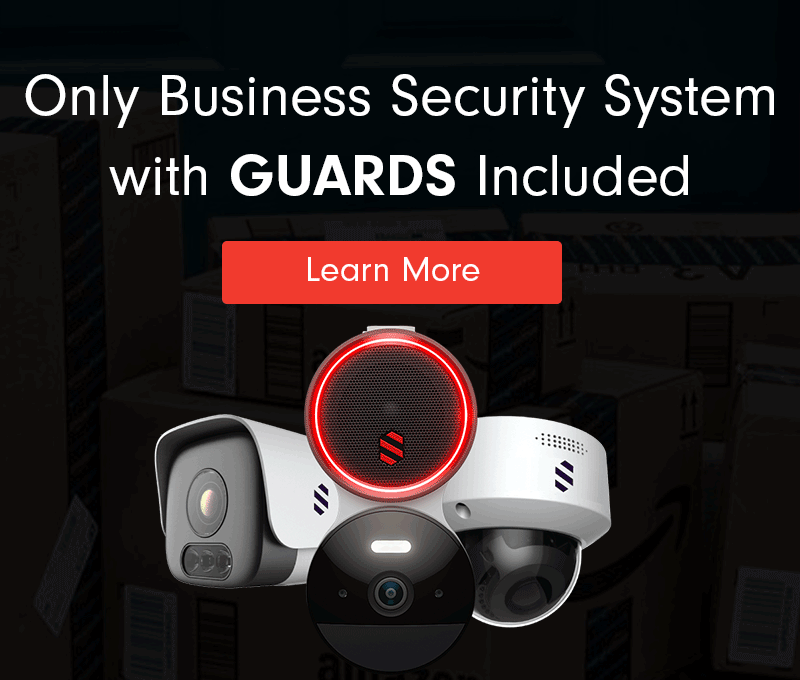 Need a Solution that Prevents Crime?
Deep Sentinel is the only security technology that delivers the experience of a personal guard on every customer's home and business. Visit deepsentinel.com/business or call 833-983-6006